They say that everything is bigger in Texas, and standing in the heart of Big Bend National Park you'd sure believe it.
It's a land of burning sunsets, soaring mesas, and enchanting vistas that sprawl toward the horizon until meeting softly with the deep blue of the West Texas sky. A place of simplicity and wide-open spaces, traffic means a rattlesnake on the road, and international commerce is a rowboat crossing to a sleepy Mexican town. In all, the park spans more than 800,000 acres and is as rugged, romantic, and wild as any Western film.

THE HISTORY
In spite of its harsh nature, people have called Big Bend home for thousands of years. Signs of human life are seen as early as the Paleo-Indian period, around 8000 BC when inhabitants hunted large game in the then cool and wet climate. By 1535 AD, the Bend had become arid and desolate, and the Spanish had settled in to defend their northern borders from natives pushing south. Several presidios were established, but they were abandoned shortly after construction due to the empire's dwindling finances and their inability to stop raiding parties.
The following years held a lot of conflict for the area, but by the late 1800s the Mexican–American war was over, Texas had been annexed to the United States, and border disputes were settling down. The Bend was peaceful once again, and ranchers and miners migrated from the U.S. and Mexico to form the towns of Terlingua, Boquillas, and several smaller communities. It would stay much the same until the 1900s when the land's natural beauty led to its preservation as a National Park.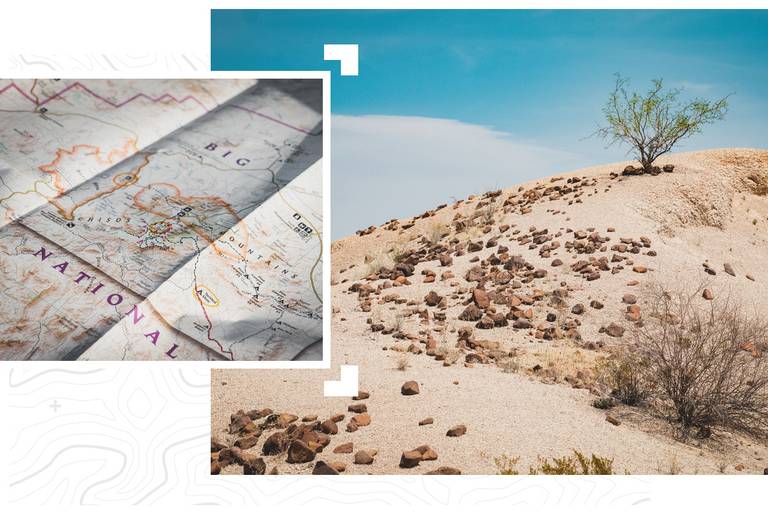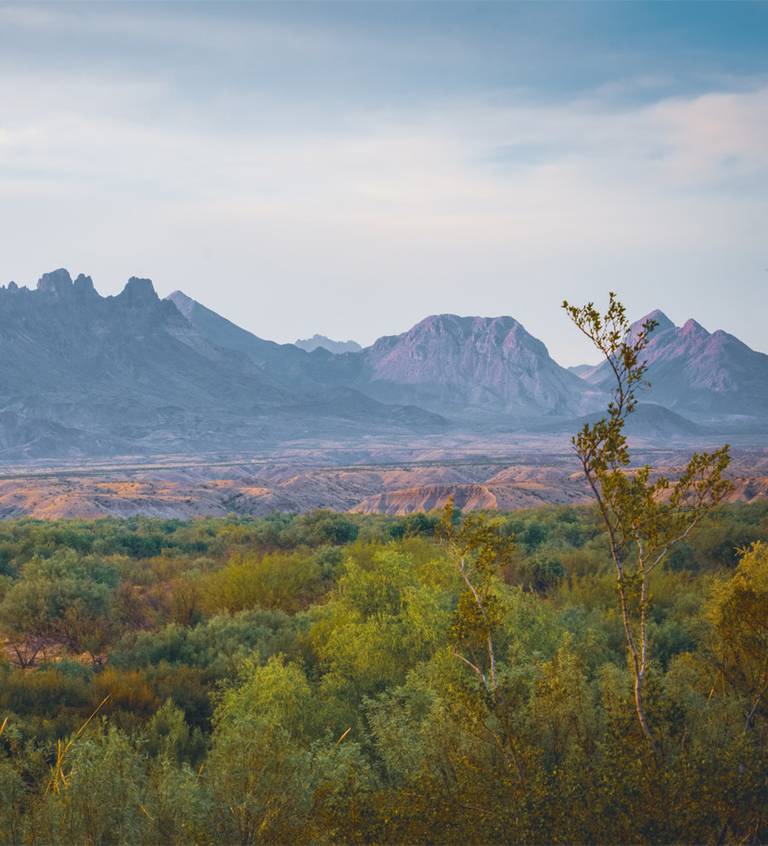 TERRAIN & WILDLIFE
Today Big Bend is the largest protected section of the Chihuahuan Desert in the United States and contains some of the country's most unique topography. Visitors are greeted by beautiful sky islands amidst parched valley floors, meandering river corridors with shady spots for a dip, and towering peaks over 7,800 feet high. It's a geological masterpiece carved by volcanic activity, shifting seabeds, colliding continents, and raging rivers over millions of years.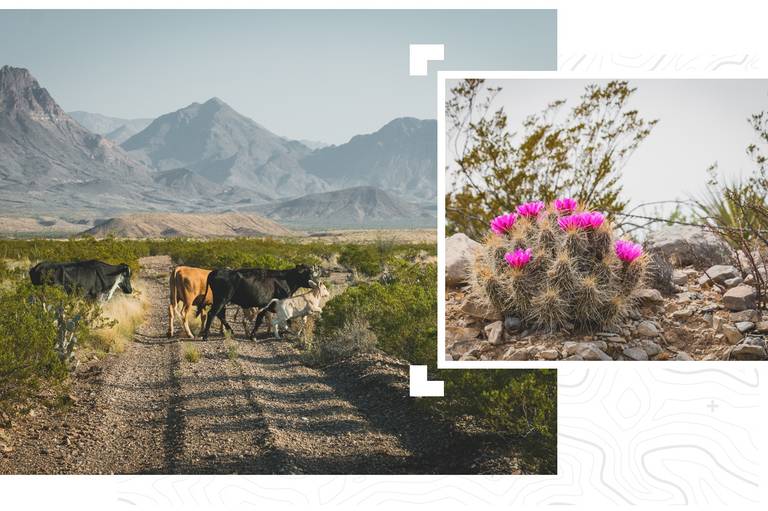 Although desert climates are best suited to small bushes and shrubs, plant life in this area is prolific thanks to the 6,000 feet of elevation change throughout the park. In total, over 1,000 species are found within its boundaries, including cacti, mesquite, yucca, and agave in the valleys; and more delicate specimens like Big Bend bluebonnets, ferns, and wildflowers in shady ravines and watery oases. There are even firs, maples, pines, and madrones found in the cooler temperatures of the high desert. Fauna is equally diverse, with 450 species of birds, 75 species of mammals, 56 species of reptiles, 40 species of fish, and 11 species of amphibians identified so far. The usual desert suspects appear including snakes, lizards, mice, and insects, but even deer and black bear have been known to roam the high country.
As you would expect in a National Park, a large percentage of roads are paved for easy access. However, there are still plenty of backcountry miles to explore, including some challenging four-wheel drive tracks. All but a few trails in Big Bend are suitable for AWD "soft-roaders," and the lack of a high-clearance vehicle should not discourage you from visiting.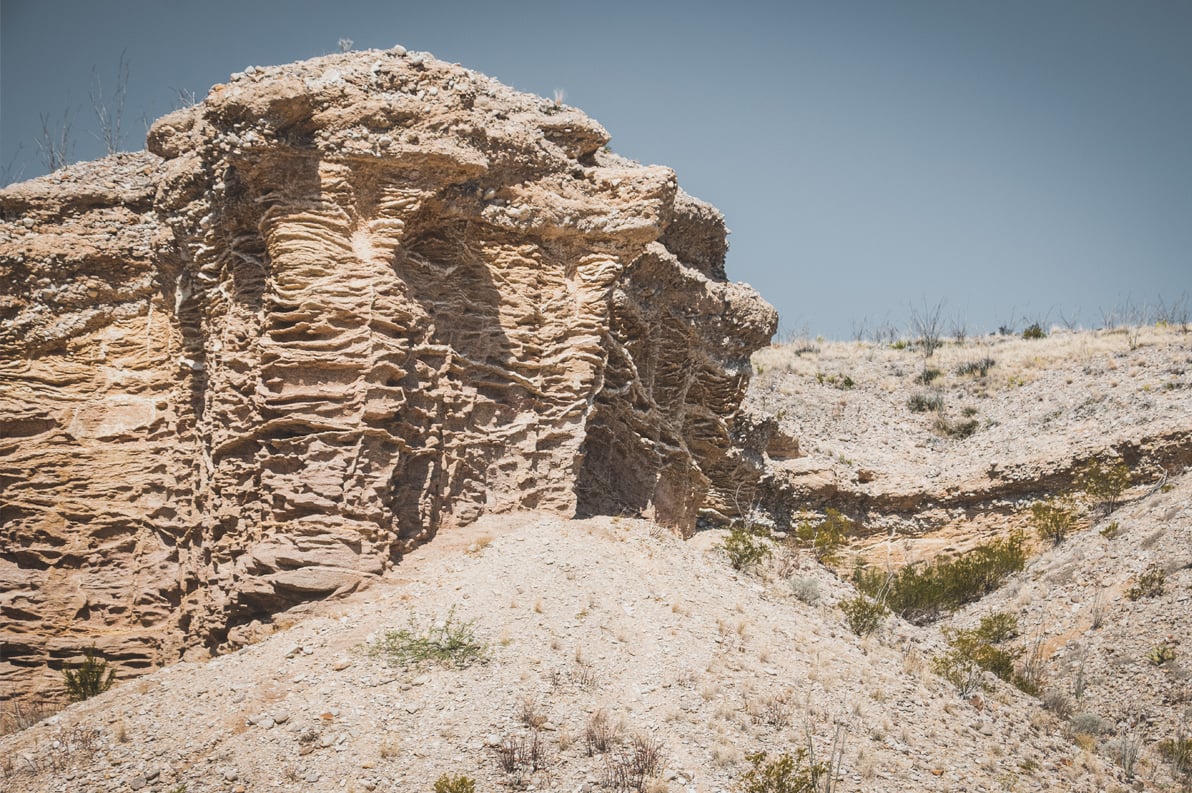 SOME OF OUR FAVORITE TRAILS
It's rare to have the chance to leave pavement in a National Park, but Big Bend offers an abundance of dirt roads to explore. Few are truly challenging, but all are scenic, and the following are some of our favorites.
Black Gap Road
• Easily the most difficult trail in the park, it offers a cut through the mountains from the River Road to Glenn Springs. Difficulty ranges from a 3-5 out of 10 depending on recent weather and current conditions. Careful driving and even spotting for some vehicles is recommended in the "Gap," while you traverse the series of rock steps through the canyon. The canyon section is narrow, has up to 2-foot ledges, and contains no bypasses.
Old Ore Road
• This 26-mile stretch of dirt stretches from the edge of the National Park down towards Boquillas Del Carmen. It's dotted with abandoned ruins, several graves, and the Ernst Tinaja, a 13-foot rock pool surrounded by orange rock and giant oyster fossils. The road itself can be long and unchallenging, or washed out and heart pumping depending on the year. Either way, it's a far more exciting path than pavement, so take some time to enjoy this place. You may just hear the ancient murmurs of Native American chants, the faint crack of a revolver, or the soft echoes of Spanish spoken long ago on this historic route.
Glenn Springs
• Glenn Springs skirts along the base of the Chisos Mountains, offering stunning views of the lofty range, plenty of opportunities for hiking and exploring and some of the best campsites in the park up Juniper and Pine Canyons. If you can tolerate the bumpy road to Twisted Shoe Camp you'll be rewarded with stunning views of the valley, a midnight gaze at the Milky Way, and under the right conditions, a sunrise few places on Earth can match.
River Road East and West
• Flowing as gracefully as the Rio Grande which it follows, this ocotillo-lined trail snakes across desert ridges presenting some of the most scenic river views of the trip. From various lookouts cattle can be seen roaming the opposite bank of the Rio Grande, a vaquero may give you a wave, and the rugged cliffs in the distance paint a perfect backdrop for a West Texan sunset. Fortunately, there are plenty of approved campsites to stop at along this stretch, and the rough roads keep the RVers at bay. This trail also gives you access to many of the park's unique treasures, including Big Bend's legendary hot springs. Be aware, the one-way road to the parking lot doesn't allow trailers, so plan ahead to walk or shuttle if needed.
• Insider tip: If the area is packed, or you need a more refreshing dip, keep hiking past the hot spring; there's a small sandy spot perfect for a swim in the river.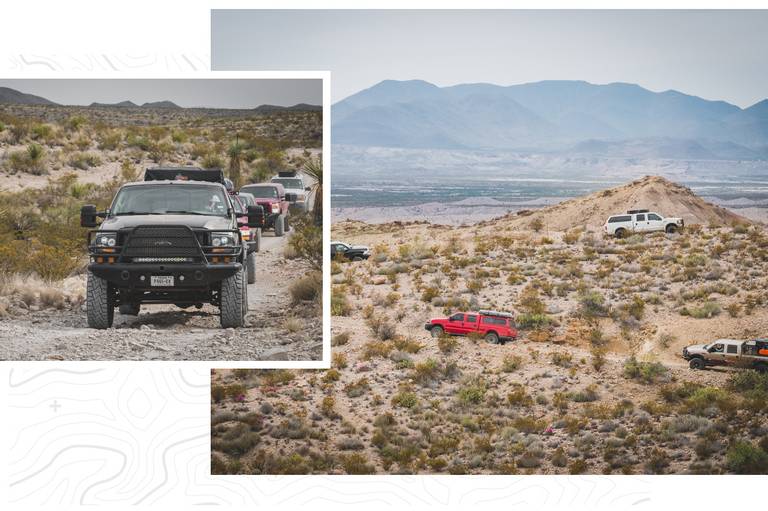 OTHER THINGS TO DO
While Big Bend's remote dirt tracks are certainly a highlight, they're far from the only reason you should visit the region. The park boasts over 200 miles of hiking and backpacking trails spanning from the lowest valleys to the tip tops of sky islands. Cyclists can enjoy many of the park's 200+ miles of roadways and scenic dives, or get a little more adventurous on the mountain bike tracks winding through the desert landscape.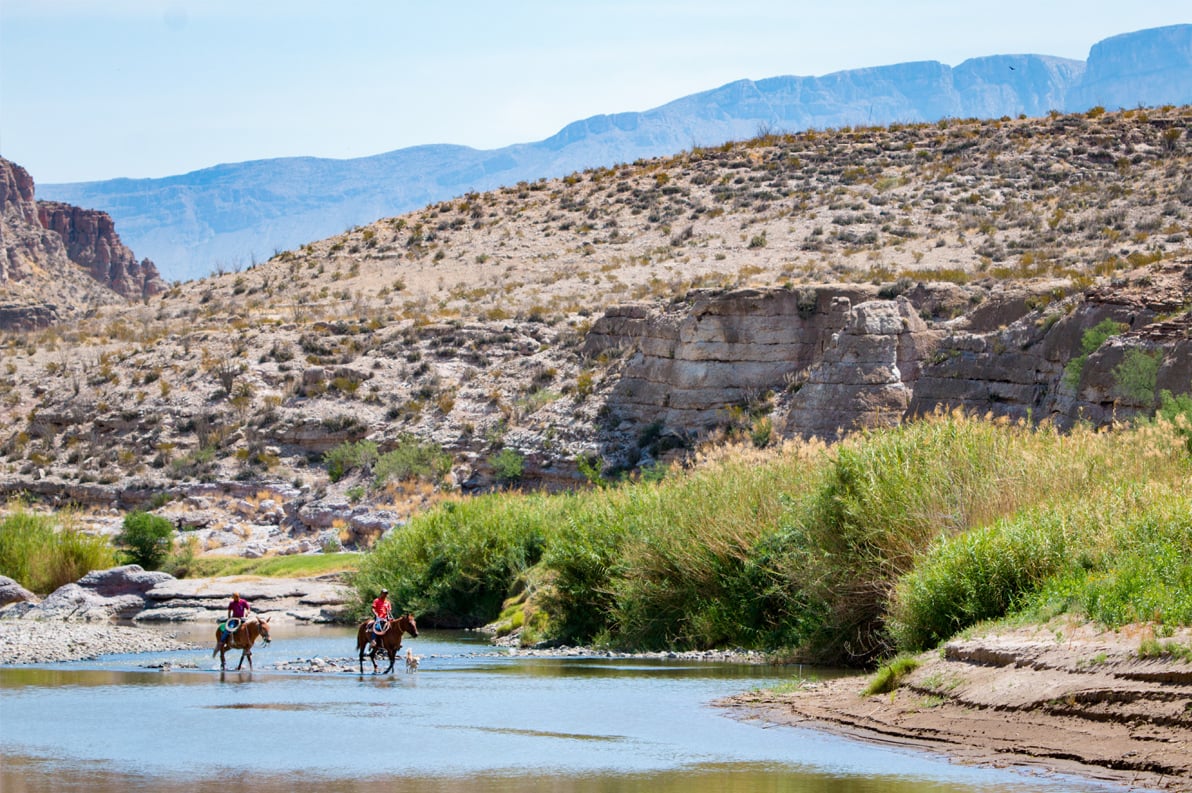 If time on the water is more your style, you can also check out one of the half day floats on the Rio Grande, or extend the trip with a guided multi-day river journey on canoes, kayaks, or rafts. A much shorter, but more exotic river trip is available by taking the ferry (rowboat) across the river to Boquillas Del Carmen, a charming Mexican town with great tacos, cold drinks, and warm smiles. When you get back, you can make your way to the hot springs for a relaxing soak.
If none of this appeals, you'll find plenty of other activities just outside the park border, from horseback riding to fine food, music, and art in the charming and quirky towns of Marfa and Alpine.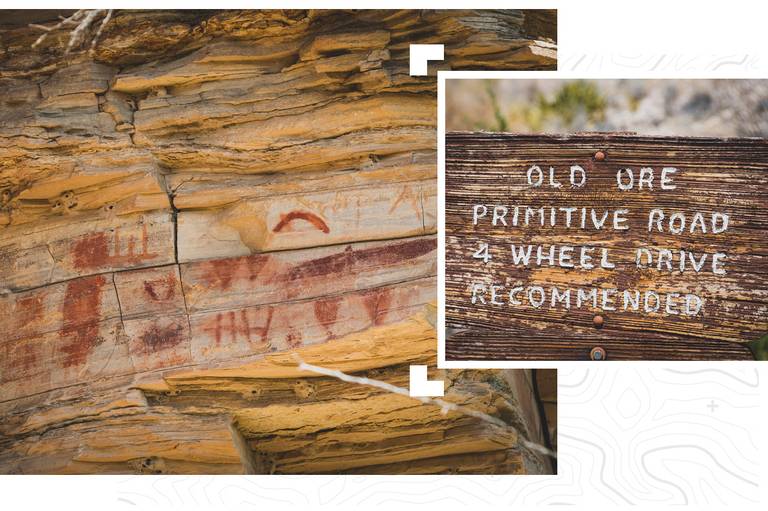 RECOMMENDED EQUIPMENT
If you want to run the toughest trails Big Bend has to offer, you're going to need more than a showroom stock vehicle. Low gearing, locking differentials, skid plates and rock sliders, larger tires (35-inches and larger), and beadlock or Bead Grip® wheels are a necessity to get the most out of your trip to Big Bend. The low air pressure made possible with beadlocks and Bead Grip wheels are key to maximize your tire's contact patch.

More Gear To Consider:
• All terrain tires
• Shovel
• Traction boards
• Tow strap
• GPS app like onX will help you find trails and drop pins.
• Trash bags (pack everything out- we want to leave these places better than we found them)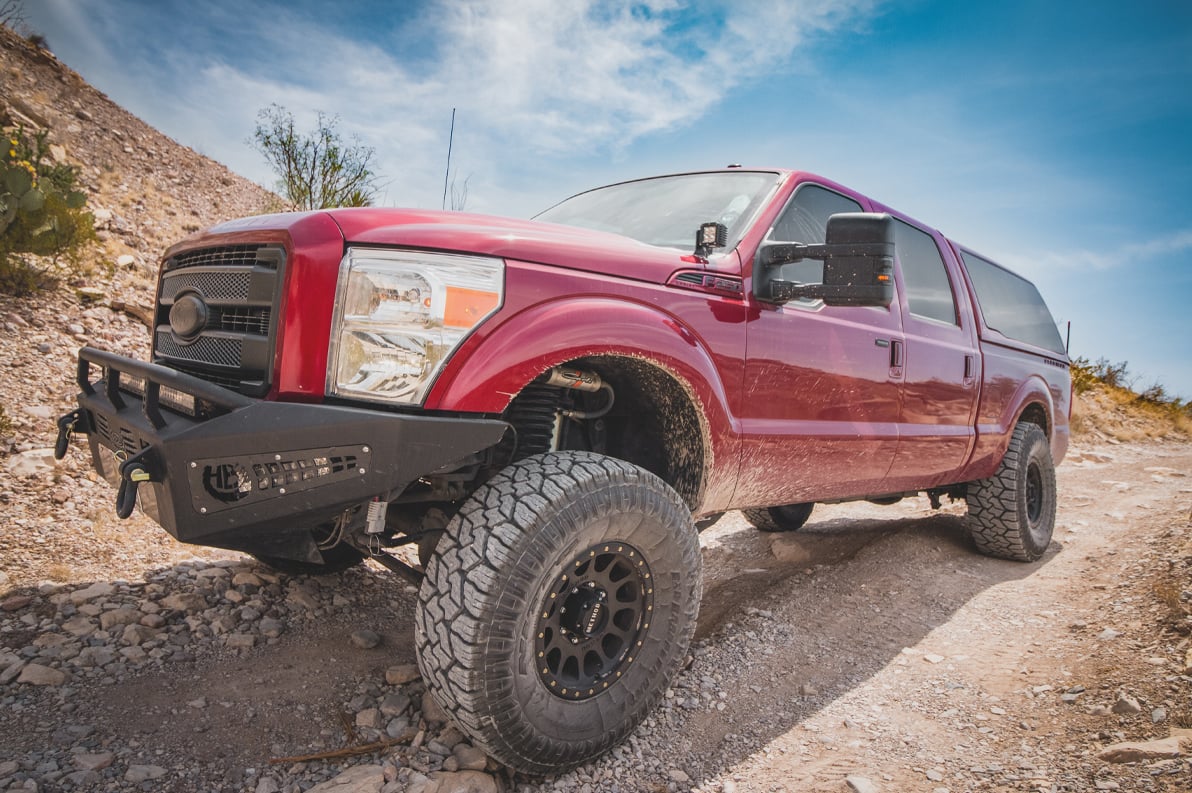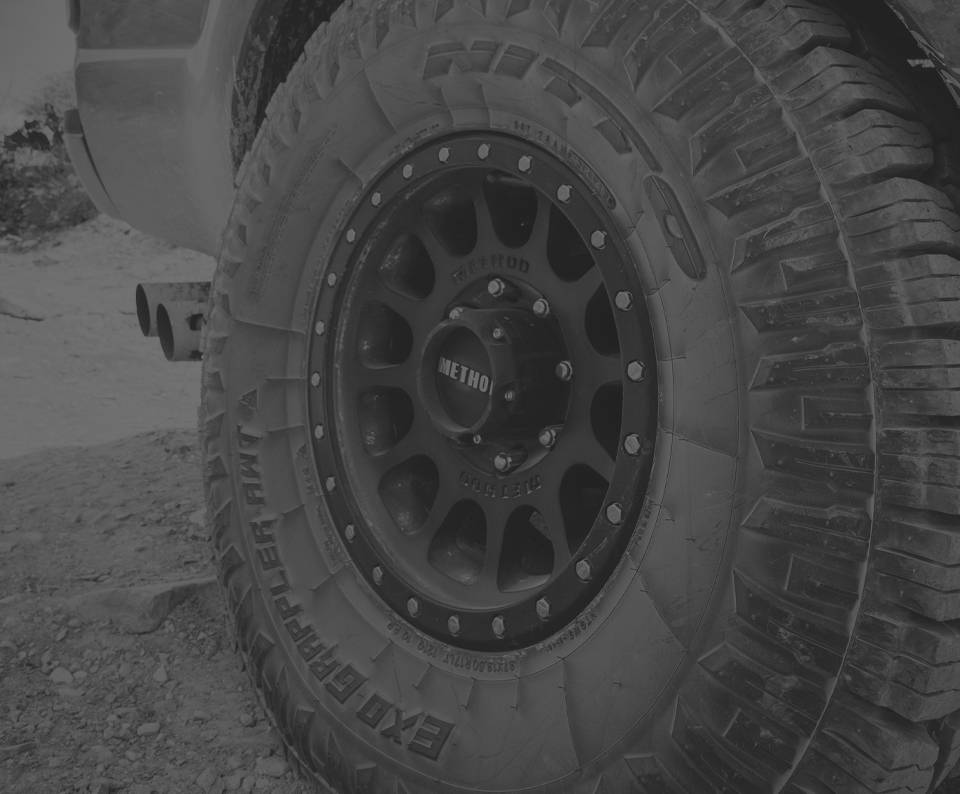 305 HEAVY DUTY WHEEL
The 305-HD NV Wheel features an iconic 12 window design with a debossed Method logo on either side of the center cap. It boasts a Heavy Duty (HD) load rating of 4,500.
SHOP NOW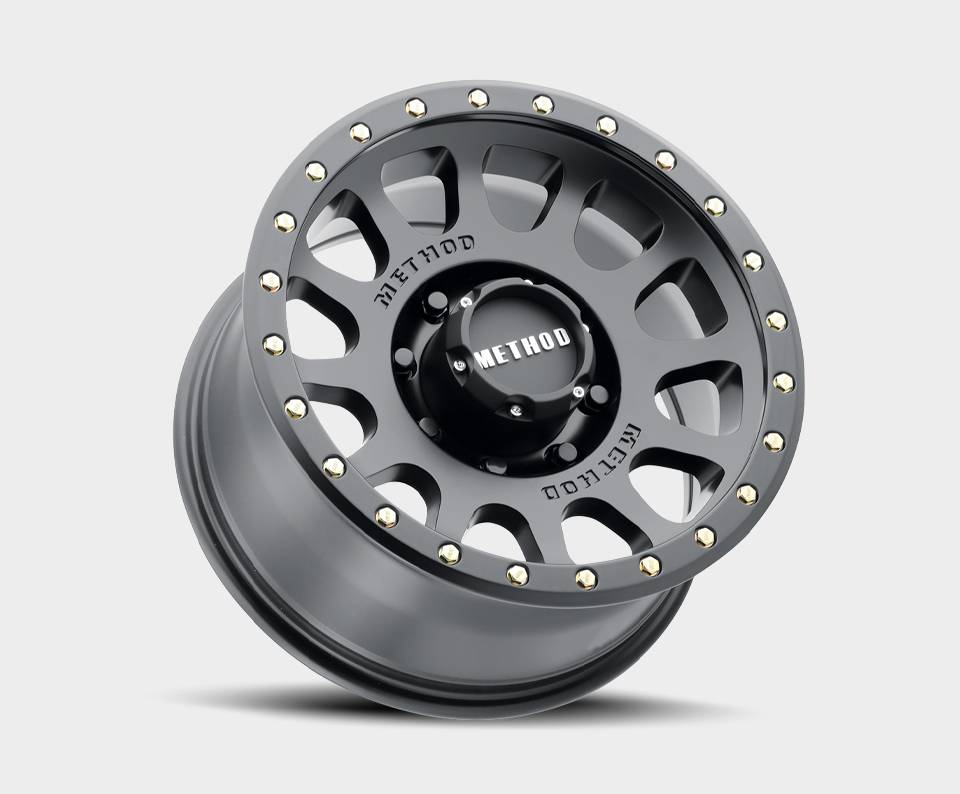 EAT
The Mountain View - Inside Big Bend you'll only find one restaurant, the Mountain View located in the Chisos Mountain lodge. However, if you're willing to wander a bit further you can find other fare.
Boquillas restaurant and bar - Cross the river to Boquillas Del Carmen (passport required) and you can have some truly authentic Mexican food at the Boquillas restaurant and bar.
DB's Rustic Iron BBQ - If you want to keep it stateside, drive North to Terlingua and check out DB's Rustic Iron BBQ for some Texas style brisket
Taqueria el Milagro- For some authentic tacos check out this local favorite and wash them down with a cold beverage.
Long Draw Pizza - Looking to keep it simple? Grab a hot slice at Long Draw.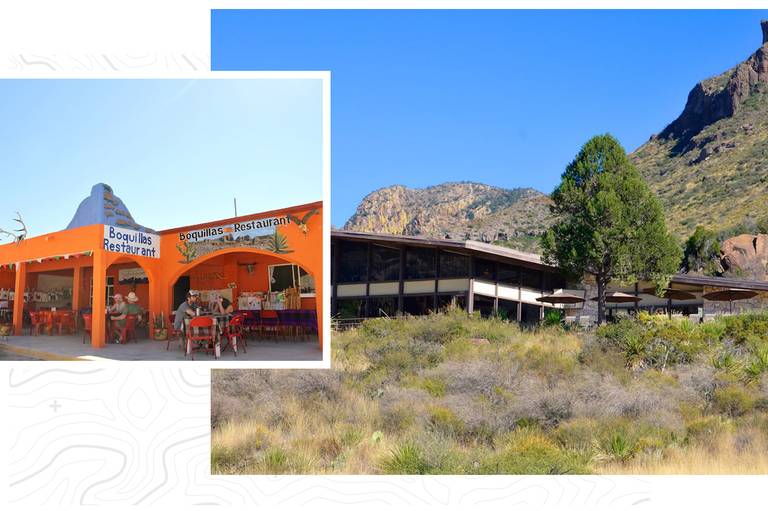 SLEEP
In Texas, we're darn proud of our wide open skies, and if you spend a few nights beneath the stars you'll understand why. Here are a few recommendations for where to camp while visiting the park.
Twisted Shoe Campground
Accommodates 1-2 vehicles
Flat parking, scenic views, hiking trails
29°13'26.3"N, 103°14'27.8"W
Terlingua Abajo
Accommodates 3-6 vehicles
Flat parking, scenic views
29°11'55.5"N, 103°36'15.9"W
Johnson's Ranch
Accommodates 3-6 vehicles
Flat parking, trees and shade, protection from wind
29°01'22.8"N, 103°22'09.9"W
Gravel Pit
Accommodates large groups
Flat parking, river access, multiple sites
29°09'05.1"N, 103°00'08.7"W
McKinney Spring
Accommodates 2-3 vehicles
Flat parking, hiking, wind protection
29°24'22.2"N, 103°05'26.1"W
Chisos Mountain Lodge - We highly recommend camping while visiting the park, but if you want to stay in a centrally located hotel, the Chisos Mountain Lodge would be the way to go. It offers a range of accommodations, including cabins and motel rooms, and the only restaurant in the park. It's known for its breathtaking views of the surrounding mountains and convenient access to hiking trails and outdoor activities.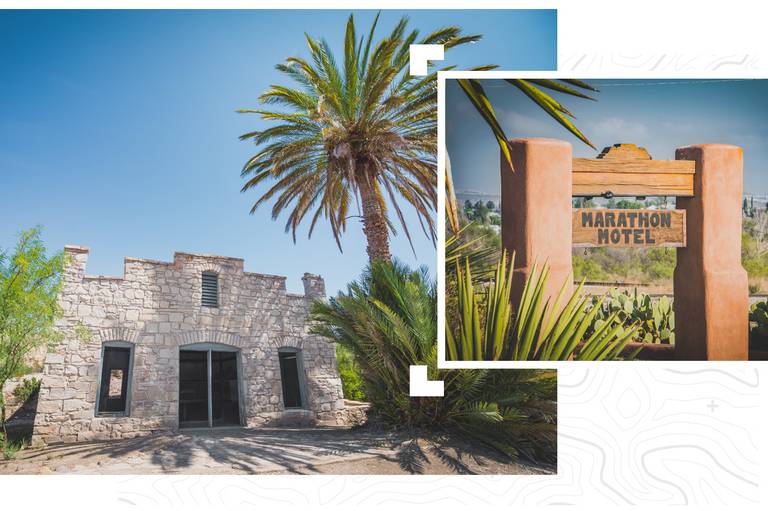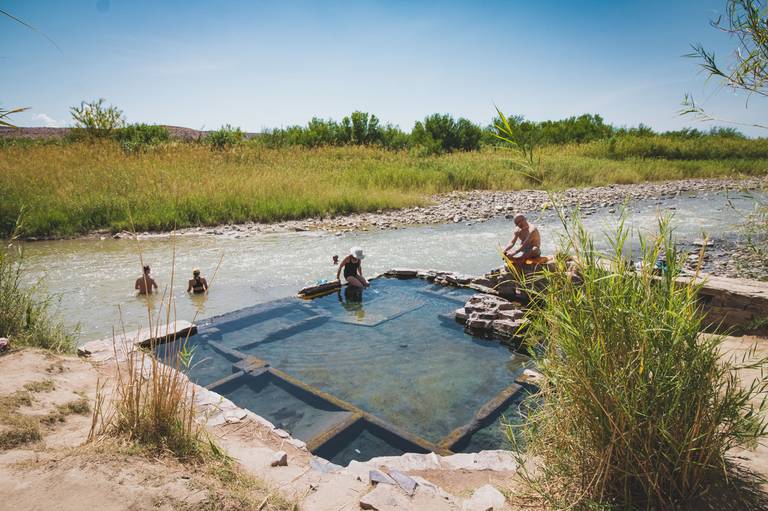 LUBRICATE
Starlight Theatre - Located in Terlingua, just a short drive from Big Bend National Park, the Starlight Theatre is a famous bar and restaurant. It offers live music, a vibrant atmosphere, and a wide selection of drinks.
La Kiva Bar & Restaurant - Also located in Terlingua, La Kiva is known for its unique underground setting. The bar has a rustic charm and is a popular spot for locals and tourists alike to relax and enjoy a cold beverage.
High Sierra Bar and Grill - Situated in Terlingua, High Sierra Bar and Grill is another notable establishment. It features a spacious outdoor patio where you can unwind with a drink while enjoying the stunning desert views.
REPAIR
Diegos Tire Repair - No matter what tire needs you may have Diego's can probably help you out. From patches and plugs to replacements and more.
Terlingua Auto Repair - If you've got mechanical issues and can't make it further north, Terlingua auto repair will be your best (only) bet in the area for getting back on the road.
Panther Junction Park Headquarters - 432-477-2251

Presidio Police - 432-229-3527

Big Bend Regional Medical Center - 432-837-3447
PRO TIPS
ACCESS:
West entrance From Alpine, head south on SH 118 for 87 miles toward Terlingua. Upon reaching the Maverick Entrance Station, pay your fees and take the first right onto Old Maverick Road, where your route begins.

East entrance From Marathon, head south on US 385 for 41 miles until reaching the Permission Gap Entrance Station. Pay your fees and continue 13 miles south to Dagger Flat Road and turn, proceed on route.
FUEL SOURCES:
Alpine, Texas - 30°21'35.9"N, 103°39'20.2"W
Terlingua, Texas - 29°19'45.0"N, 103°32'03.7"W
Rio Grande Village, Texas - 29°10'58.1"N, 102°57'40.9"W
Marathon, Texas - 30°12'24.9"N, 103°14'08.5"W

PERMITS & FEES:
Big Bend National Park requires permits for day use ($25/car, $20/ motorcycle, $12/bicycle, 7-day pass) as well as for backcountry camping ($12/vehicle) and developed camping ($14/vehicle). You may only camp in designated sites. Permits must be obtained in person at the visitor center no more than 24 hours before your trip.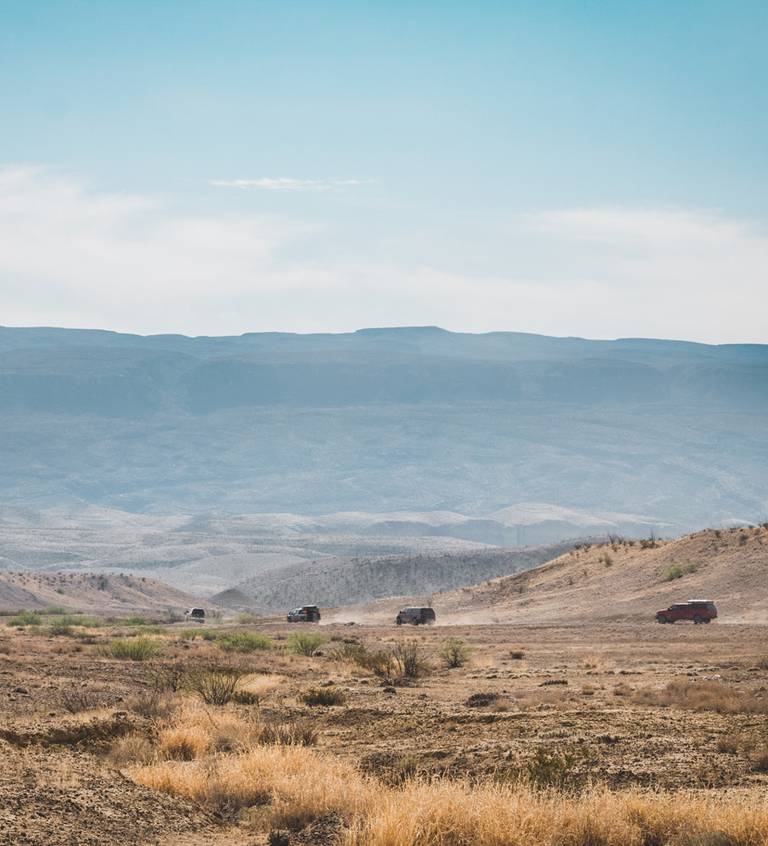 WHEN TO GO
Big Bend is open year-round; however, summer temperatures can be sweltering, and many park facilities close. We recommend visiting in spring or fall when temperatures are moderate. Winter can also be pleasant, though nighttime temperatures may drop below freezing. Avoid holidays if possible as the park is often full during spring break, Thanksgiving, and winter break.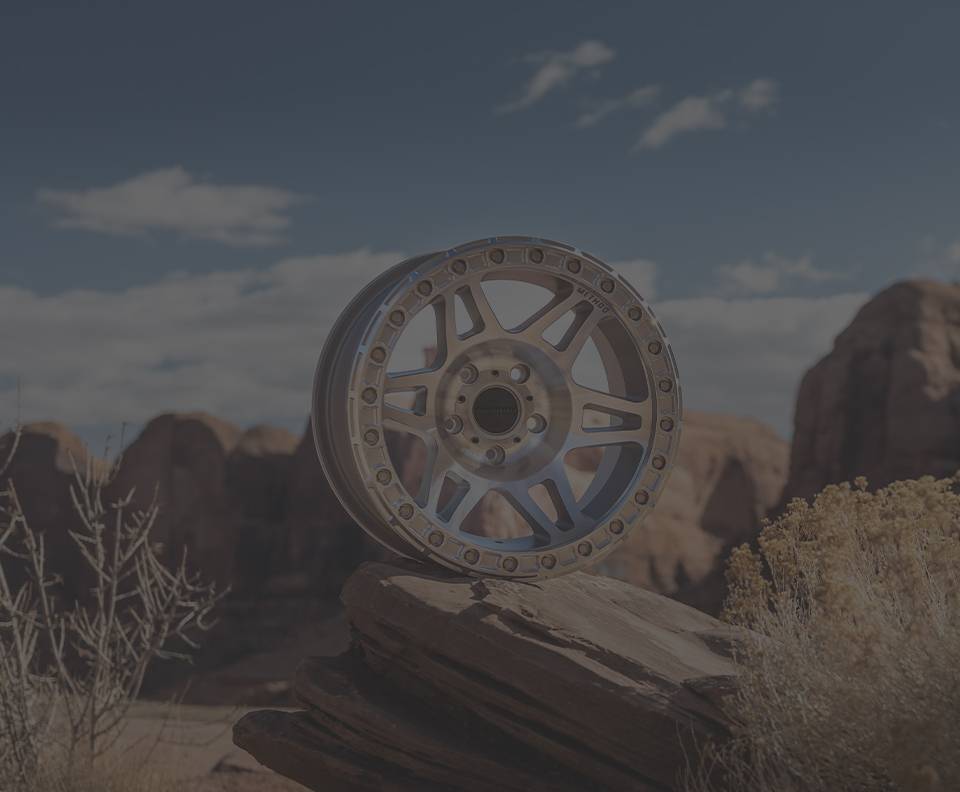 BEADLOCK TECHNOLOGY
Seeking out the harshest terrain? Explore the benefits of Beadlock systems.
LEARN MORE