When it comes to hitting off-road trails in Moab, there are two types of Jeep owners. Ones who want to go there, and ones who want to go back.
Uranium and vanadium were discovered in the area in the 1910s and 1920s, leading to trails criss-crossing the land in every direction from town. In the 1950s Moab became the "Uranium Capital of the World" after geologist Charles Steen found a rich deposit of uranium ore in the area during the birth of the Cold War and nuclear arms race. The city population exploded over the next few years to nearly 6,000 people. Seventy years later the population is still the same, and people are still coming from all over the country to Moab to drive down those same old mining roads.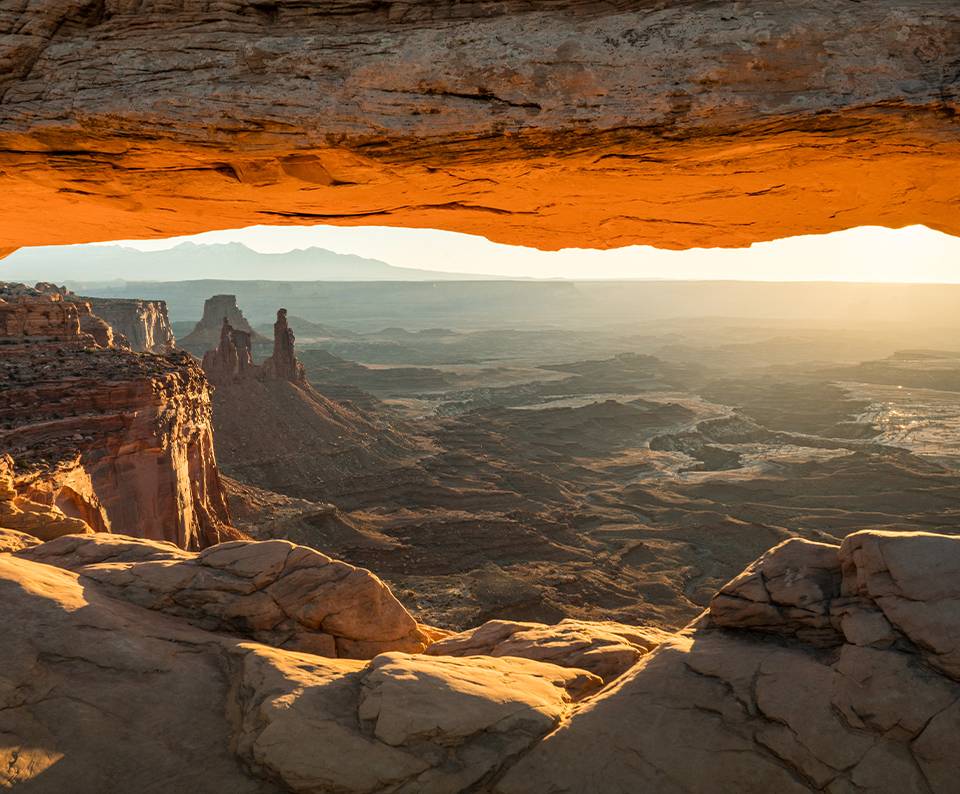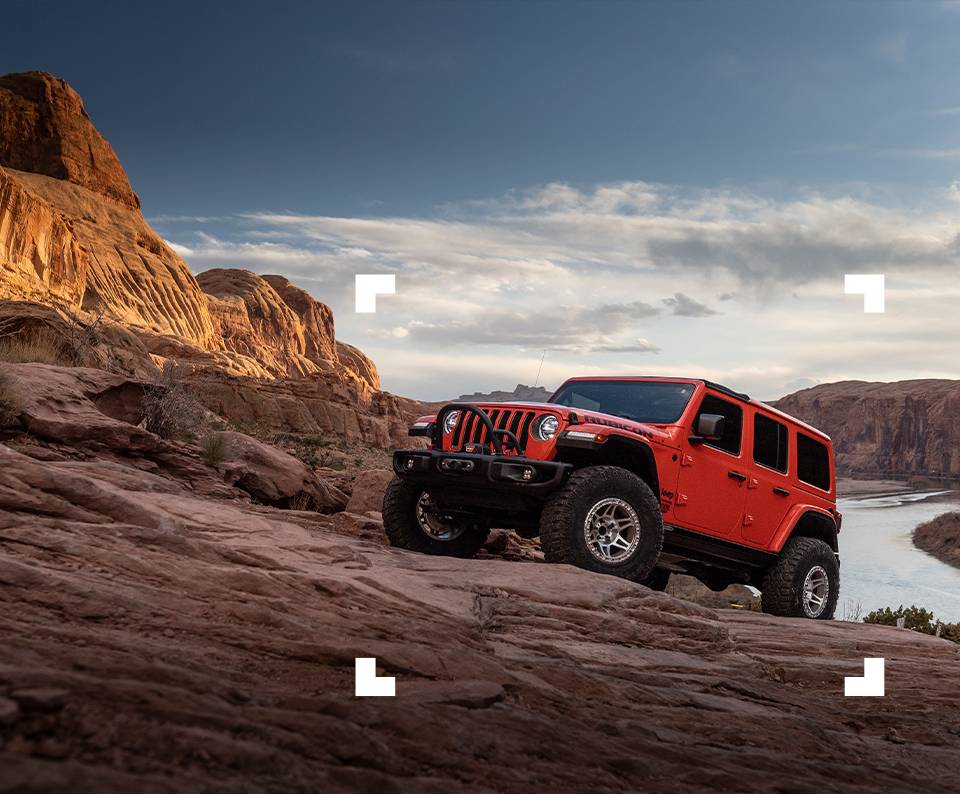 FIRST TRAIL TO HIT
Hell's Revenge is the quintessential Moab trail. It has sandpaper traction, pucker-inducing ledges, beautiful scenery, and challenging obstacles. The fact that most of those obstacles, such as Hell's Gate, the Escalator, and Mickey's Hot Tub are options, make this trail a great choice for a variety of vehicles and skill levels. Plus, it is super close to town at the Sand Flats Recreation Area (there is a fee, but it is modest) and the entire trail can be run in a couple of hours. It's the first trail we hit any time we arrive at Moab, then we stop at Milt's Stop & Eat at the bottom of the hill on our way back into town for a burger and milkshake.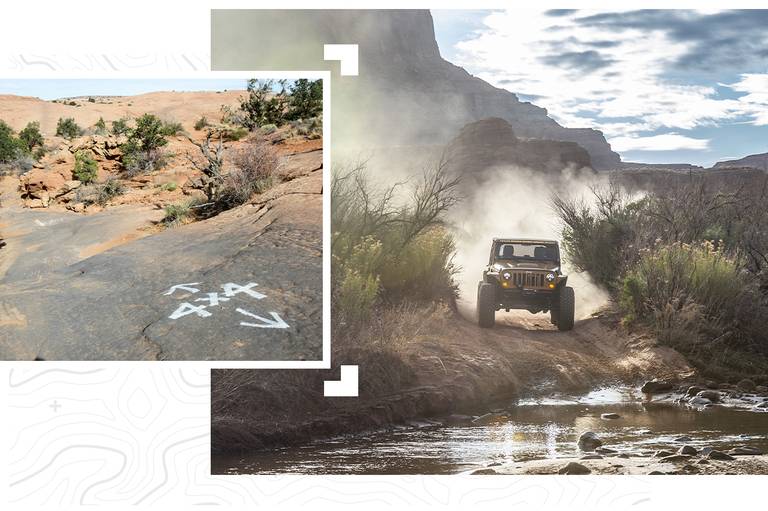 OUR FAVORITE TRAILS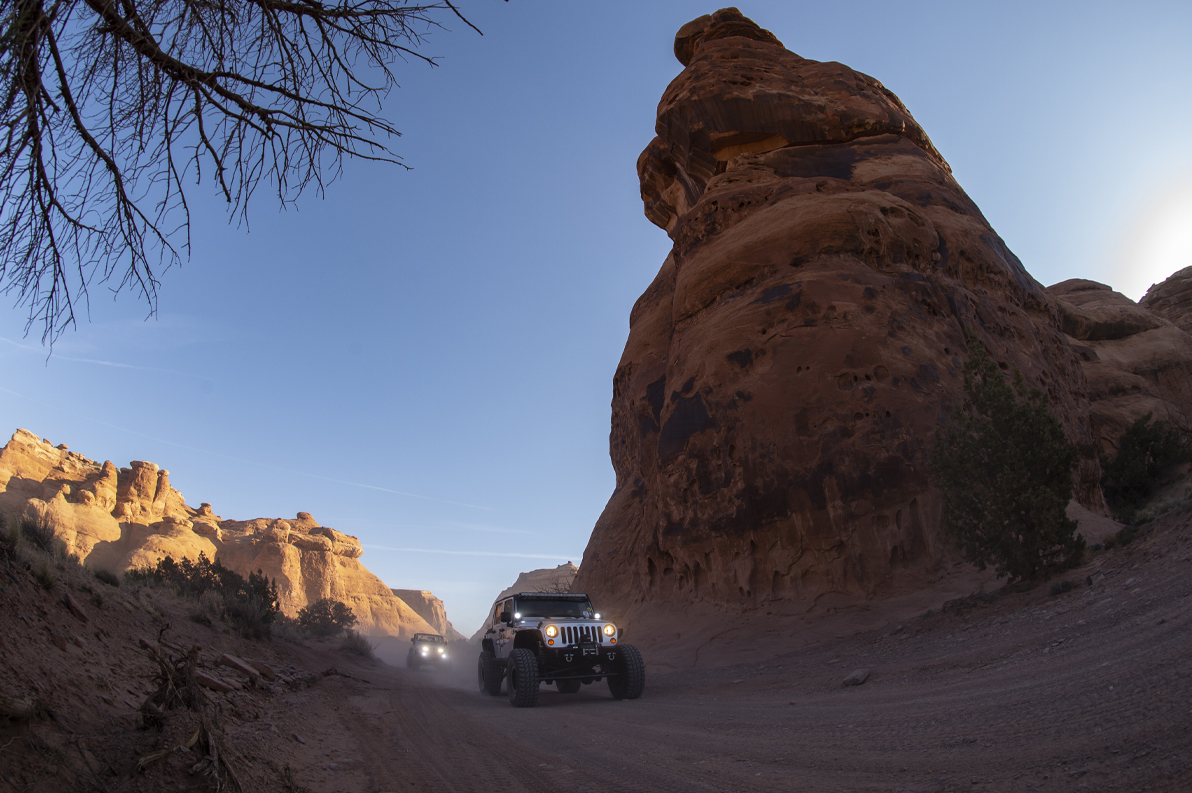 Moab is basically split into four quadrants, with the Colorado River running east-west and Highway 191 running north-south through town. The northeast quadrant is encompassed by Arches National Park, which is definitely worth a visit for its breathtaking scenery and unique geologic formations.
The northwest quadrant contains famous trails including Gold Bar Rim, Golden Spike, Rusty Nail, and Poison Spider Mesa, along with the more mellow Long Canyon and Gemini Bridges. The hardest trails in Moab can be found on the southwest side of town, and include Moab Rim, Cliffhanger, Behind the Rocks, and Pritchett Canyon. We typically save Pritchett Canyon for last because it is the most difficult trail in the area and most likely to result in broken parts that can end your vacation. The road out of Pritchett is also long and bumpy, so if you don't have a well-tuned suspension with coilovers you might want to turn around at the Rock Pile and head back out the way you came in.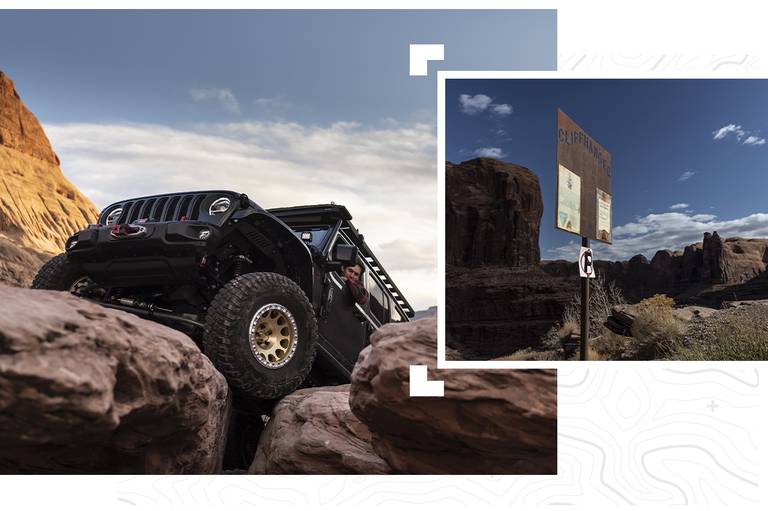 If those trails intimidate you don't fear, White Rim, Chicken Corners, and Lockhart Canyon are also in this quadrant. The La Sal Mountains are to the southeast of Moab, and between town and the mountain range lie Hell's Revenge, Fins N Things, Porcupine Rim, and Steel Bender.

OTHER THINGS TO DO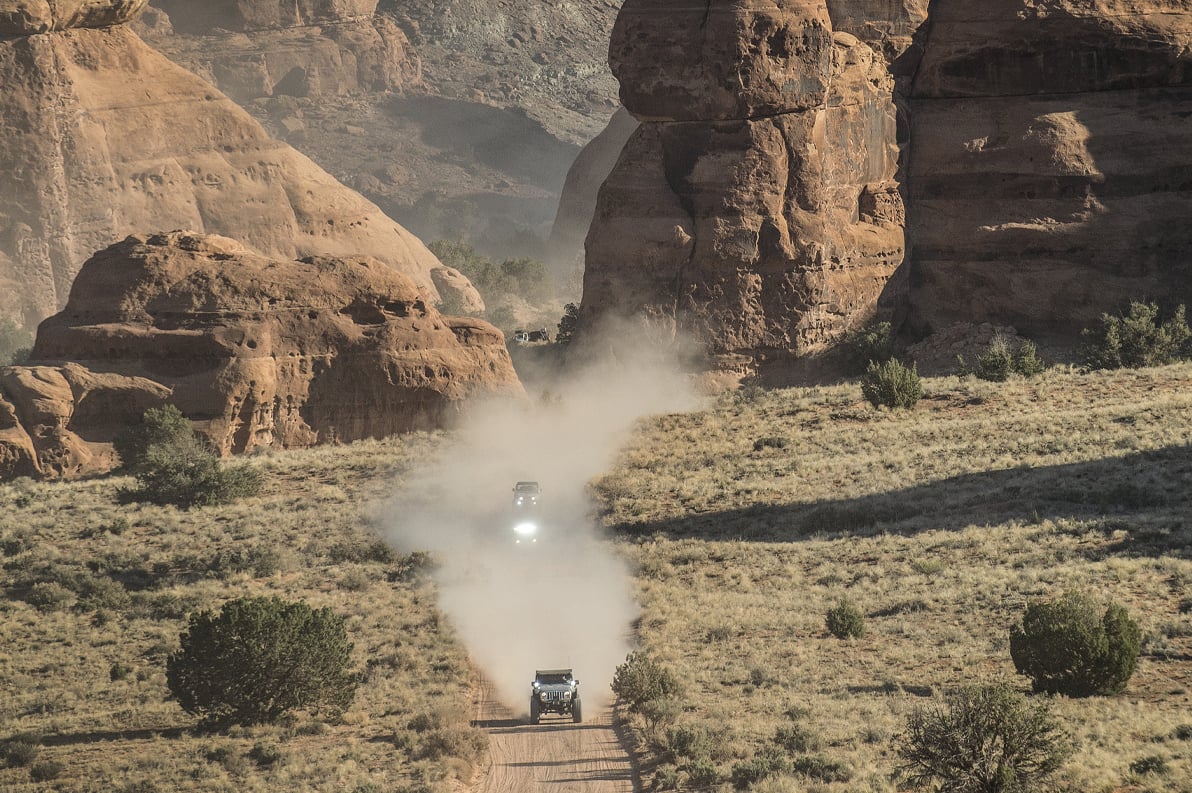 Is your family not as fanatical about rock crawling as you are? Don't worry, there are plenty of other things to do in Moab for the entire family. Moab is arguably more famous for its mountain biking and rock climbing than the rock crawling. Since the town is located right on the Colorado River, rafting and jet boat trips that can be booked in town. Just north of the Colorado River, Arches National Park offers gorgeous views and hikes for all fitness levels at landmarks such as Balanced Rock, Delicate Arch, and Park Avenue.
"ARCHES NATIONAL PARK OFFERS GORGEOUS VIEWS & HIKES FOR ALL FITNESS LEVELS"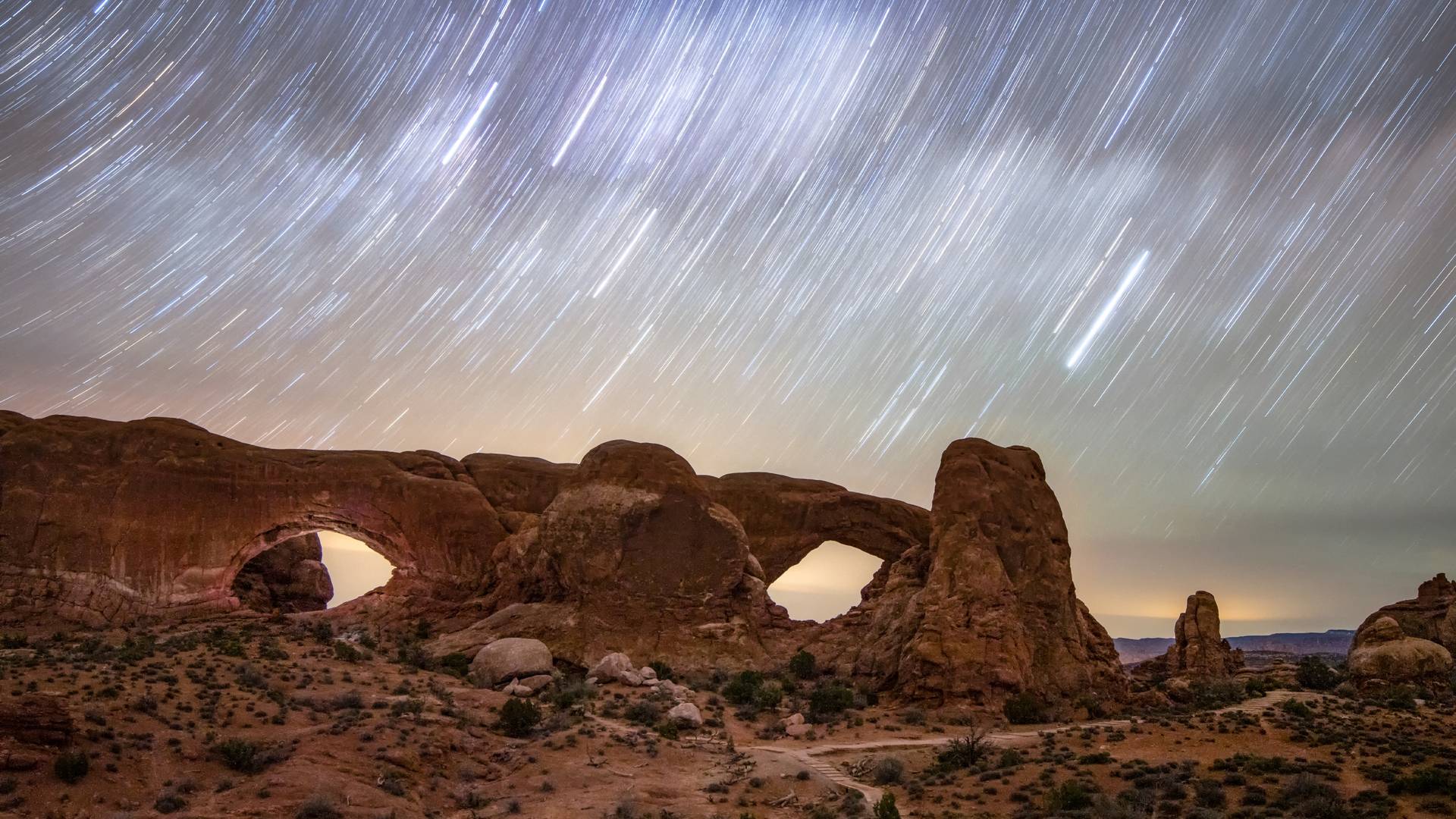 RECOMMENDED EQUIPMENT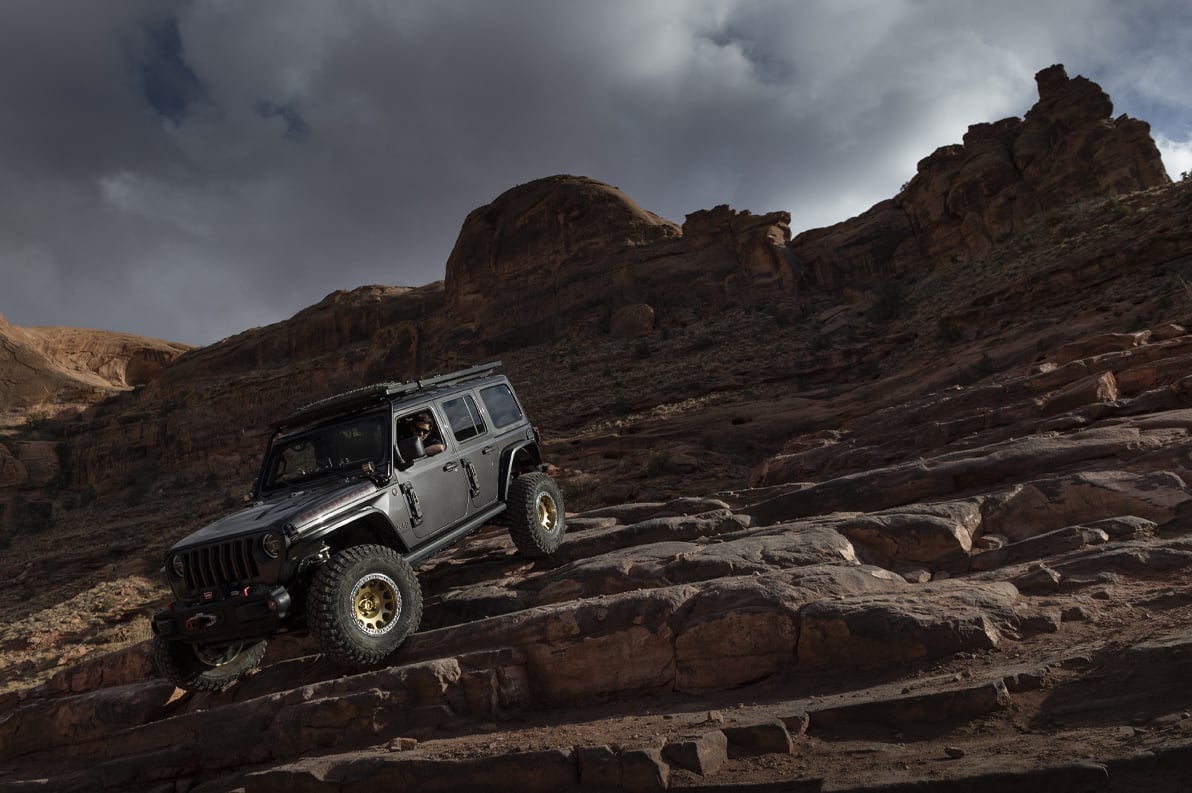 If you want to run the toughest trails Moab has to offer, you're going to need more than a showroom stock vehicle. Low gearing, locking differentials, skid plates and rock sliders, larger tires (35-inches and larger), and beadlock wheels are a necessity to get the most out of your trip to Moab. The low air pressure made possible with beadlocks is key to maximize your tire's contact patch on the slickrock and ensure forward progress up sheer rock faces like Chewy's Hill and the Launch Pad.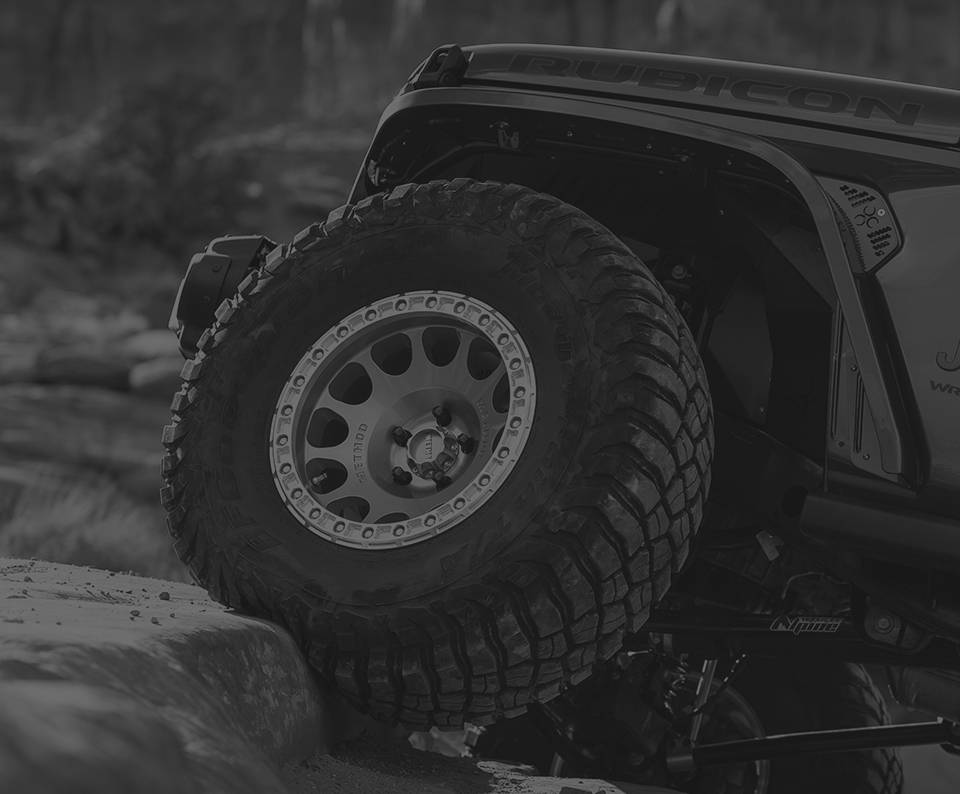 105-V3 BEADLOCK GOLD
Developed for the serious off-road enthusiast, you'll find these 4x4 wheels on adventurous overland rigs such as Toyota 4Runners to your extreme Jeep rock crawlers and everything in between.
SHOP NOW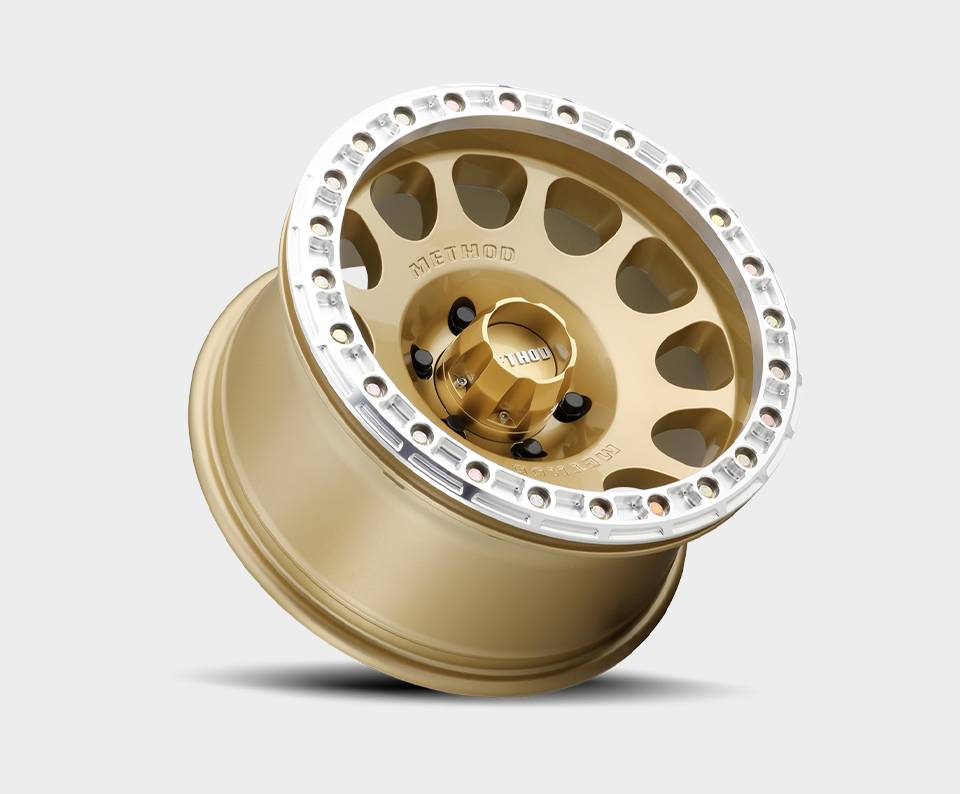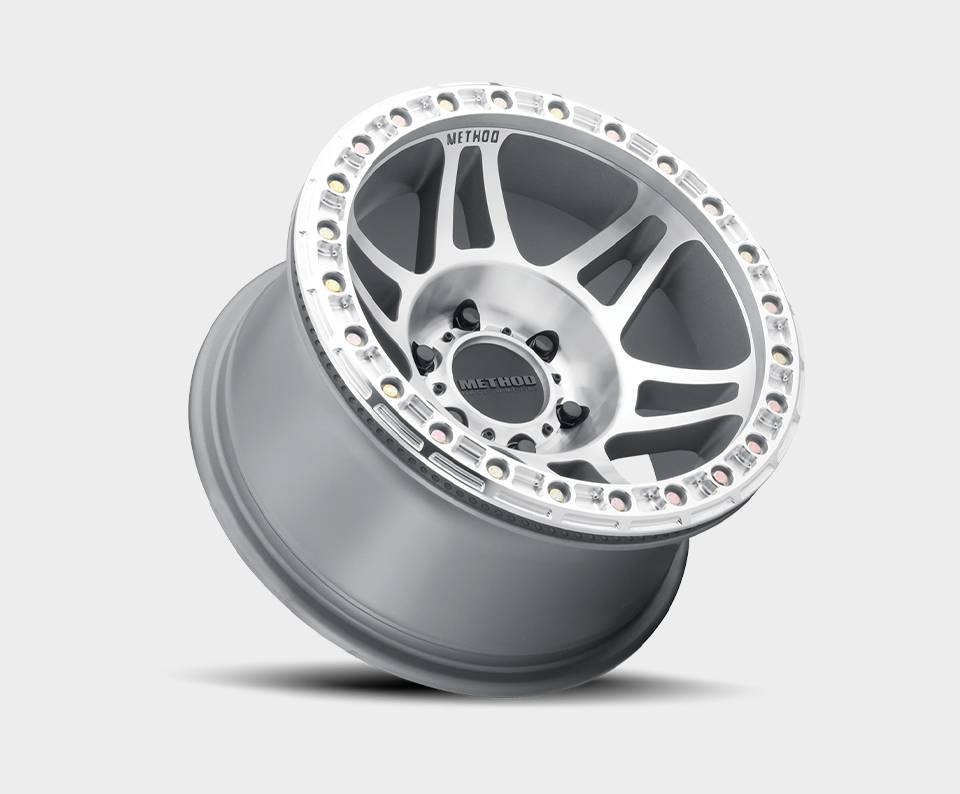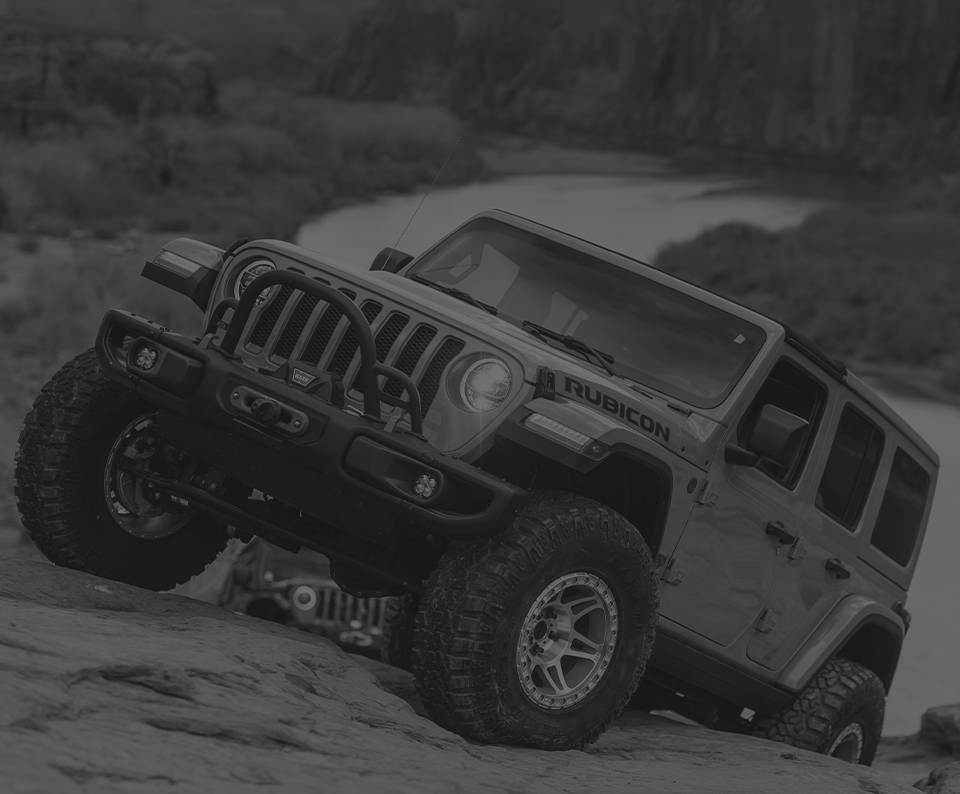 106 BEADLOCK MACHINED
The Method Race Wheels 106 beadlock wheels are the perfect addition for those rock crawling, desert pre-running or anywhere your off-road vehicle can possibly go.
SHOP NOW
EAT
Moab Garage Co. - Go for a coffee, exit with something tasty for breakfast. Try the McLovin' or the Croque Monsieur. Super friendly staff and hip ambience.
Antica Forma – Homemade mozzarella and Neapolitan pizza from a woodfire oven.
Milt's Stop and Eat – An institution amongst Moab traditionalists. Walk up burgers, fries and shakes.
Doughbird – Gourmet donuts in the morning, chicken & waffles in the afternoon. Have the salted caramel cronut… trust us when we say it's bomb!
Spitfire Smokehouse – Indoor / outdoor seating. BBQ platters fly out of the kitchen while the jukebox rocks. We would recommend the Mac N Cheese bowl with bacon and pork.
Quesadilla Mobilla – Food truck on the corner of W 100 St. has the melted cheese you need at reasonable prices.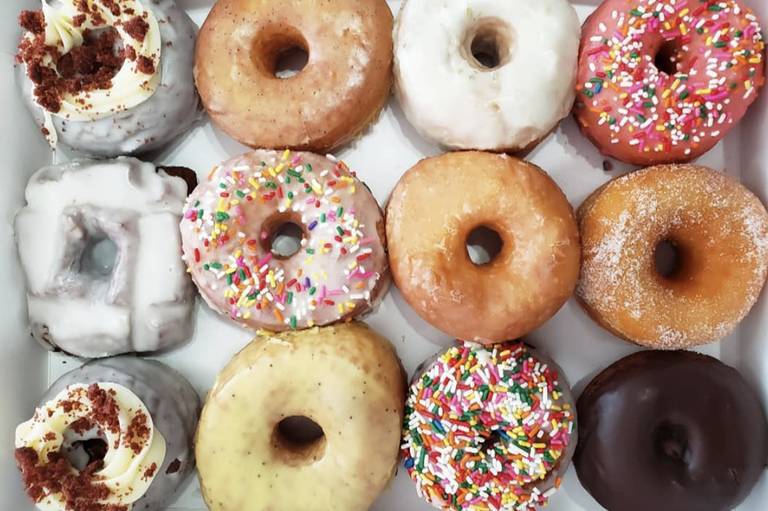 SLEEP
Red Cliffs Lodge $$$ - On the edge of the Colorado river, surrounded by towering red cliffs this resort is a 25 min drive to the center of town but feels worlds away. Spread out on a sprawling 200 acre property with rustic suites and cabins. With a large central pasture where horses graze this feels more like a ranch than a resort. Onsite restaurant, winery & horseback riding.
HooDoo Moab $$$ - A new hotel from Hilton, for those looking for something more contemporary this hotel is off the main street but still in the center of the town of Moab.
Rental Condos $$+ - There are a variety of condo rentals in the Moab valley. Pack Creek Ranch at the base of the La Sals is a favorite. While it is a little far from town, being 2,000 feet higher in elevation than Moab it is typically cooler in the summer and it only takes 15 minutes to get to the south end of town. There is no cell service at Pack Creek Ranch, but that can be part of the appeal. For something closer to civilization try the Entrada complex with modern units and plush furnishings just a few blocks from stores and restaurants.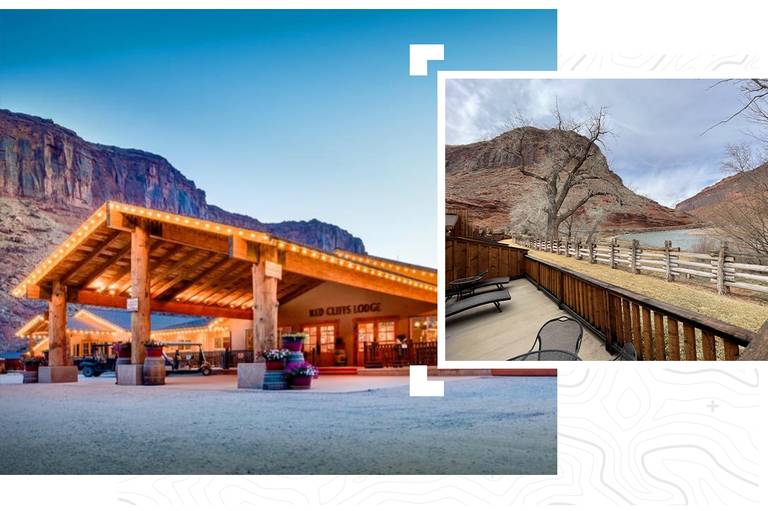 Camping $ - Moab is full of RV parks and campgrounds with bathrooms and full hookups. In every direction from town there are also more primitive camping options. Hunter Canyon Campground on the road to Kane Creek is arguably the most beautiful camp spot and has lots of shade (a rarity around Moab) but it is small and fills up quickly. There are several public campgrounds east of town on the river, but they don't provide a lot of shade so bring an EZ-Up or awning. Tip: Word on the street is that the Moab KOA isn't too friendly towards off-roaders…
MOC Moab Off road Compound $$$$ - Looking for the ultimate space for you and up to 23 of your friends? This 8000 sq. ft. condo/shop/mancave is designed for large groups with garages to work on vehicles, patio with a hot tub, a fire pit and gated outdoor parking. Baller status and Dixie 4x4 is right next door if you need some expert repairs.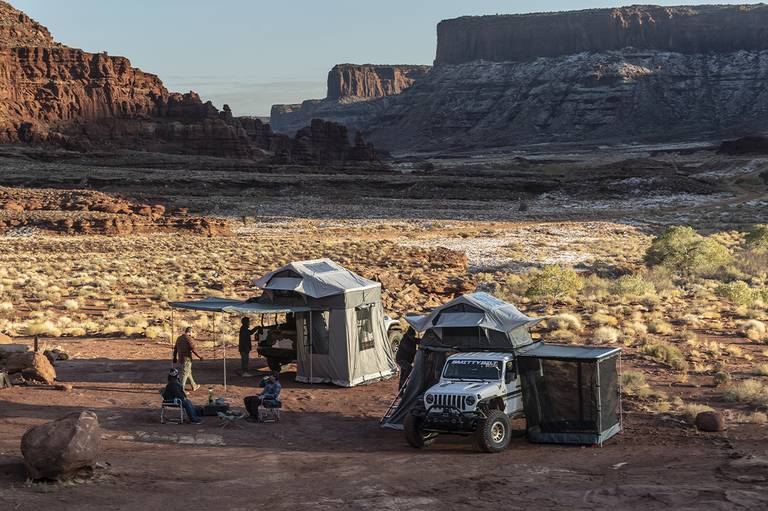 LUBRICATE
Spitfire Smokehouse - Also on our eat list for great BBQ, the open air bar is very well stocked and equipped with darts & pool tables.
Woody's Tavern - Dive bar with surly staff
Moab Brewery - Great beer, good food, always packed during Easter Jeep expect to wait for a table.
REPAIR
Dixie 4X4 - A family run repair and upfit shop servicing Jeeps, SUV's and side by sides. Conveniently located off Hwy 191 in Spanish Valley.
Xtreme 4X4 tours – If $h*! hits the fan and you need serious help out on the trails then give Dave at Xtreme a call, he's got a mean dually 4x4 tow truck that can pull you out of just about anywhere.
NAPA auto parts – If you're like us than Napa is always the preferred chain store to try and find what you need. W 200 St. in the center of town.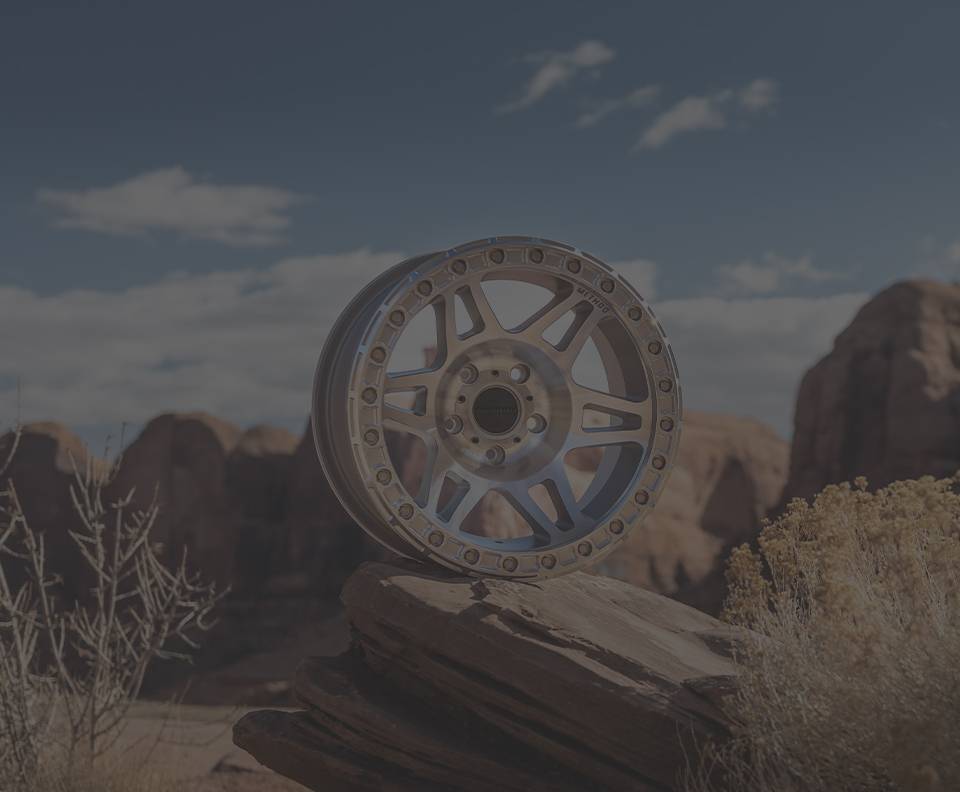 BEADLOCK TECHNOLOGY
Seeking out the harshest terrain? Explore the benefits of Beadlock systems.
LEARN MORE