If you own a Jeep, when you hear the word "Rubicon" you probably think of Jeep's most capable Wrangler model, named after the trail in Northern California.
The trail itself was named after the Rubicon River in Italy, which Julius Caesar famously crossed in 49 BC, starting the Roman Civil War. Caesar knew what he had done, exclaiming "the die is cast". Crossing the Rubicon Trail is not an all-out war, but it isn't without its carnage and rivalries.
These days the main rivalry on the trail is based on brand loyalty, with Jeeps, Toyotas, Suzukis, rock buggies, UTVs, and more crossing the trail each summer after the snow has melted high in the Sierra Nevada Range.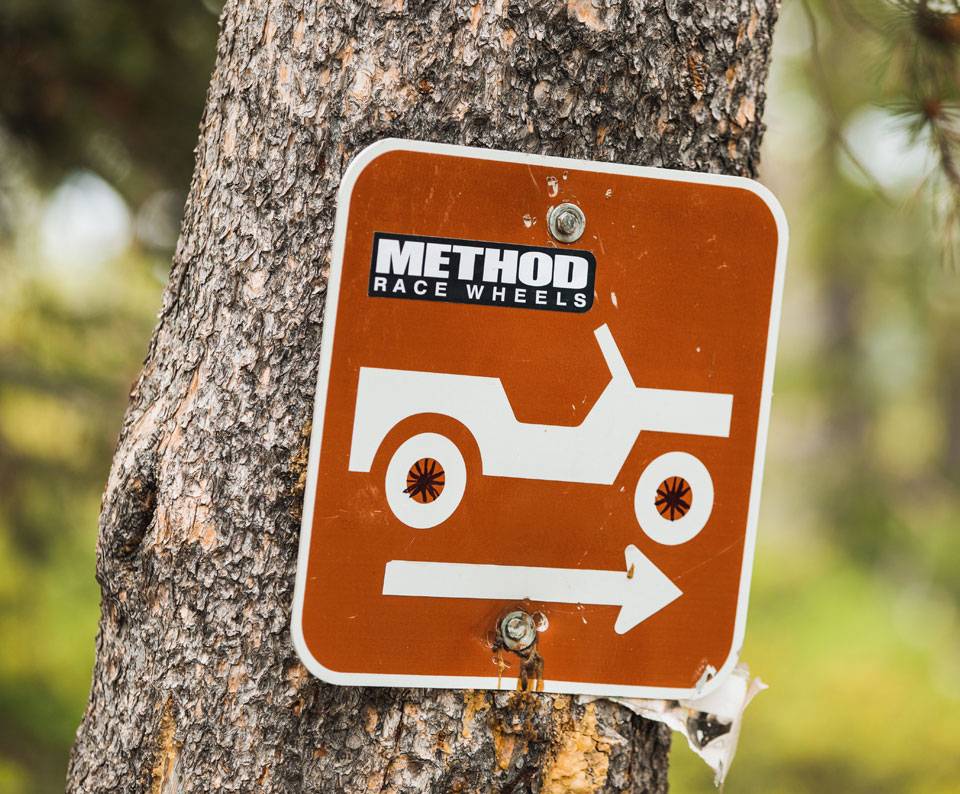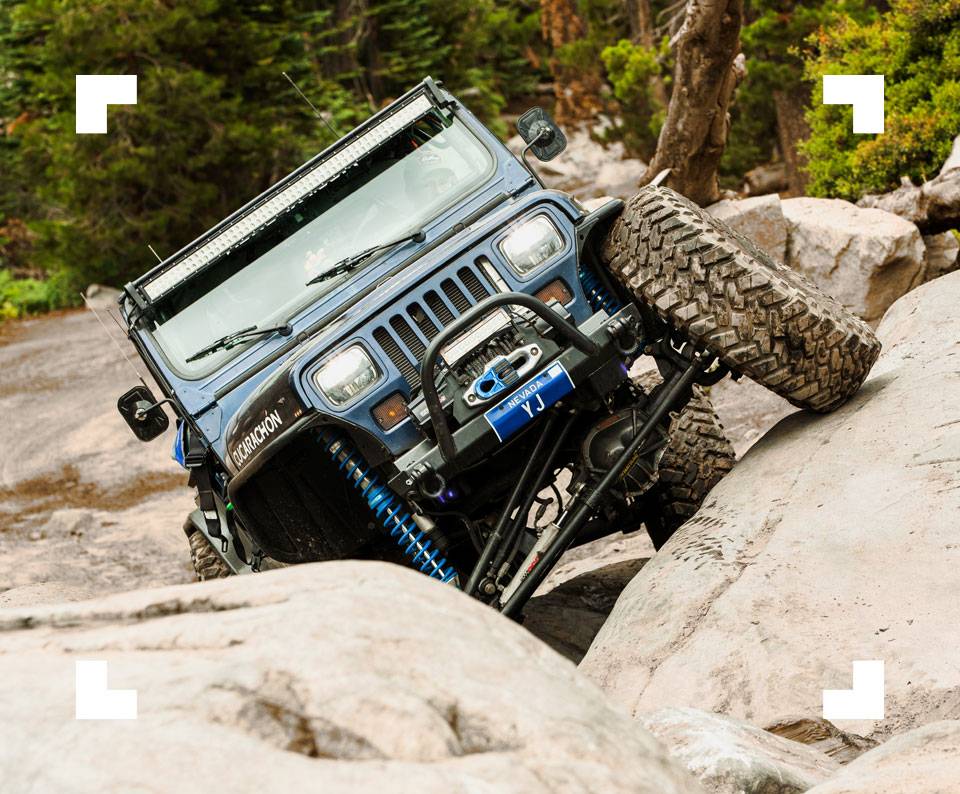 HISTORY OF THE TRAIL
Unlike most of the trails in the Sierra Nevada Range, the Rubicon is not rooted in the gold rush era. In the 1880s, mineral springs were discovered near Lake Tahoe at Rubicon Springs. The springs were reported to have therapeutic qualities and the area quickly became a vacation destination for the newly rich from San Francisco. In the western tradition of boomtowns, a hotel was erected and guests were brought in by stagecoach, and later by horseless carriage. As the Great Depression hit, the resort was abandoned and fell into disrepair through two world wars.
Similarly, the Rubicon/McKinney Road, between Georgetown and Lake Tahoe, was unused until 1953, when Mark Smith led the first group of flatfender Jeeps though the Rubicon on what would later been known as the Jeepers Jamboree. The Rubicon's status as a county road means that there are no gates or fees, just like when Smith crossed the trail over 60 years ago. That designation also means that all rules of the road apply though as well, including seat belt usage and drinking and driving. El Dorado County Sheriff Department does patrol the trail by Jeep and UTV, but they can be found lending assistance more often than handing out tickets.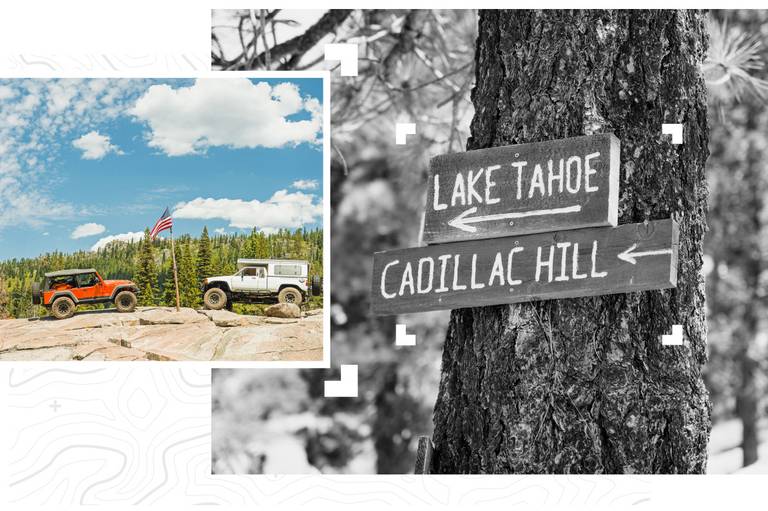 GETTING THERE
The most common direction the Rubicon is run is from west to east from Loon Lake to Lake Tahoe. An alternative route starts at Wentworth Springs and meets up with the Loon Lake entrance at Ellis Creek. To get to Loon Lake, you can either go through Georgetown on Highway 193 or up Ice House Road from Highway 50. Neither route is particularly wide, flat, or straight, and we have seen many a tow rig on the side of the road before they even reach Loon Lake. Make certain that your steering, braking, and cooling systems are all in tip top shape before beginning this journey.
When starting at Loon Lake we typically top off our fuel tank in Pollock Pines when coming from the west (Sacramento) or in Kyburz when coming from the east (Tahoe). On the other end of the trail you come out in Tahoma, on the shores of Lake Tahoe after a long, cobbled dirt road finally gives way back to pavement. The trail can be run backwards, but expect oncoming traffic and be courteous when you encounter it. A little goodwill goes a long way on the Rubicon, and you never know when you might need the help of other trail users.
HOT TIP
Airing your tires down on the trail not only allows the sidewall to conform to the terrain and provide a smoother ride, it also provides a larger contact patch on the rocks for increased traction. Method's new 108 Beadlock wheels not only use a forged beadlock ring and 3/8-inch Grade 8 hardware to physically clamp the outer tire bead to the rim, the 108 also utilizes Bead Grip technology on the inner bead seat for additional bead retention. Remember to air back up when you return to pavement. Running at freeway speeds with too low of air pressure can create excessive heat that could lead to tire failure.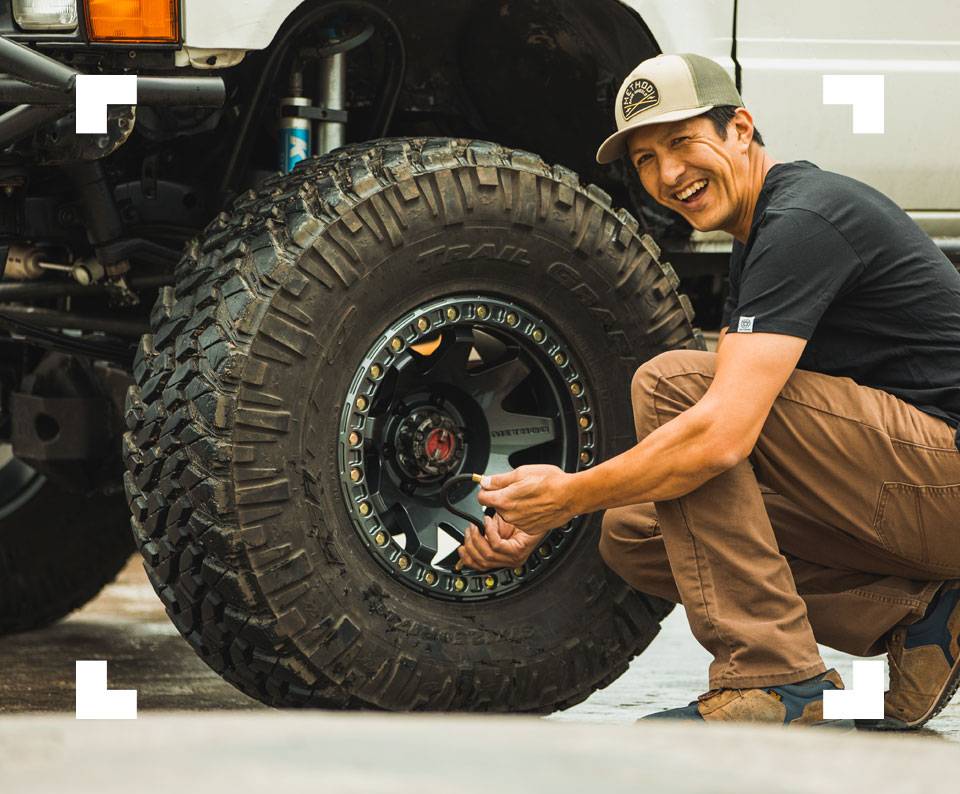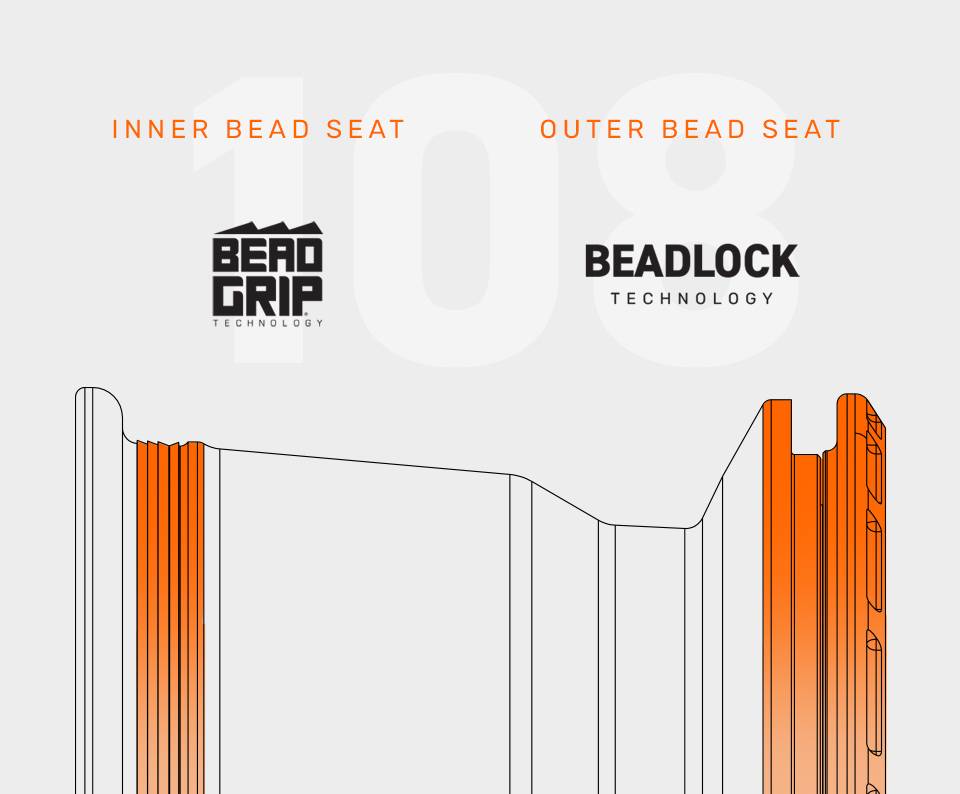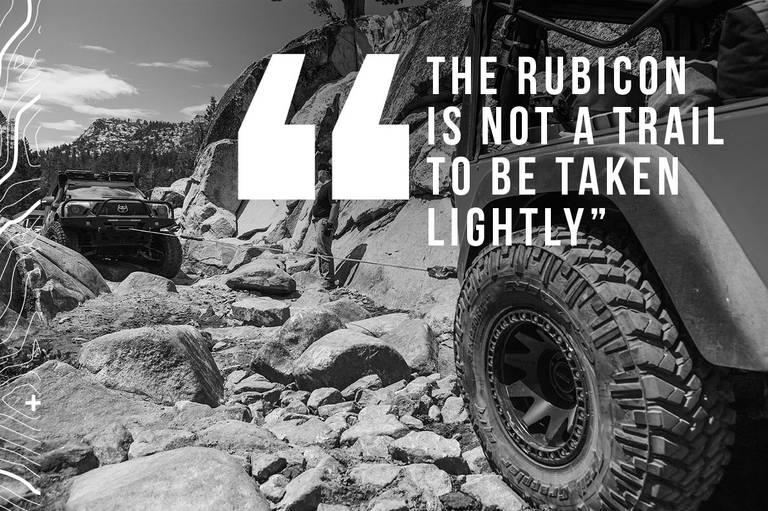 RECOMMENDED EQUIPMENT
The Rubicon is not a trail to be taken lightly. If you like a challenge and the goal is to survive, even if it means turning a few wrenches along the way, you can get a stock 4x4 through the Rubicon. If you are more interested in swimming in Buck Island Lake and getting in to camp before dark, a few modifications will make the trip much more enjoyable. Body armor, locking differentials, a winch, and big tires mounted on beadlock wheels are just a few of the components we recommend installing prior to tackling the trail.
Consider running at least 33-inch tall tires for ground clearance, and those tires should be LT rated (not P metric) with strong sidewalls and plenty of tread depth. Vehicles with supple suspension that keep the tires on the ground can get away with open differentials, but it does make the trail more challenging. We recommend at least one locking differential, preferably in the rear. Low gears (either in the differentials or the transfer case) will provide more control and generate less heat, particularly if you have a manual transmission.
108 BEADLOCK WHEELS
The 108 Beadlock wheel boasts a rugged 9 spoke design with a debossed Method logo on the spoke. It's our first wheel to feature both Beadlock and our patented Bead Grip® technology. The added bead seat on the inner lip creates an unmatched tire security. With extra material added to high-stress areas, the wheel is able to achieve a 4,000 lbs. load rating.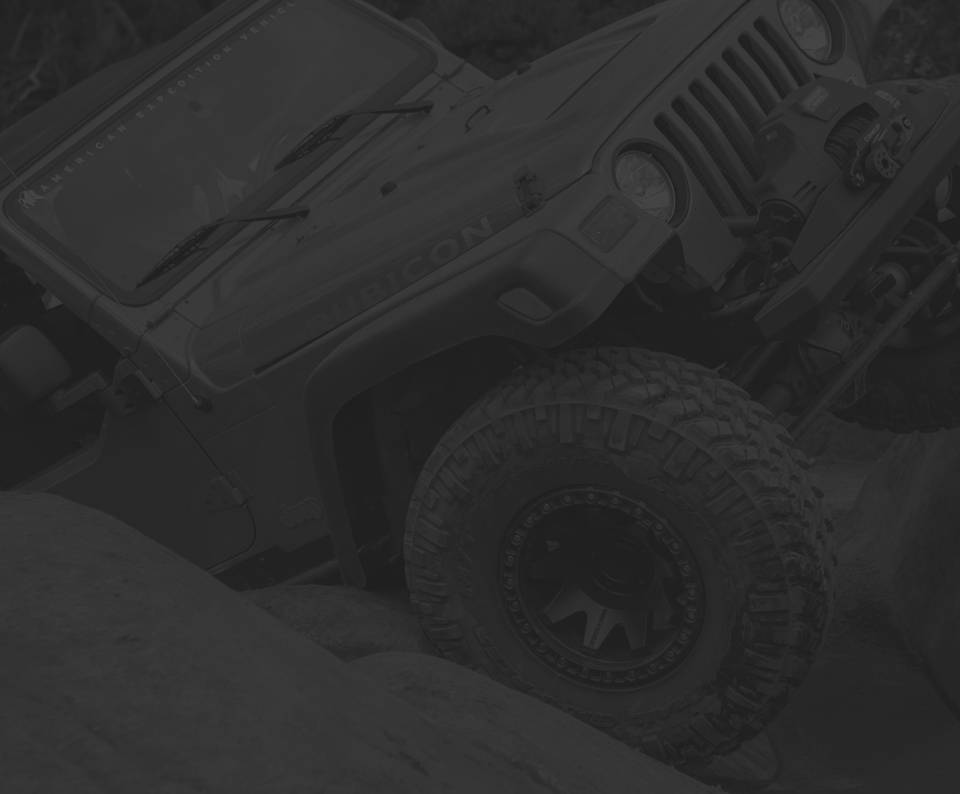 108 BEADLOCK MATTE BLACK
Beefy design throughout for extra strength. Increased thickness on barrel and inner bead flange. Extra material added in high-stress areas to achieve 4,000lb load rating.
SHOP NOW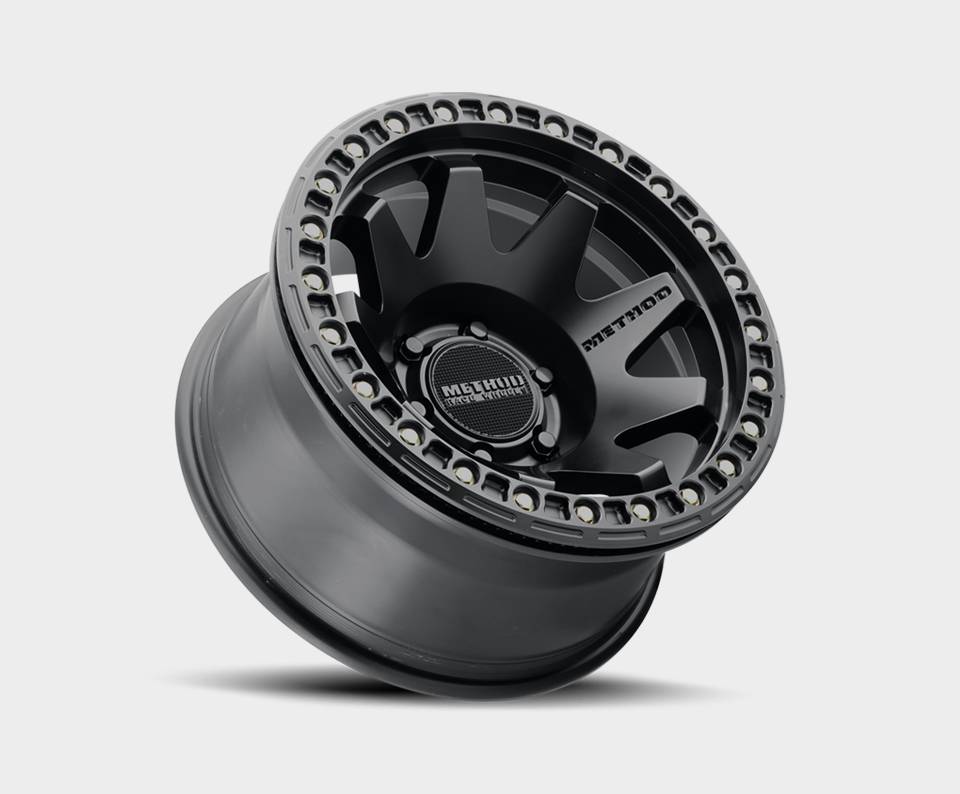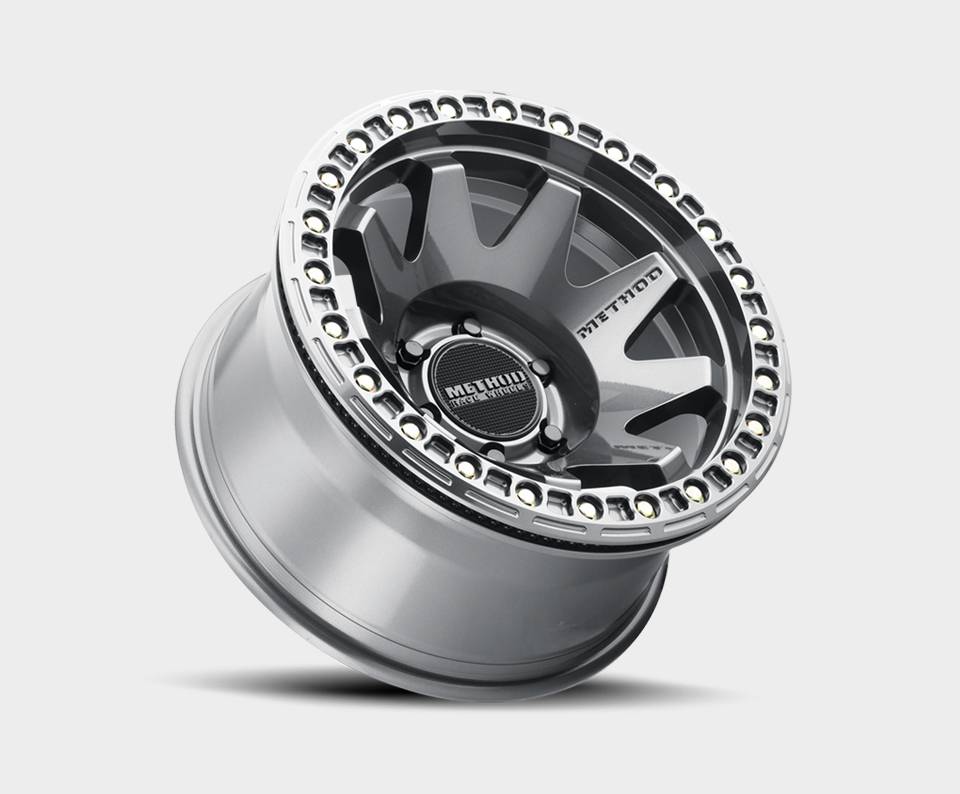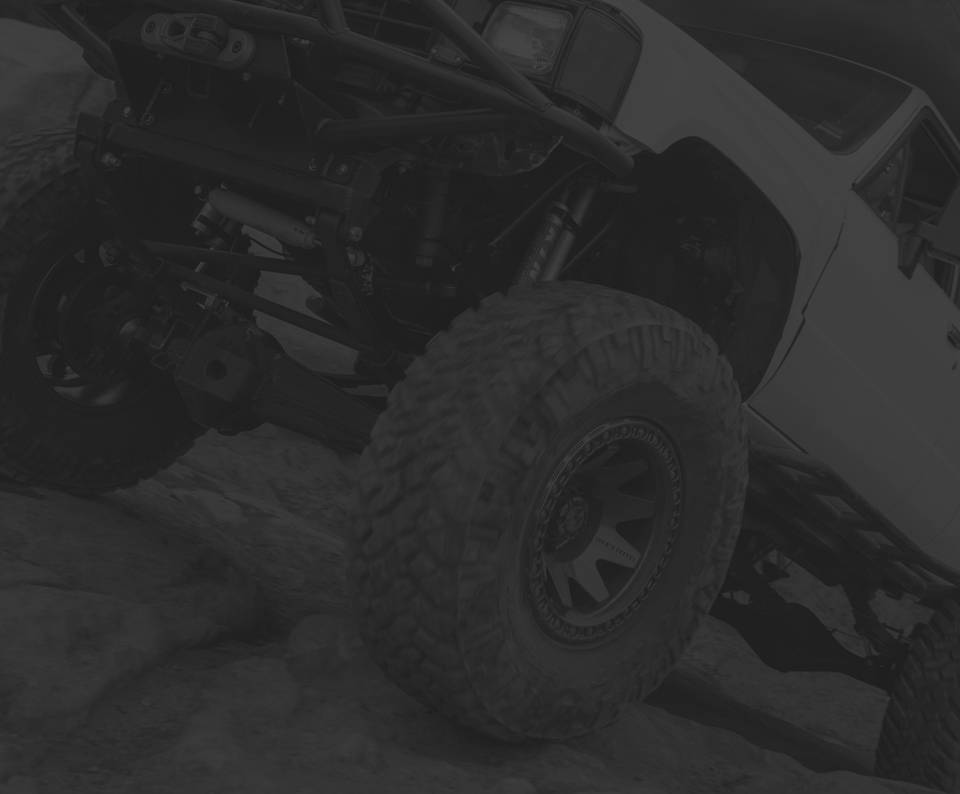 108 BEADLOCK GLOSS TITANIUM
Solid A356 aluminum with T6 heat treatment construction. Forged 6061 aluminum V5 beadlock ring. Patented Bead Grip® bead seats on inner lip.
SHOP NOW
OBSTACLES
The Rubicon Trail is basically endless obstacles from one end to the other for over ten miles. Some have names but many of the anonymous obstacles have given us just as many fits over the years as the well-known locations.
Gatekeeper — Coming in from Loon Lake the first obstacle you will encounter is the Gatekeeper.
Granite Bowl — Not an obstacle per se as much as an area. It is easy to get lost on the giant granite bowl, particularly after dark. Look for yellow reflective markers to ensure that you are on the trail and not about to drop off a ten-foot-tall ledge.
Walker Hill — Not particularly difficult, Walker Hill does have one tight spot on it and plenty of optional notches to keep your attention.
Soup Bowl — Arguably the most difficult obstacle on the trail, this obstacle makes a popular spot to spectate on busy weekend. It is basically a two-step ledge that is six feet tall and comprised of polished granite with minimal traction. Fortunately, the obstacle can be bypassed if you are not up for the challenge.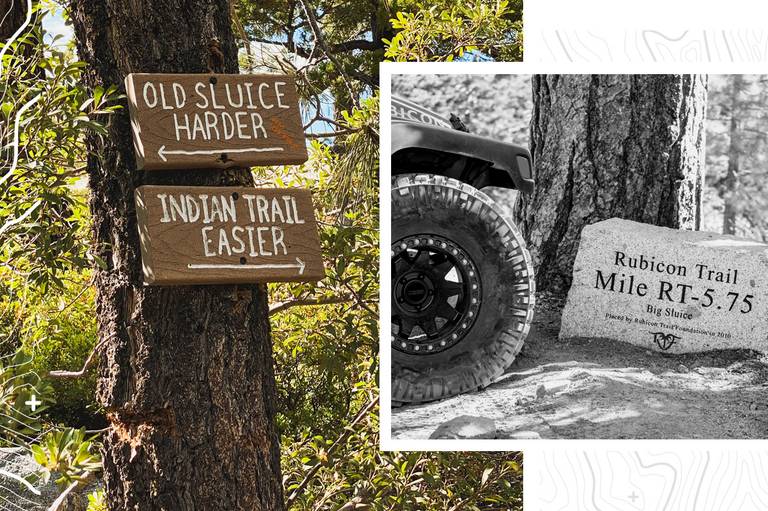 Little Sluice — A decade ago Little Sluice was modified in order to make it passable to "normal" vehicles and limit the number of bypasses around it. There is still a bypass, and you might want to take it, as the Little Sluice has become dug out and undercut at its crux, it isn't uncommon to have to winch through this obstacle.
Old Sluice — An optional part of the trail just before Buck Island, Old Sluice is much more difficult going up than it is going down. Either way it provides a challenge though, particularly if you have a fullwidth vehicle as you have to squeeze through a tight notch.
Big Sluice — The iconic tree in the middle of Big Sluice used to be the crux, however it fell during a wind storm in the fall of 2020 and the challenge has been removed. The most challenging part of Big Sluice is now at the bottom of the hill, where piles of loose boulders like to move under your tires and change the line from one vehicle to the next.
Cadillac Hill — By the time you reach Cadillac Hill you will likely be worn down, but you need to keep your focus as there are tight trees to contend with and gravity fighting your ascent. This is a particularly challenging location if you encounter traffic, as it is narrow and there is nowhere to pull off and out of the way.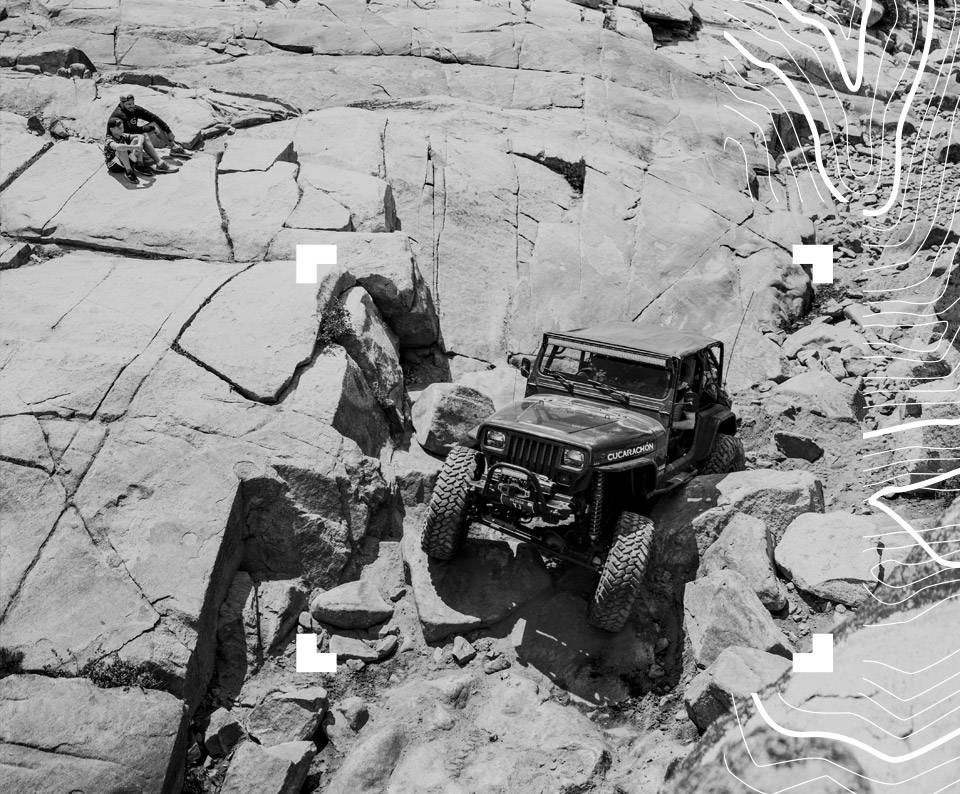 EAT
There are no restaurants on the Rubicon, you have to cook for yourself. We were lucky enough to have Rashad Frazier from Camp Yoshi with us on the trail. Rashad served us steaks pan seared in duck fat with charred onions and garlic smashed fingerling potatoes, but there have been plenty of times that we have gone through the Rubicon with a cold pizza and some beef jerky.
Not interested in cooking? Group trips offered by Jeep Jamboree and Jeepers Jamboree are completely catered so all you need to worry about bringing are your favorite beverages.
"IT IS BEST ENJOYED OVER THREE OR FOUR DAYS AT A RELAXED PACE"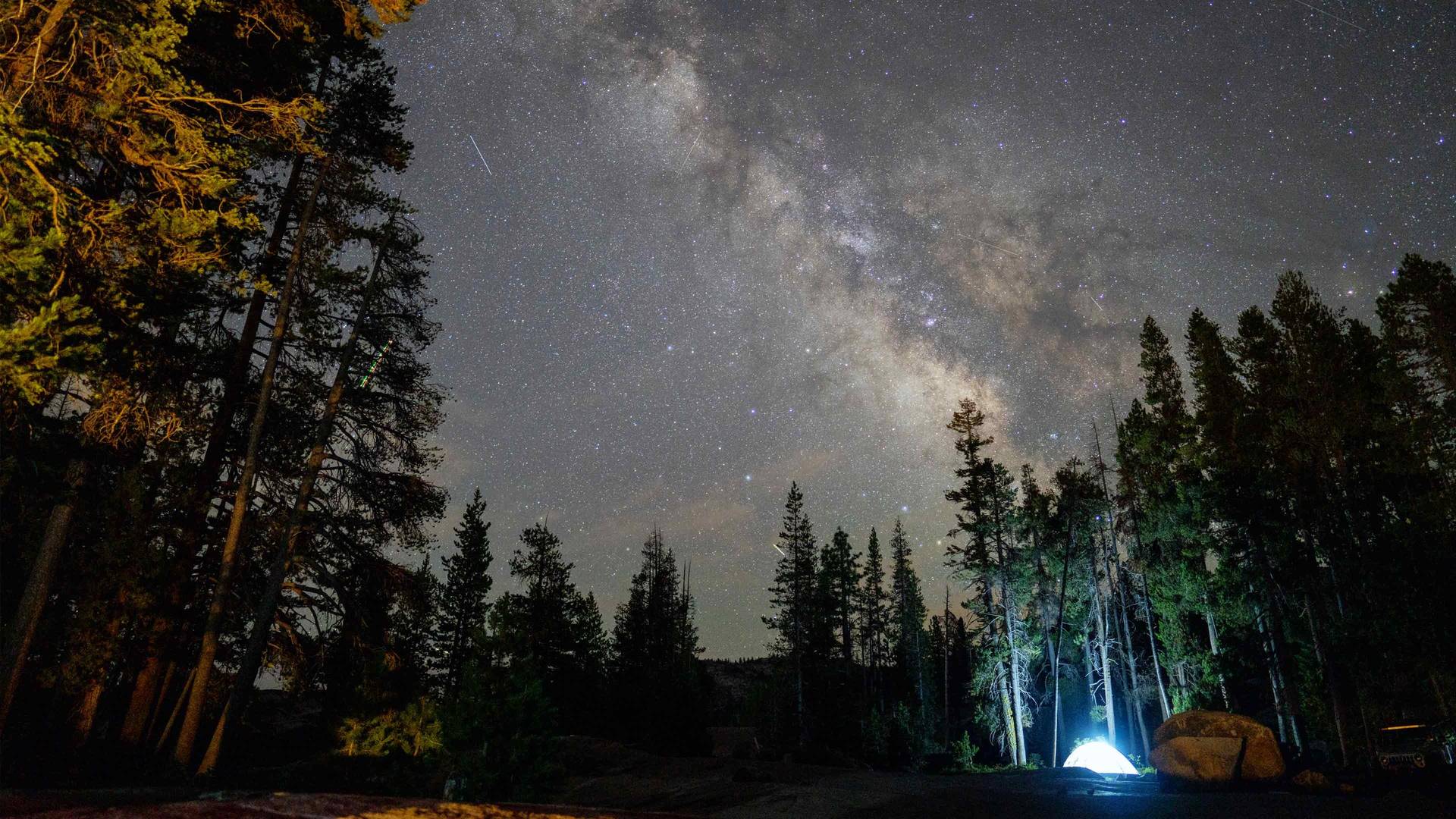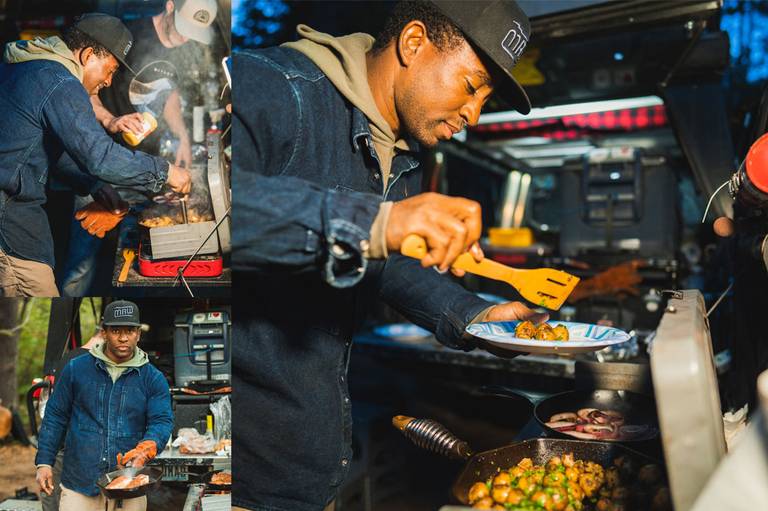 SLEEP
While there was a hotel at Rubicon Springs a century ago, these days you have to camp if you want to experience the Rubicon. The trail can possibly be ran in a single day, but it is best enjoyed over three or four days at a relaxed pace. There are dozens of spots to camp along the way, but some of our favorite are:
Wentworth Junction - If you get a late start and just want to camp on the trail without going too far, the junction between the Wentworth entrance and Loon Lake entrance is a good option with room for at least a dozen vehicles and tents. There is not any water available here but there are lot of level spots and it is generally quiet.
Little Sluice - Just before you reach the Little Sluice, there is a camp stop next to a lily pond with enough room for half a dozen vehicles and tents. This location is close to outhouses and within walking distance of swimming at Spider Lake or spectating at Little Sluice. If the camp is already occupied, there is another location just before this spot that you can backtrack to easily.
Buck Island - Half way through the trail, Buck Island Reservoir makes a great place to stop for the night with swimming, fishing, outhouses, and enough room for dozens of vehicles. Near the dam gets rowdy during busy summer weekends, but spots along the shoreline further to the east are typically more secluded. There is also private property owned by the Rubicon Trail Foundation just before you reach Buck Island that is open to the public with great camping options.
Rubicon Springs - This is basecamp for Jeep Jamboree and Jeepers Jamboree. There are numerous camp spots right along the water, and you can even cross the water and camp at the Dirty Dozen site where there is a rope swing and enough room for dozens of vehicles and tents. Note that Rubicon Springs is on private property, if you camp here you will have to pay a modest fee to spend the night but it is worth it.
Remember that fire restrictions are common the Rubicon in the summer. Do your research ahead of time to determine if campfires are allowed. If so you will still need a free permit that you can obtain online at https://www.readyforwildfire.org/permits/campfire-permit/.
REPAIRS
WFO Concepts in Auburn regularly brings in parts, repairs vehicles on the trail, and drags out broken rigs. But the tricky part is that there is no cell service on the Rubicon.
The last place you will have service on the Loon Lake side is the overlook approximately 3 miles before you reach the lake. You won't have service again until you get off the trail at Lake Tahoe.
HAM radios are popular for communication, the Rubicon repeater (444.9875 +5.00 PL 156.7) located near Spider Lake covers all of the Rubicon Trail except east of Barker Meadows OHV trail. The KA6GWY repeater (146.805 -.600 PL123.0) covers the west side of the trail and is linked into the Rubicon Repeater.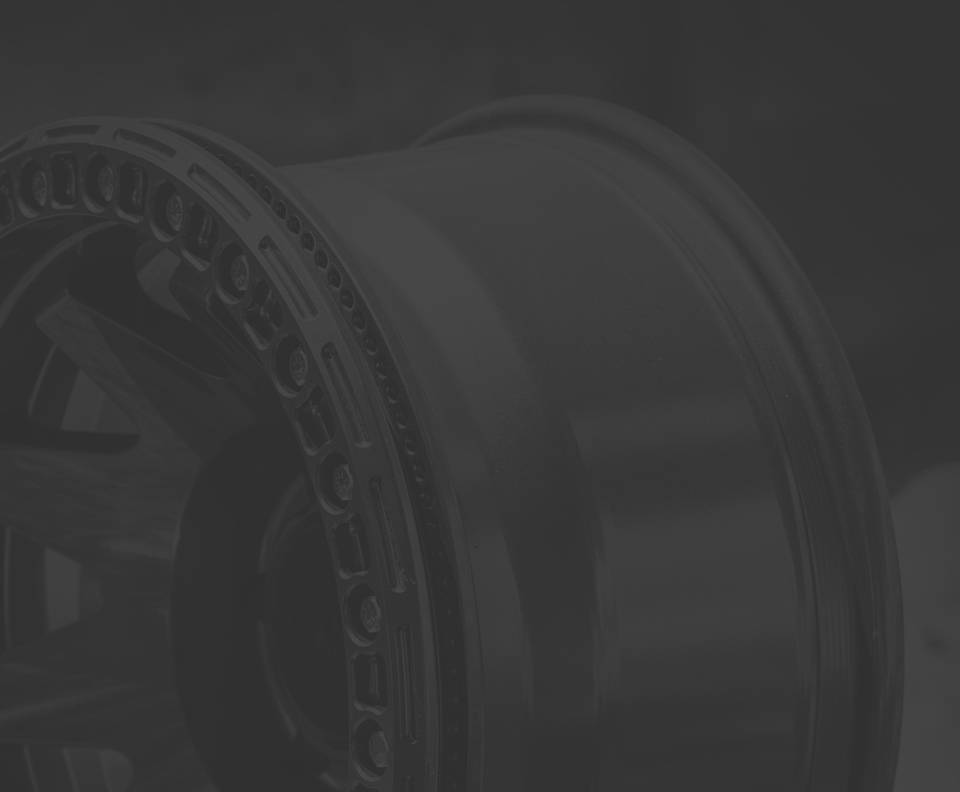 BEAD GRIP + BEADLOCK
Seeking out the harshest terrain? Explore the differences between Bead Grip® and Beadlock systems.
LEARN MORE