Riding in the Oceano dunes is a unique experience. There is nowhere else in California where you can drive, camp, and ride in the dunes next to the beach.
Located along the 101 between Monterrey and Santa Barbara, Pismo Beach Ca. is the perfect place for a getaway weekend. There are all kinds of things to do and see in Pismo and the surrounding areas. The main attraction being the ONLY drive on beach in the state where millions of people offroad and camp in the seaside dunes every year. There is also plenty of small coast town shops, fine and casual dining and a few cool watering holes to keep your thirst at bay.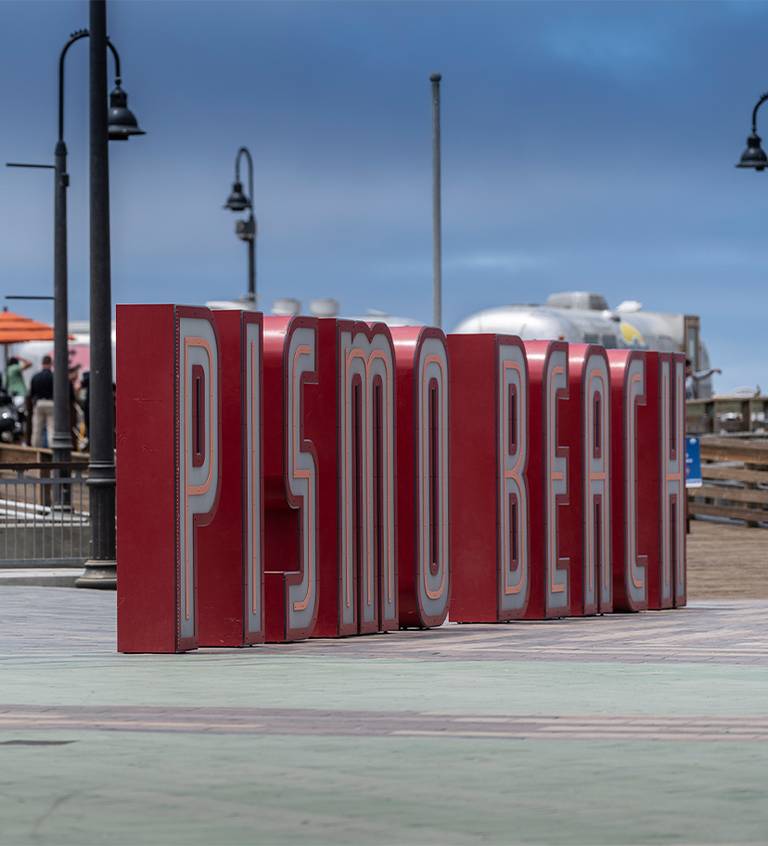 The town of Pismo Beach has quite the history. It got its name from the Chumash Indian tribe who settled there 9000+ years ago and harvested a tar like substance from the beach which they called "Pizmu" used to seal their boats. In the 1800's, the surrounding land was purchased by a couple of ranchers, one being John Price, who later built the first Hotel in Pismo and leased oceanfront property to a shipping company that built a large pier. It's said that at one time, the pier reached far enough into the Pacific to receive and dock warships. Since then, a few big storms have taken out the pier and it has been rebuilt a handful of times.

In the early 1900's, the town of Pismo was a wild place with many saloons, brothels, and other amusements such as a bowling alley, skating rink, and an amusement park near the pier. Since then, the town and surrounding areas have grown and developed into the go-to beach destination for millions of people each year. The weather year-round stays relatively cool (50s-80s) and the coastal winds allow for great surf, but bring a wet-suit because the water is pretty cold.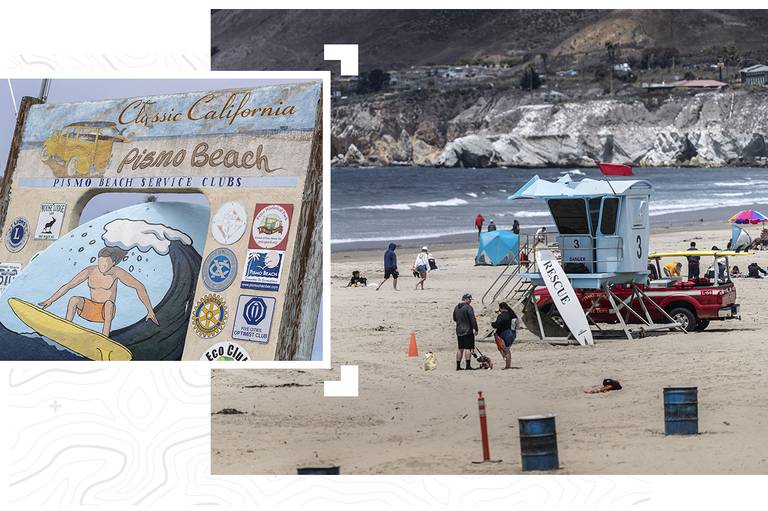 For us off-roaders, what makes this place unique is the Oceano dunes. It costs $5 for a day-pass and $10 for an overnight pass, giving visitors a chance to camp right on the beach. Best done in a trailer or RV as the mid-day winds can demolish a tent and its contents in a matter of minutes, trust me, been there. The SVRA is on the smaller side but provides hours of fun in either your own rig, or a rented quad or sun buggy. The dunes are located just south of Pismo Beach along highway one and feature two different entrances. If you want to drive on the beach for a while, enter at Grand Avenue. If you want to get to the dunes the quickest, enter at the second entrance about two miles further south.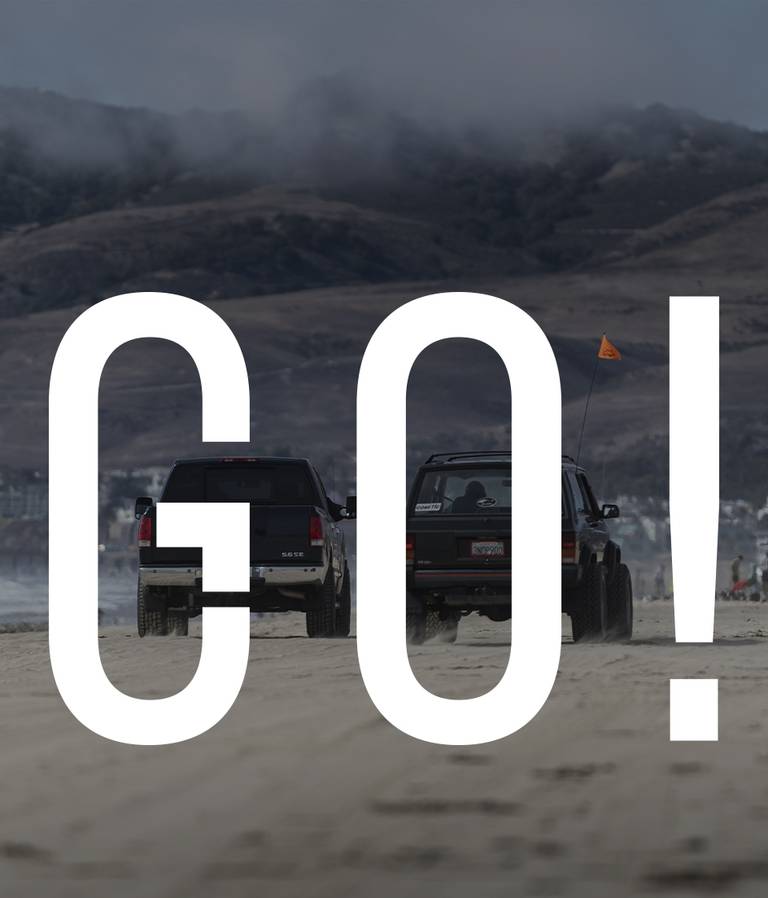 DRIVE & THINGS TO DO
Oceano SVRA: Enjoy dunes by the sea and a drive-on stretch of beach. You won't get a similar experience anywhere else in California.


Pozo Saloon Run from Arroyo Grande: A unique old school saloon located in Santa Margarita. Take Lopez Dr East out of arroyo Grande and once you cross the bridge over Lopez Lake, hang a right on High Mountain Rd. It turns to dirt and there are signs that will direct you to Pozo from there. Cool mellow dirt road drive to a rad little saloon in the middle of nowhere. Apparently, they hold small concerts there from time to time. The surrounding area is also all OHV with sxs trails etc.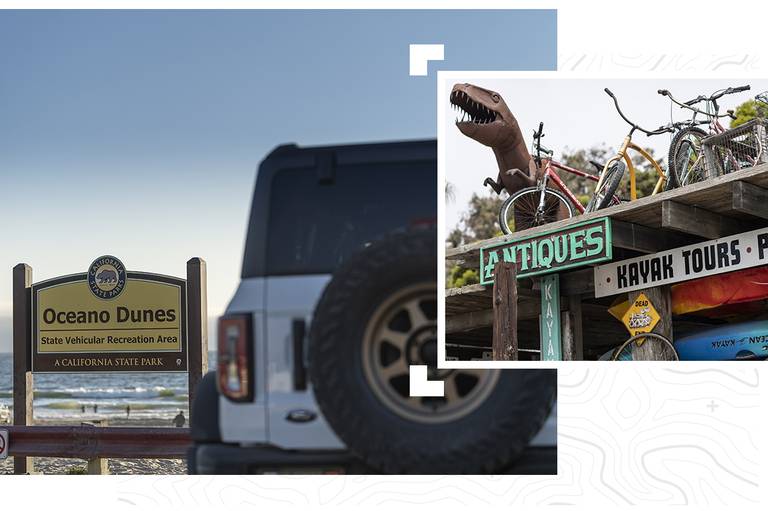 Avila beach and the Port of San Luis: Avila is a rad little beach with high end shopping dining and drinks. On the road to Avila there is also a petting zoo and farmer's market that is a good stop on your way out of town. The port of San Luis is a drivable pier, but parking is very limited. There is also a Pirate ship that is usually anchored close to the pier.


Wineries: San Luis Obispo, Atascadero, and Paso Robles are full of wineries. Take a break from the dunes and have a classy day tasting wine. These towns are located North of Pismo Beach along the 101 highway.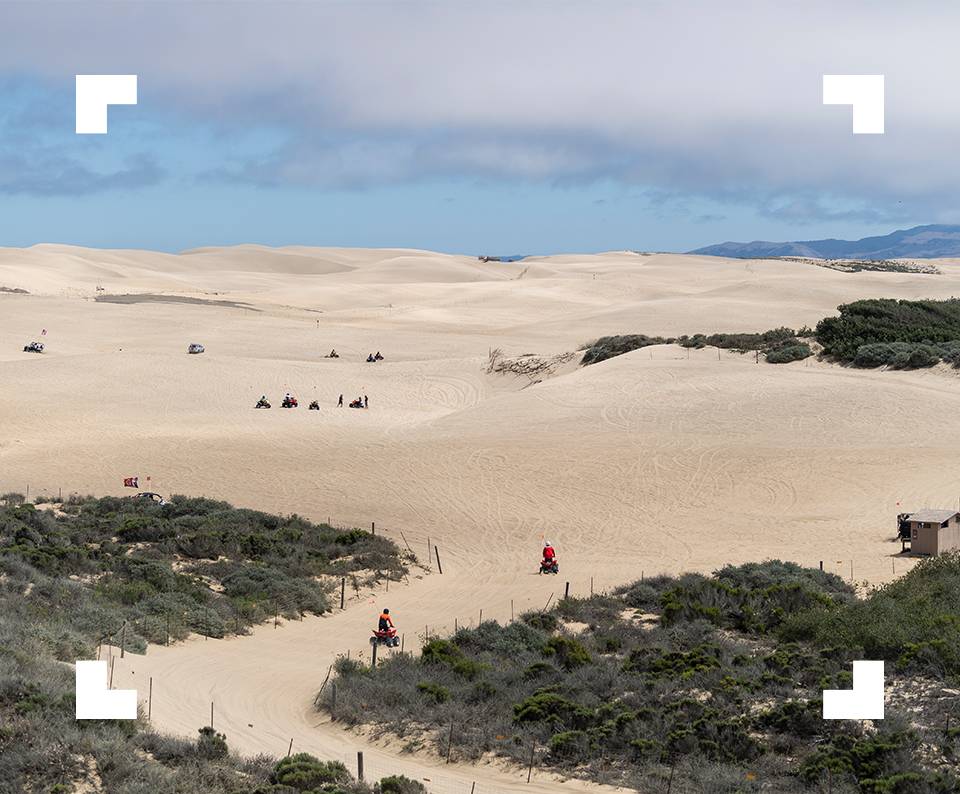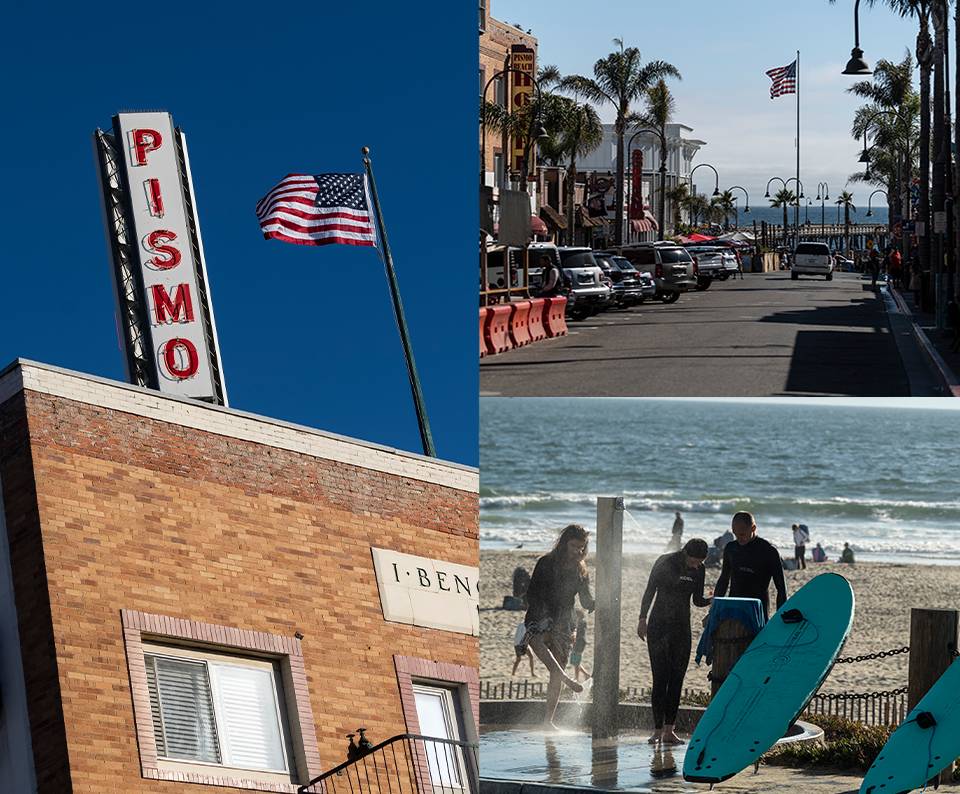 TIPS FOR DUNE RIDING
AIR DOWN as soon as you get on the beach to avoid having a rough day in the dunes. Running a lower tire pressure creates a larger footprint, making traversing deep sand easier.


Crest Dunes at an angle. The Oceano dunes will be steeper on the inland (East) side as the coastal winds blow from the (west) seaside.


Ride or Drive with a buddy. The SVRA is on the smaller side, but you can still get stuck in the back overnight without anyone knowing you're there.


Pre-run big jumps and obstacles. Always pre-run that big dune jump before going full send.


Have spotters. There are a couple of well known jumps and dunes in Oceano. Be sure to have spotters when someone is hitting a big jump or obstacle to avoid injury or vehicle damage.


Carry water, sunscreen and recovery gear. The weather is deceiving. It may be cool on the dunes, but the sun, wind and sand will get to you. Always be prepared to get pulled out when you get stuck by having your own recovery gear.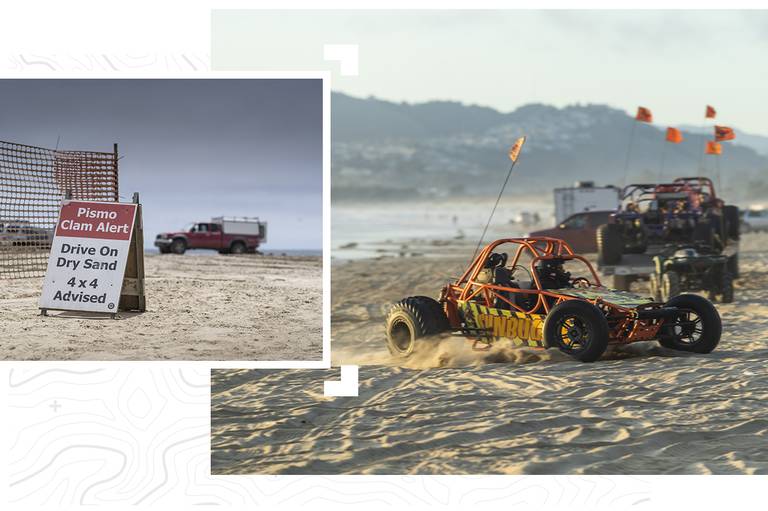 Beware of "Camp Tracks" along the beach and general camping area. These are mini tracks that people make for their kids to ride around camp. They can be hard to see, especially in the morning, as most days start with a dense fog along the coastline.


Keep an eye out for rental quad riders. These are typically VERY inexperienced riders and are often unaware of their surroundings.


DO NOT speed on the beach. The beach has a speed limit of 15mph and if exceeded, you will get pulled over and cited. Rangers are abundant in the dunes and on the beach, especially on holiday weekends.


No donuts or wheelies on the beach. Also a big no no in Oceano as the beach is considered an actual highway.


Have Fun! Riding in the Oceano dunes is a unique experience. There is nowhere else in California where you can Drive, camp, and ride in dunes next to the beach!
"ALWAYS PRE-RUN THAT BIG DUNE JUMP BEFORE GOING FULL SEND."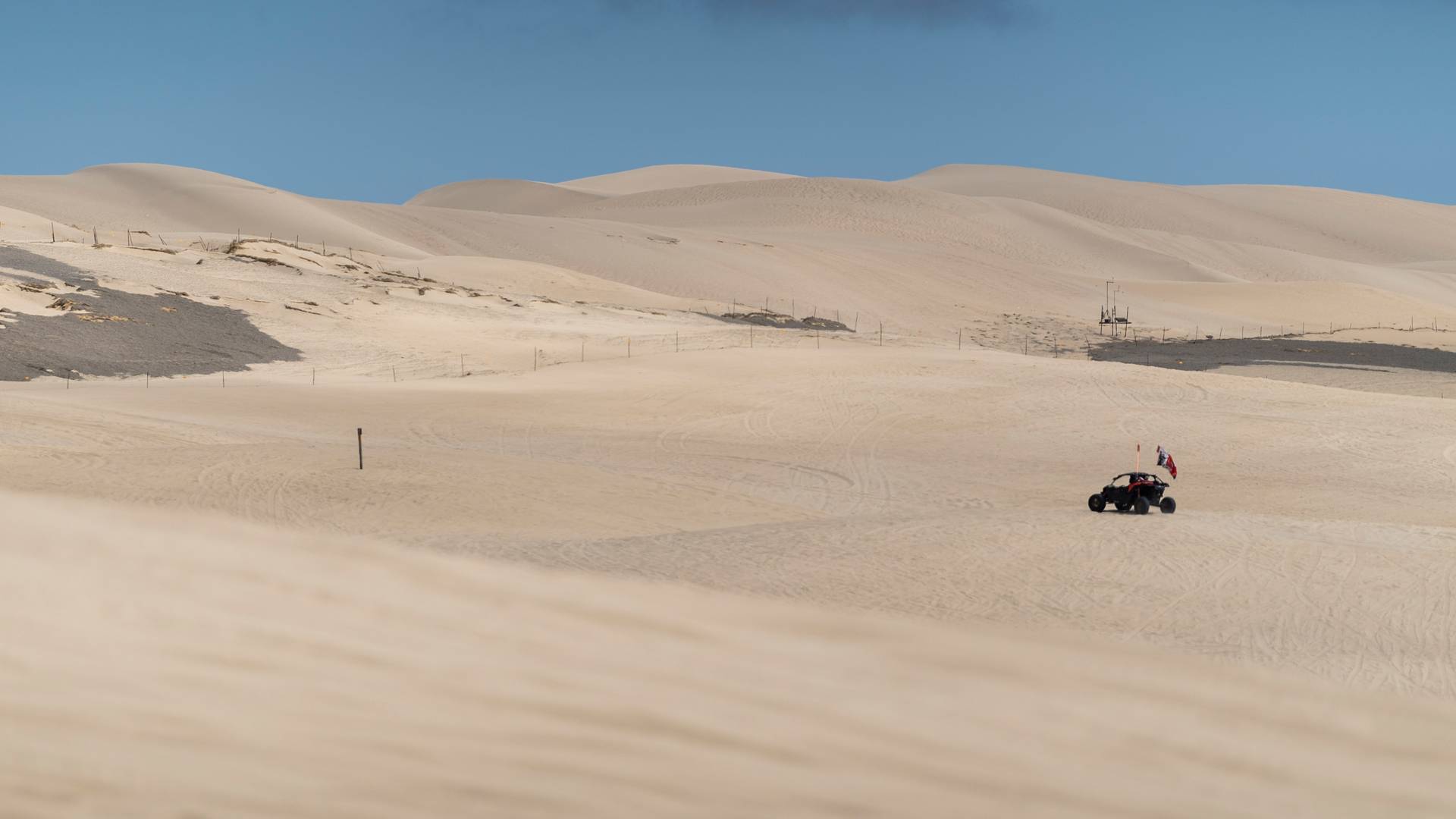 RECOMMENDED EQUIPMENT
Pressure Gauge: You WILL need to air down as soon as you drive on the beach. Having a air deflator will make short work of this task.


A Shovel, Tow Rope, and Traction Boards: In case you get stuck in the dunes. Also, any other recovery gear.


Spare Tire: Running low tire pressuers increases the risk of de-beading the tire from the wheel. Using Method Bead Grip® or Beadlock wheels can help minimize this risk.


Paddle Tires: For UTV owners, running paddle tires is a no-brainer. There's nothing like the capabilities that is afforded by a purpose buit set of sand tires.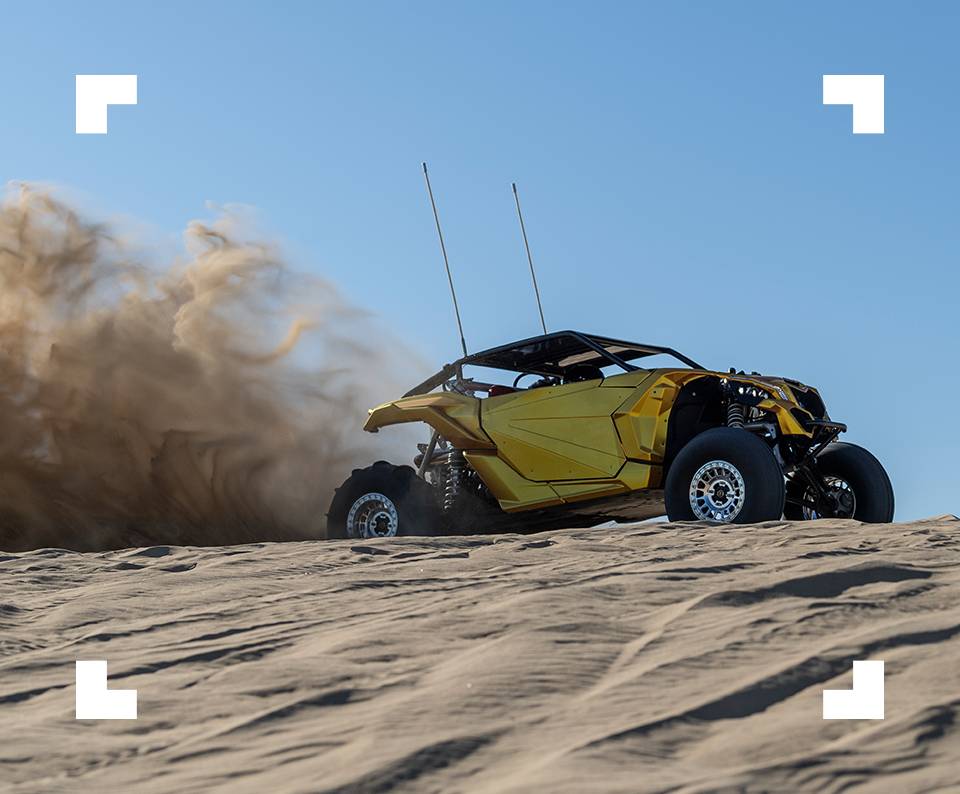 4-Wheel Drive: It significantly helps in sand, but is not required.


Suggested air pressure in tires is 12-18psi depending on vehicle and tires. 2wd vehicles will need to air down more than 4wd vehicles.


Keep water in your vehicle as the cool weather and sun can be deceiving. Also keep warm clothes as the weather cools rapidly the closer you get to the beach. Sunscreen is a must. A face covering will protect you from blowing sand. Goggles can also help when you're out of your vehicle or riding a quad etc.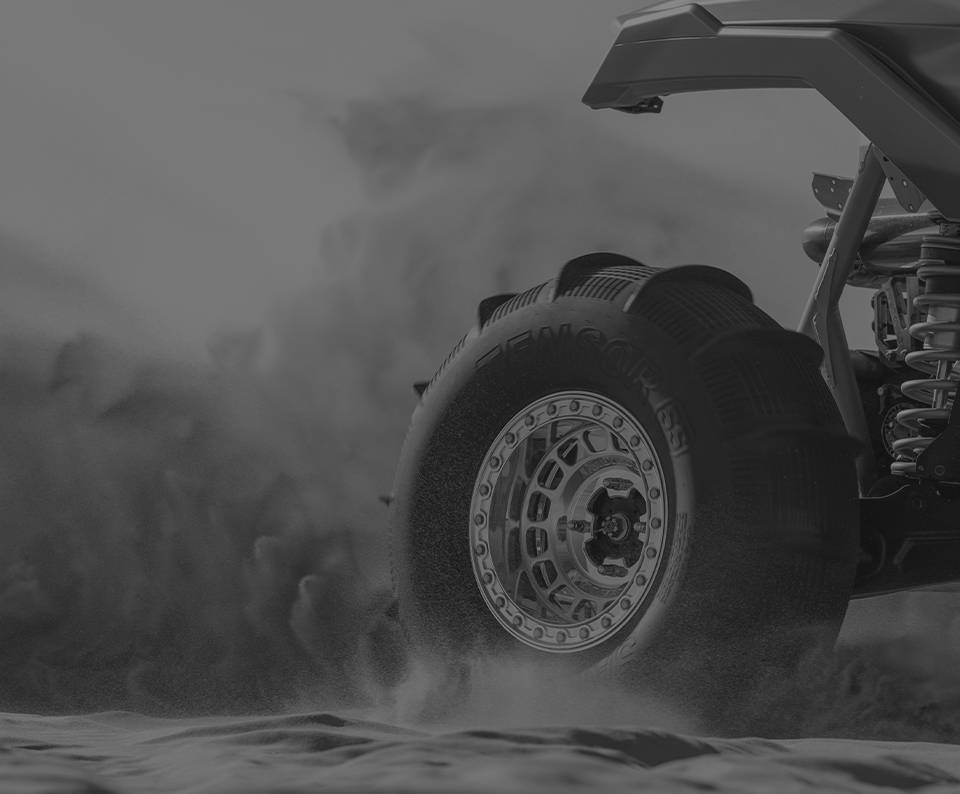 413 UTV FORGED BEADLOCK - POLISHED
Forged 6061 construction with T6 heat treatment provides the highest strength and lowest weight for high performance applications.
SHOP NOW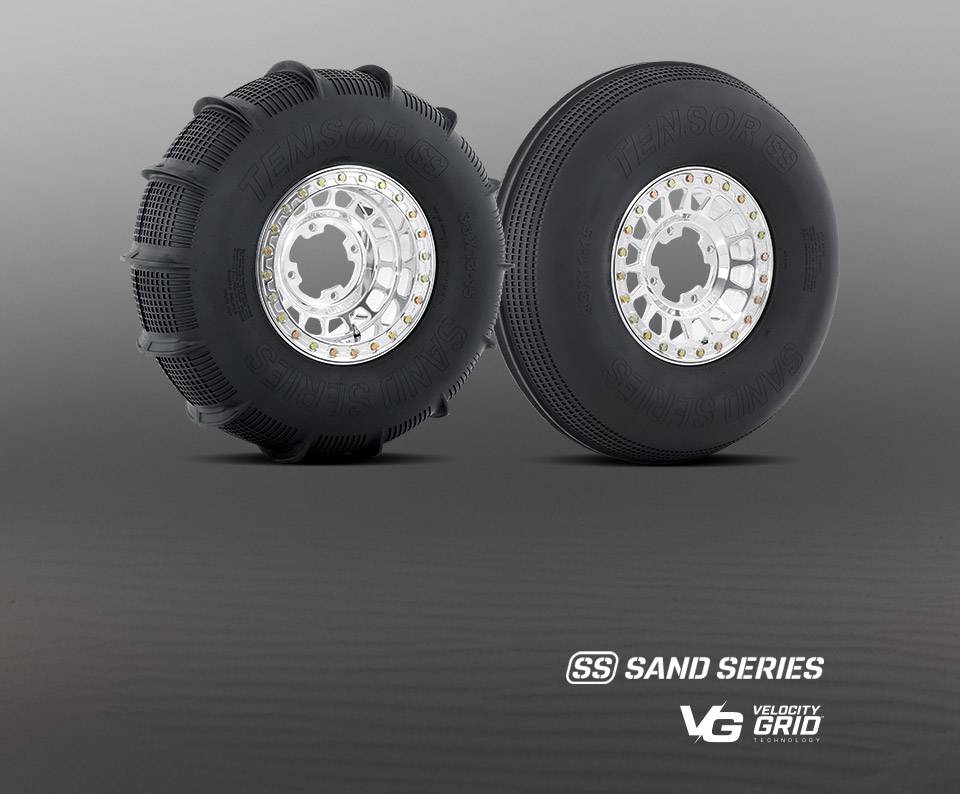 TENSOR SAND SERIES TIRES
Featuring the revolutionary patent pending Velocity Grid™, the SS tire is a true game changer for purpose built sand tires.
LEARN MORE
EAT
Splash Café: World famous Clam chowder bread bowls. Casual dining and often has a long wait for a table on the weekends, so plan accordingly. Located in Downtown Pismo.


F. McLintocks Saloon and Dining House: Authentic cowboy vibes and great steak. It also has a happening bar. Located right off the 101 just above shell beach.


Hoagies: A must visit lunch spot known for their excellent wraps. Located right in Downtown.


Mersea's (Avila Beach): Great food and an awesome view as the restaurant is located at the end of the Port of San Luis.


Jocko's (Nipomo): Featured on "Diners Drive-Ins and Dives". It also has a bar that gets lively on the weekend. Worth the short drive south to Nipomo.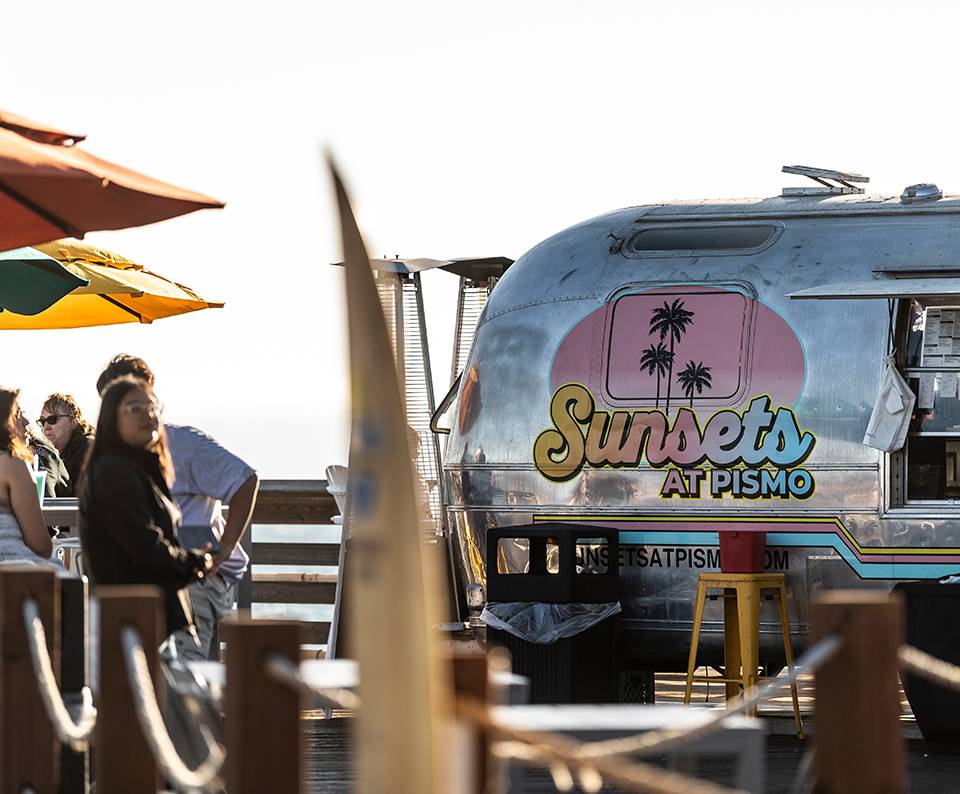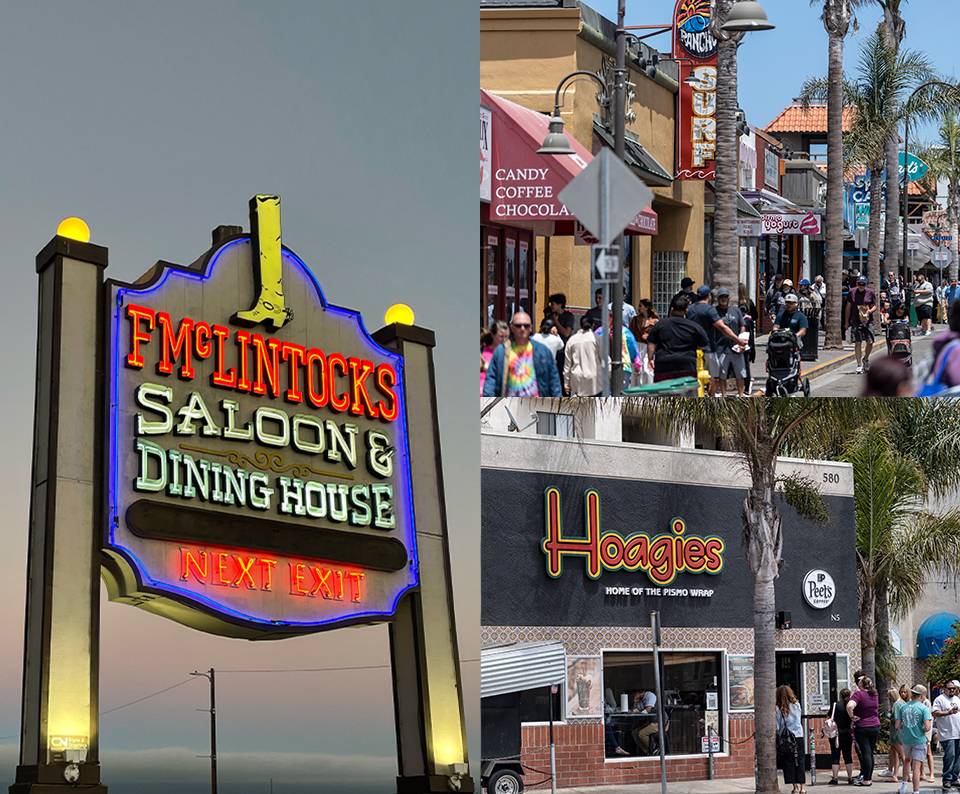 LUBRICATE
Nightlife in pismo is usually quiet besides the bars in the surrounding towns such as Arroyo Grande and shell beach. North on the 101 is wine country where there are a whole mess of wineries to tour and great venues such as Vina Robles which has a state-of-the-art Amphitheater that hosts big acts. If you want to spend a night bar hopping, grab an uber to downtown San Luis Obispo. Great food and great bars all within a couple blocks. A lot of younger people frequent this area as Cal Poly college is close by. Alcohol rules are the same as anywhere else in California. No open containers outside of establishments etc.
Harry's Night Club and Beach Bar: Rad biker bar located in the middle of downtown Pismo.


F. McLintocks: Mentioned in the food section, but they have a cool bar and a great view.


Jocko's: Also mentioned in the food section. Dive bar atmosphere.


Shell Beach Brew House: Local brewery in Shell Beach with great food and chill vibes.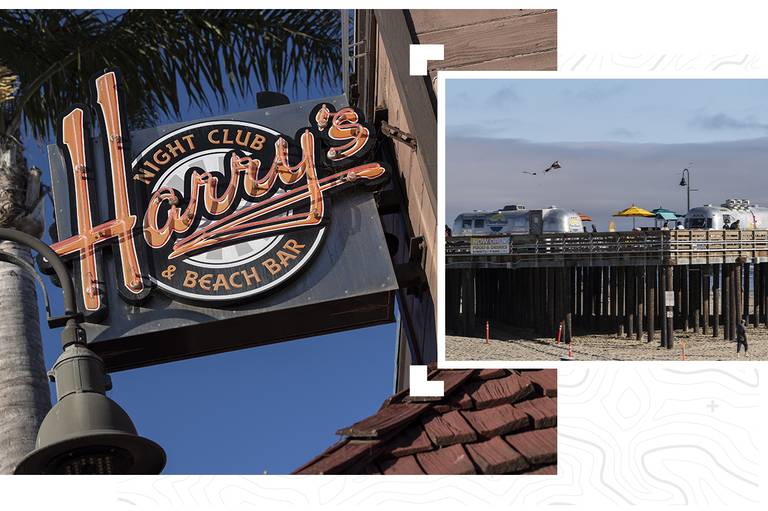 SLEEP
Oceano SVRA: Camp on the beach! Best in an RV, pull your rig and trailer in the sand and enjoy your stay. The place to camp if you want to get up and ride in the dunes first thing.


The Pismo Beach Hotel: One of the oldest hotels in Pismo. Located in the heart of Downtown. Very nostalgic and in the middle of the action.


Sandcastle Hotel on the Beach: Popular Beachfront Hotel with all the amenities.


Pismo Coast Village RV Park: Nicest RV park in town. Full hookups with all amenities. Beachfront property. Hard to get a reservation so book way ahead of your trip.


North Beach Campground: A great beachfront campground with bathrooms and showers. Located just south of downtown Pismo.


Air BnB Rentals: Numerous options in both Pismo and the surrounding towns. They get more affordable the further inland you go.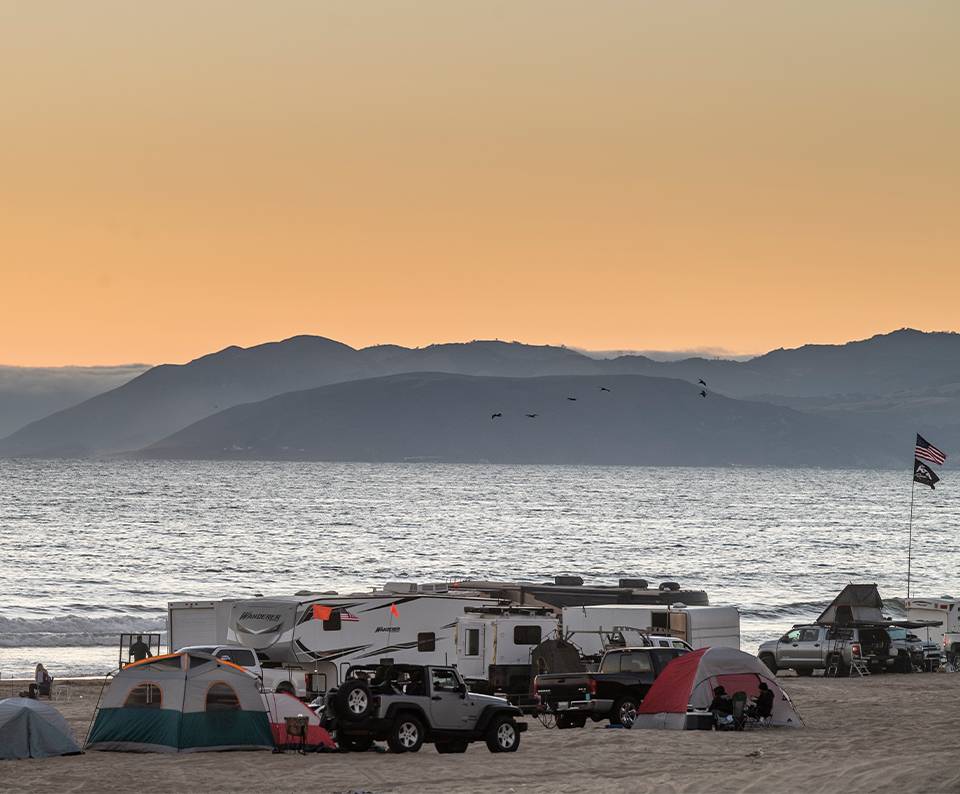 REPAIR
There aren't any tow services that will go into the dunes these days, but if you're lucky, someone will be out there in a big diesel truck to help you.
Toyworx Automotive: The closest repair shop to the dunes. They are highly rated and not too pricey.


Poly Performance: The biggest offroad shop around located in San Luis Obispo. They are very similar to other off-road retail chains.


CCM Offroad and Performance: Would be the next choice and they are also located in San Luis Obispo. A smaller shop with some more capabilities than a place like 4WP or Poly Performance.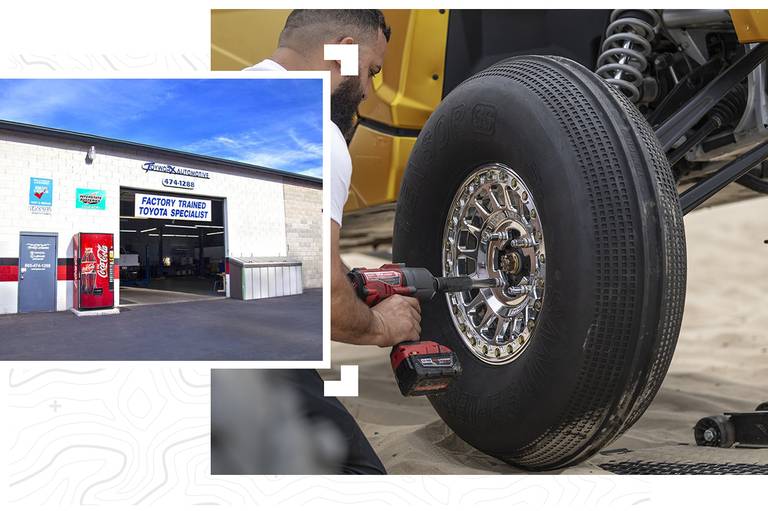 KNOW BEFORE YOU GO
Best time of year to go is late summer and early fall as the coastal winds are usually calmer in that part of the year making your dunning experience more enjoyable. But really, anytime of the year is good as the weather stays mild and cool year-round.


No special permits are required for the dunes other than the initial payment upon entry. If you plan on staying overnight in the dunes, it is recommended that you reserve your spot at reserveamerica.com to avoid not getting a camping permit upon arrival.


OHV rules are the same as most state parks. Wear a helmet if on a bike, quad, or UTV. Seatbelts must be worn while driving on the beach as it is a state highway. Dune flags are required on all vehicles while out in the dunes.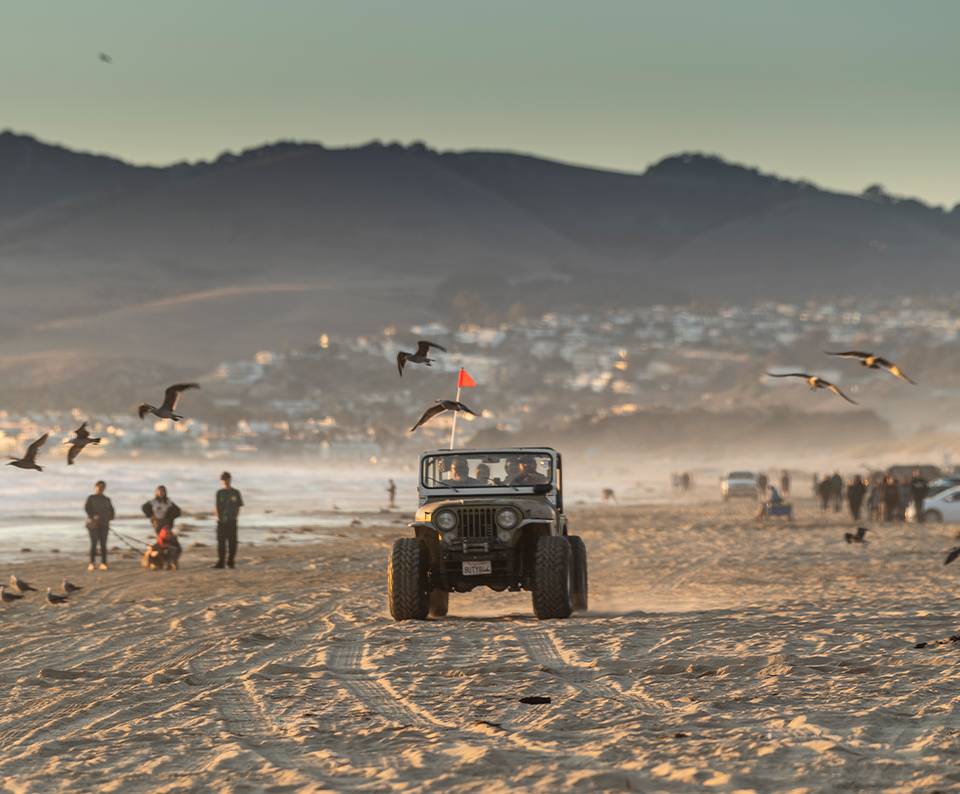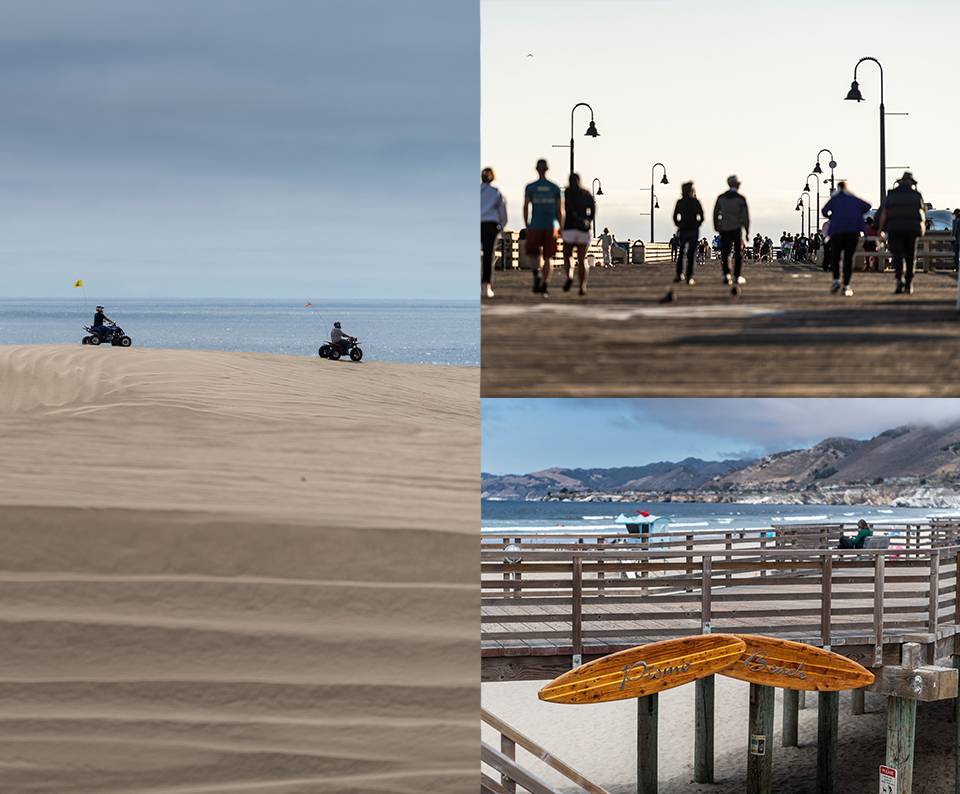 TIPS FOR FIRST TIMERS
Be very cautious while driving in the dunes, especially in the summer when the SVRA is the busiest.


Best time to drive in the dunes is in the middle of the week. If you can get the time off, schedule your trip for the middle of the week so you can have the dunes all to yourself.


Do your grocery shopping in Arroyo Grande to avoid higher priced goods.


Bring firewood from home as it can get expensive next to the beach.


The large Chevron station on Grand Avenue just east of highway 1 has free air at every gas pump.


Wash your vehicle as soon as you get home or right after you drive on the beach to get all the salty sand off and help prevent corrosion.


Coat any raw chassis components with WD40 before heading to Pismo as they will begin to rust almost immediately.
SAVE THE DUNES
Over the years, the Oceano dunes have become smaller and smaller, largley do to conservation efforts. Please help keep the dunes open for off-road access and support a non profit like Friends Of The Oceano Dunes. They fight to keep the dunes open for all of us to enjoy!