SHARK!!! No, not that kind of shark. Introducing Blake Wilkey's wild, high horsepower, long travel Trophy Bug known as JAWS! Remember when that one guy said "You're gonna need a bigger boat." Well take that dude's advice because now theres a bigger and badder fish out there fully pinned and ripping everything in it's path. Now get an in depth look and break down on Blake's latest creation!
Duunnn dunnn... Duuuunnnn duun... Duuunnnnnnnn dun dun dun dun dun...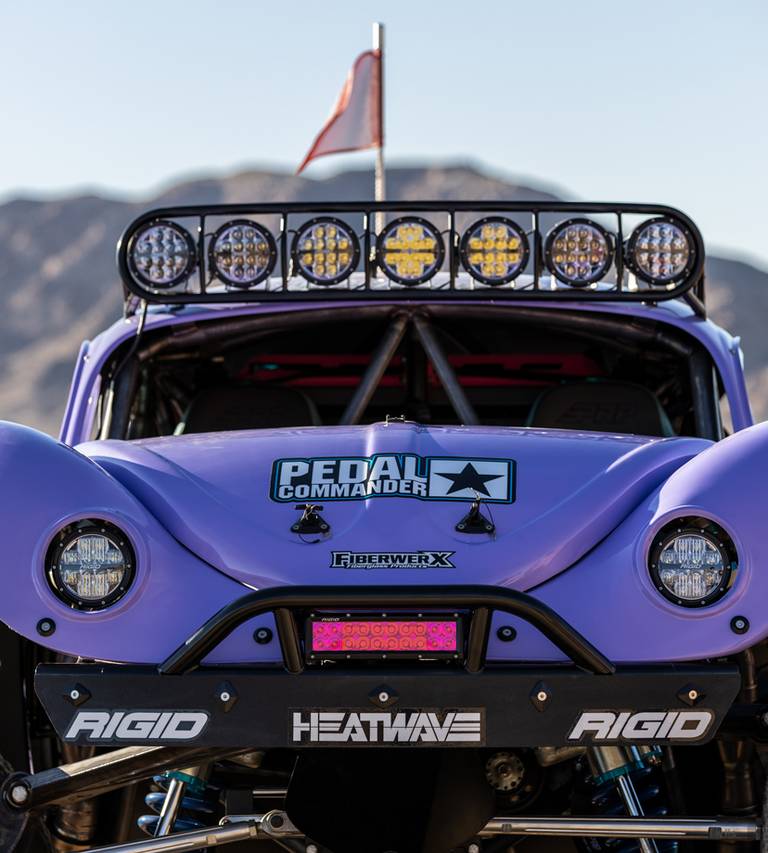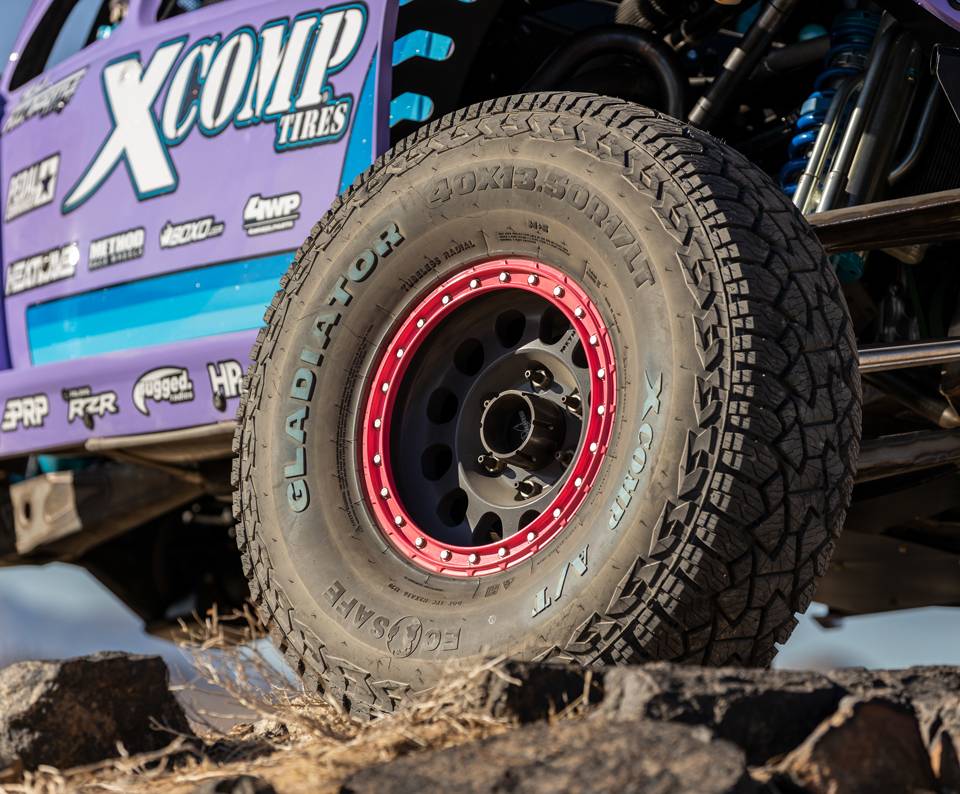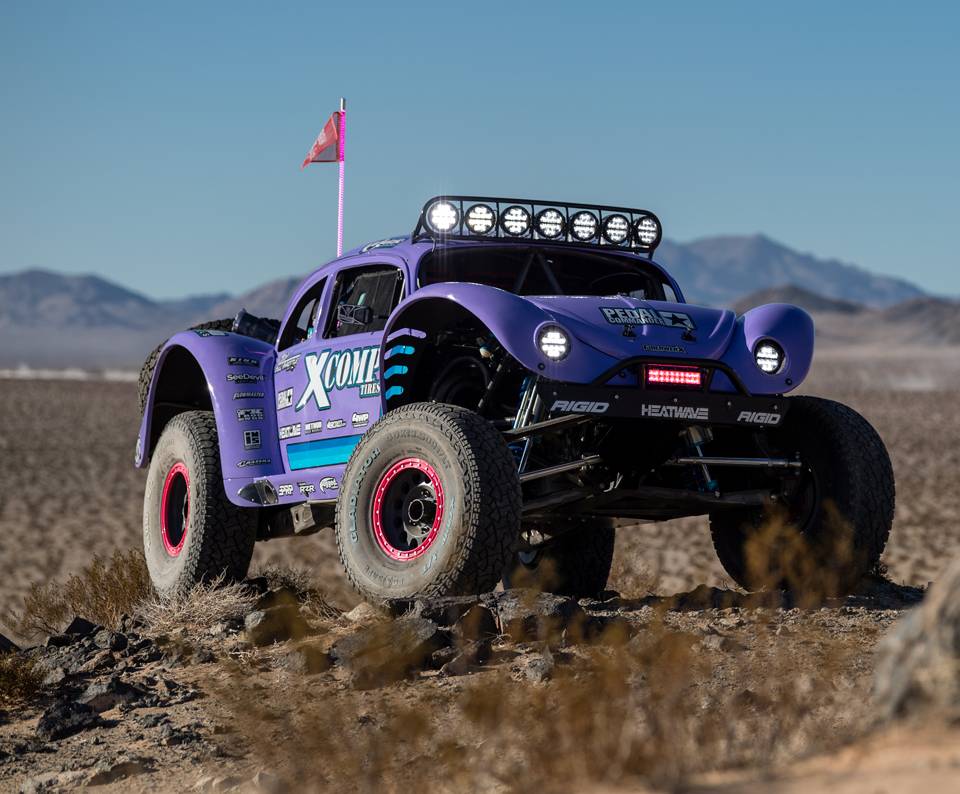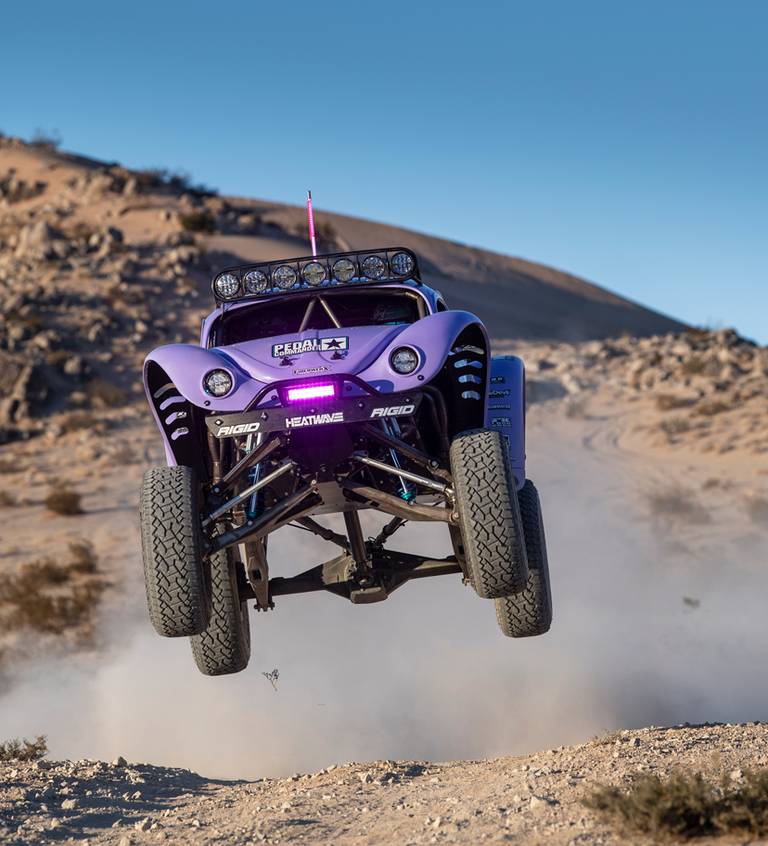 Despite successfully building and racing a class 11 stock VW nick-named the Slug Shark and creating wildly popular video content with his "Class Fun" long travel bug he calls the Megalodon, Blake Wilkey still had an itch to race off-road with the big boys. In keeping with the theme of Volkswagen vehicles named after sharks, it's appropriate the biggest baddest build to date would be named after the most fearsome of all (fictional) sharks, JAWS.
"The goal was always to have a trophy truck and race at the highest level but I was also a buggy dork so we cross pollinated the two and this is what we got."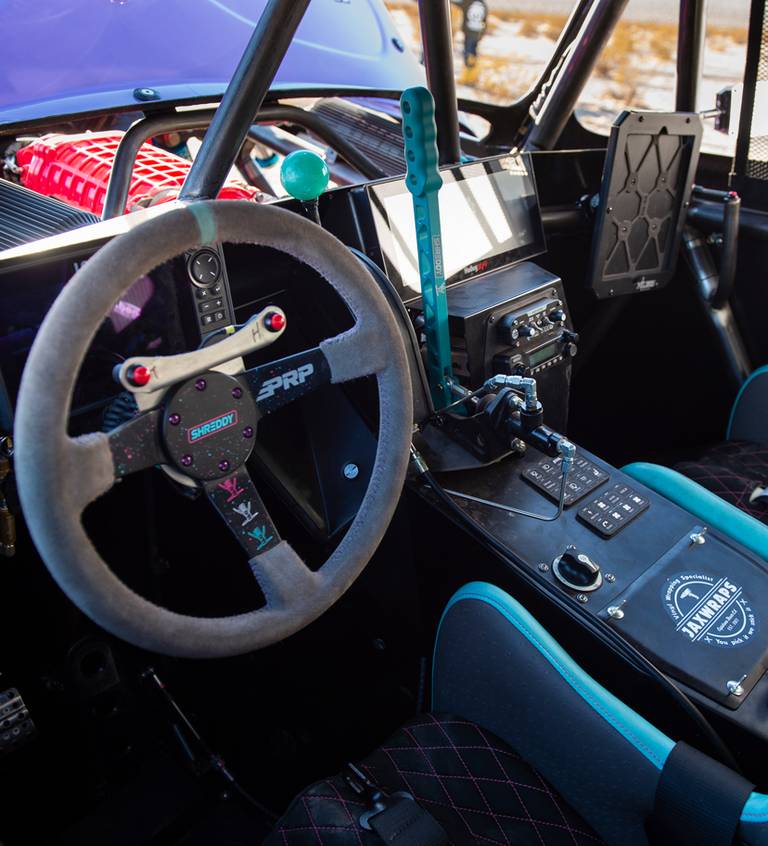 Specs
Quixotic Motorsports designed chassis.
4130 Chromoly materials from Industrial Metal Supply
X-Comp 40" A/T Tires.
Full Custom one off FiberwerX VW bug body
Fenders, hood and sidesteps designed by Quixotic Motorsports.
Texas Speed 427 LS based engine with a Magnuson 2650 Supercharger tuned by Dune Hoon.
Horsepower Church full custom stainless exhaust using a Flowmaster exhaust.
Massive 12" digital dash.
Magnum Offroad built TH400 transmission.
B&M racing composite shifter controls.
King Shocks with custom SDG suspension tune.
24" of travel up front and 31" in the rear.
Camburg 4 inch rear end housing with 3.25" snouts and
Ralls billet lower pivots
Camburg 6.5 bolt pattern hubs
Wilwood brakes and rotors front and rear.
Fk Rod ends at all pivot points.
Wilwood master cylinders, pedals and hand brake cylinder attached to a Lux Billet / Shreddy handle.
Mob Armor mounted iPad enclosure for the co-driver GPS
Lowrance GPS
Rugged radio 6100R intercom and M1 race radio for communications.
Rugged fresh air system for driver as co dog.
Pro Alpha seats with 6x3x2 harness.
Dual Full Throttle Batteries.
Rigid Industries lighting all the way around.
Maxima Racing Fluids in the engine, transmission, brakes, coolers, rear end, power steering and more.
Pyrotec Fuel Cell filled with VP Racing 110 fuel
Switch pro's button panel system. Wired by Cowboy Troy.
Speed strap spare tire Y straps and limit straps with Savage UTV and Speed strap tool cases.
ZRP billet machined aluminum tie rods and sway bar links.
74 weld sway bar arms controlling a 300m TCS sway bar.
LSX concepts supercharger double sheer belt tensioner with a Griptec supercharger pulley running Napa HD gates belts.
S&B air filter
AGM manual jack for spare changes.
Motion Raceworks engine breathers and steam port systems.
Plans to Steel-it coat the chassis after testing and first couple races.
Wrapped by Jax Wraps with Tinybot vinyl.
Track width of 92"
Wheel base 123"
Weight 5,317 pounds wet weight.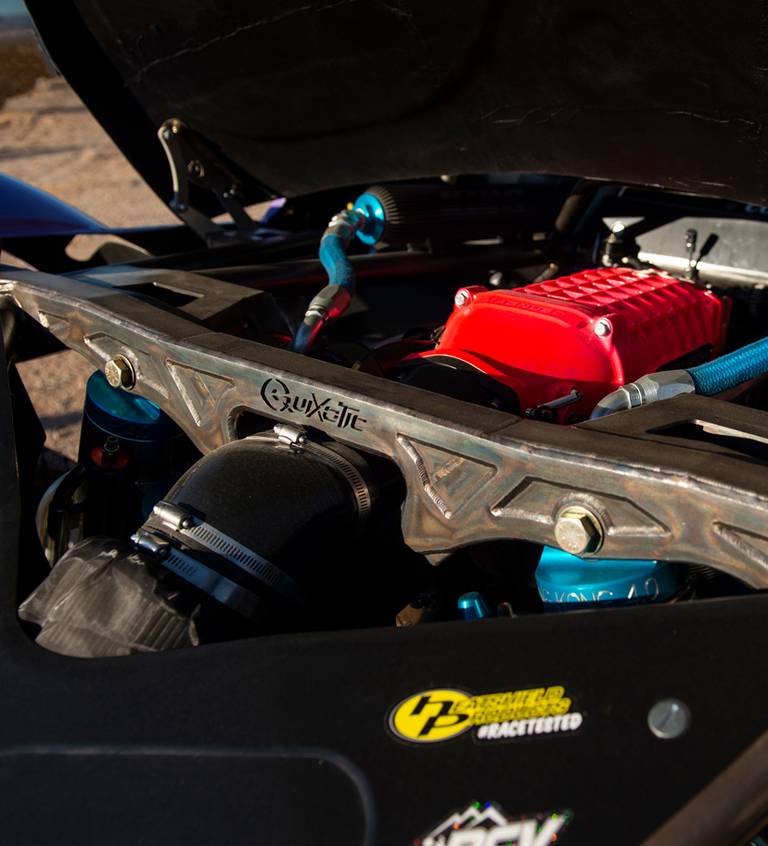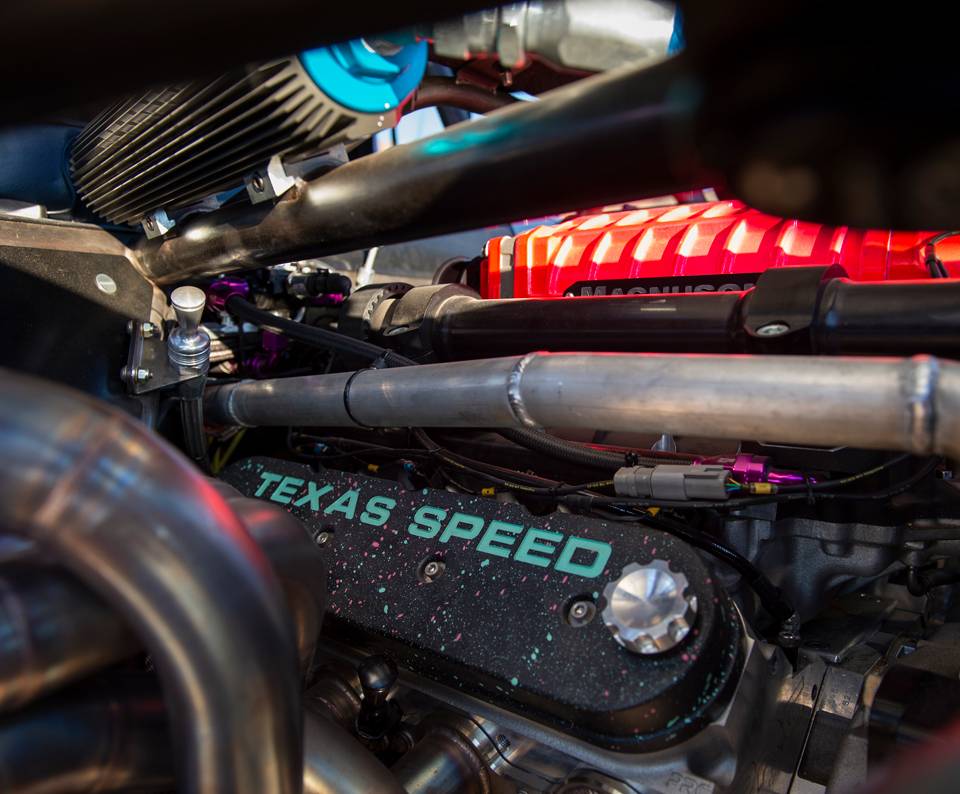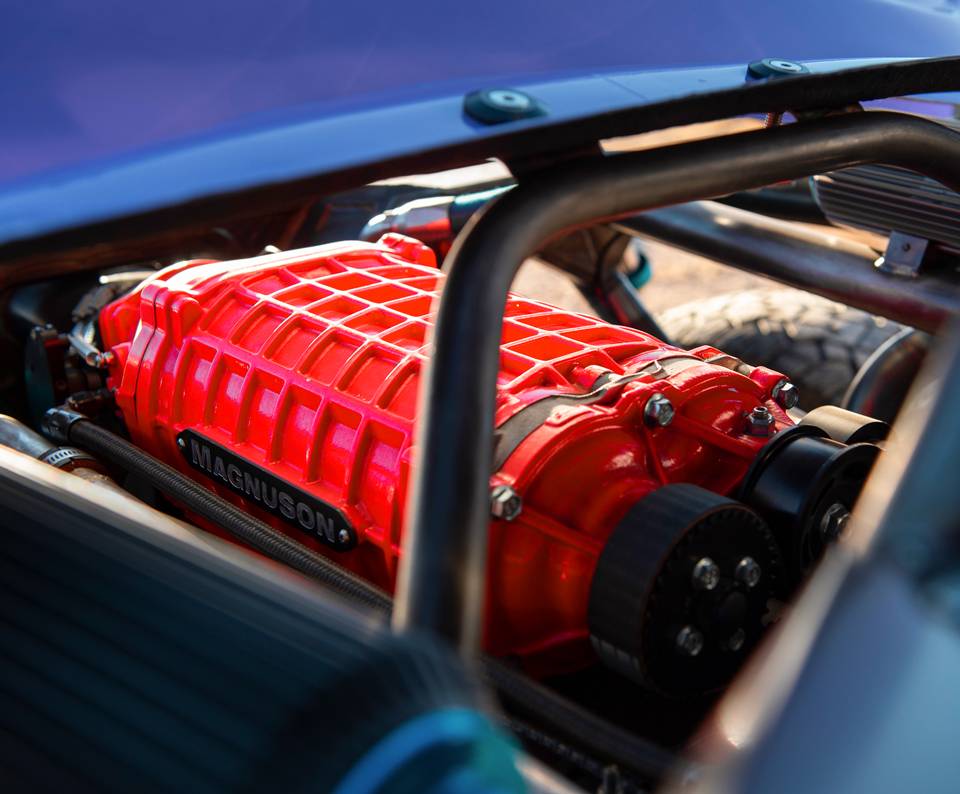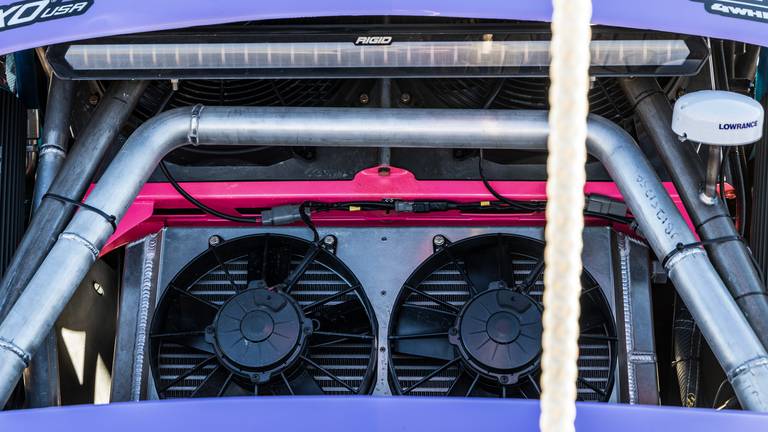 Always mindful of his strategic social media presence, Wilkey aims to enter the car at "races with the highest engagement, big races with big audiences". Realizing he will have a steep learning curve to step into the ring at such a high level, Wilkey and Butts are prepared to develop the car while staying true to the spirit of a garage-built budget program. "Everybody roots for the underdog and that's kinda what we are". Wherever the big purple bug takes him Blake Wilkey is adamant that having fun will be the primary goal.