For BFG Team Rennsport and their iconic Volkswagen-powered single seat racer nicknamed "Angelina," 32 years is both an instant and a lifetime. For this dedicated group of friends and off-road racers, the sport continues to provide new memories while paying homage to a colorful chapter in the sport's history.

Their collective journey began in the summer of 1989 when Off-Road Motorsports Hall of Fame inductee Marty Fiolka walked into Ron DeWolf's family glass shop in Long Beach, California. Fiolka, then the Bosch off-road motorsports representative, struck up a lifelong friendship with DeWolf. The two planned to purchase and campaign a Class 1/2-1600 (limited Volkswagen-powered buggies) for the following SCORE International season, then added friend and crew chief extraordinaire Paul Perrizo to the mix. The team acquired the sleek, brand new Finish line single seater from buddy Mark Manley in time to compete in their first race, the 1990 SCORE Parker 425.




Together with team co-driver Craig Stewart (son of legendary racer Ivan "Ironman" Stewart), in 1990 and 1991 BFG Team Rennsport went on to compete with the car for two full SCORE/HDRA seasons. The now familiar car was nicknamed "Angelina" as campaigning it over those two long and expensive seasons was indirectly responsible for two team member's divorces.

From the onset, the team was supported by Fox Racing Shox and BFGoodrich, with the latter allowing the effort to wear the iconic black, blue, red, and white "factory" BFG livery that was only worn by the Class 1 effort of "Baja Bob" Gordon and the Ford Class 8 truck of son Robby Gordon. In two seasons the car posted many finishes and a few top ten performances in the sport's largest and most competitive category. The sleek buggy was featured in a 1990 issue of Hot VW's magazine and had promotional programs with legendary Los Angeles rock station KLOS and the Make-A-Wish charity foundation.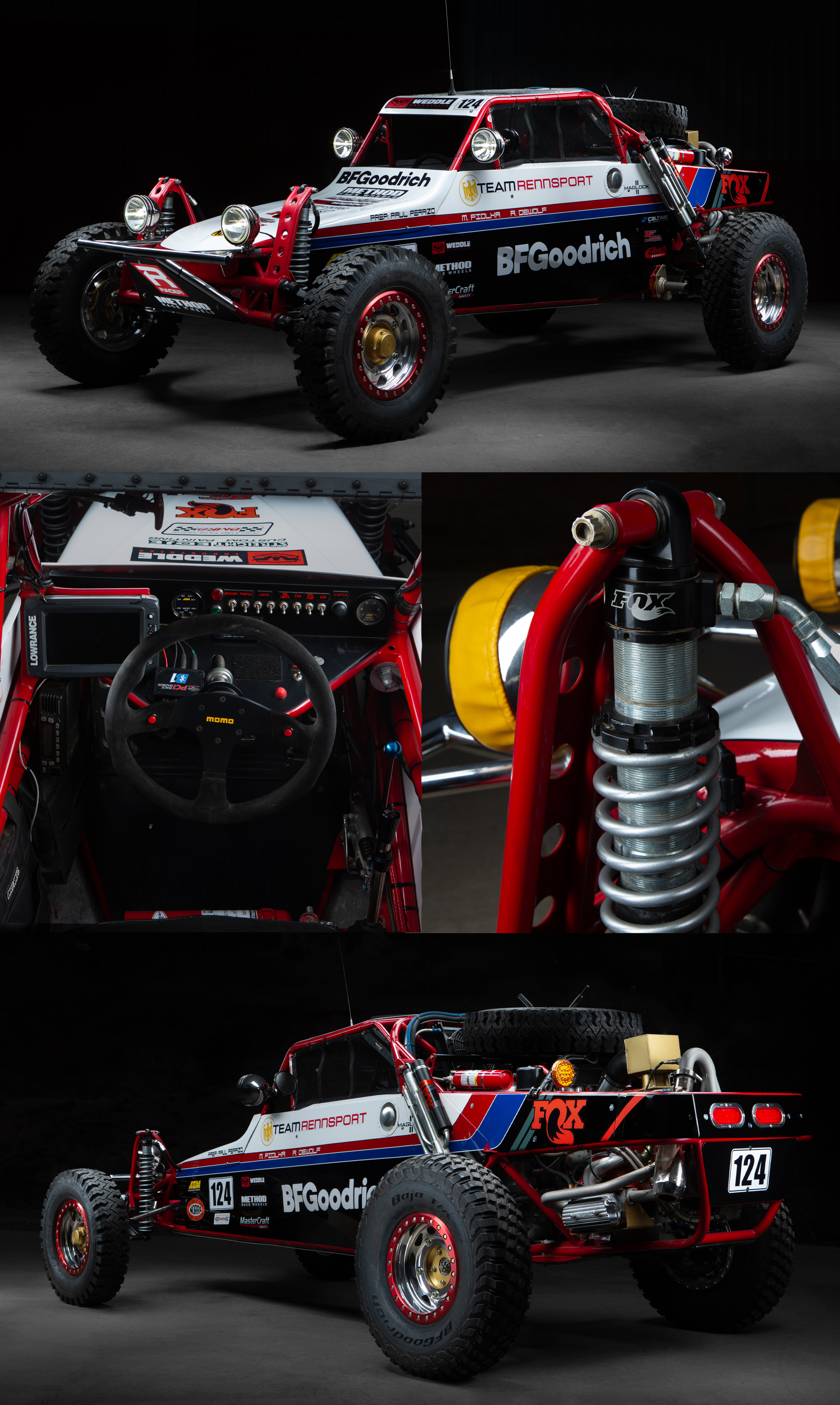 Angelina was sold to another race team the mid-1990s, but for decades the team founders explored high-level off-road racing with various teams and vehicles. many of which focused on competing at the annual SCORE Baja 1000.

The rebirth of the NORRA Mexican 1000 in 2010 opened the door for many veteran off-road racers to return to desert racing, especially with NORRA's focus on vintage off-road machinery. A timely ad on Craig's List served to spark a similar interest for Fiolka, DeWolf and Perrizo, as they discovered their long-lost racer near the California/Mexico border. It was immediately purchased and back with the crew that had built, raced, and maintained it more than two decades before.




With strong support from BFGoodrich Tires, Method Race Wheels, Fox Racing Shox, MasterCraft Safety, Brown & Miller Racing (plumbing and wiring), Eibach Springs, Weddle Industries, AEM Electronics, Maglock, KC HiLites and Caltime Metals, the popular Team Rennsport single seater was fully restored and updated for NORRA competition in 2017. Additional help came from new team co-owner and master fabricator Brian Coats and Brian Coats Motorsport of Huntington Beach, Calif. Per NORRA rules, the car was given more suspension, a larger VW engine and other vintage-themed performance upgrades.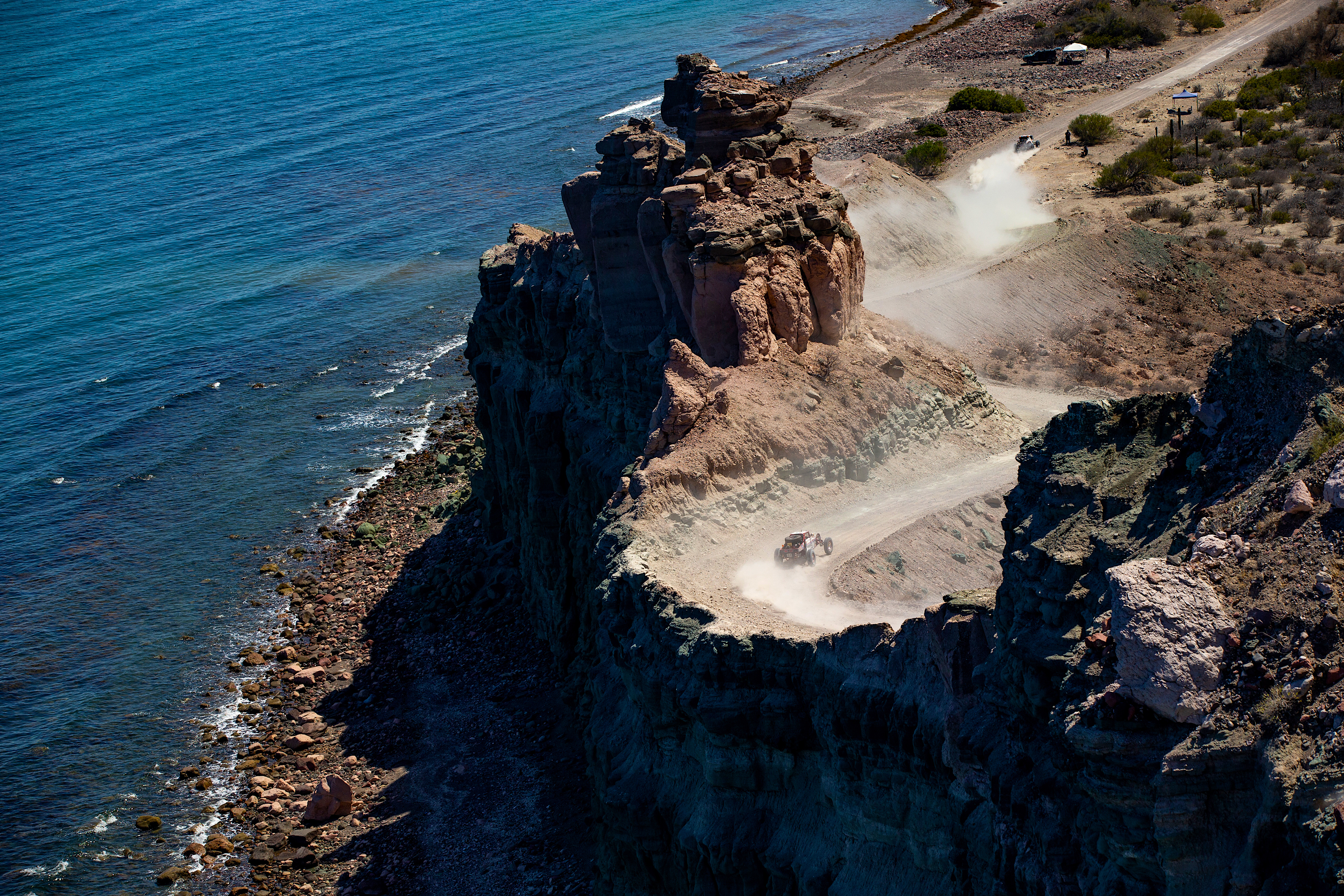 To be sure, "Angelina" is no trailer queen. Overcoming chronic gearbox issues in 2017 and 2018, a switch to a newer Weddle transaxle held the team celebrate its 30th anniversary in the finest style possible at the 2019 Yokohama NORRA Mexican 1000. BFG Team Rennsport took the updated car to an official second in class and eye-popping 20th overall for the 1,254-mile marathon that weaved down the Baja peninsula from Ensenada to San Jose Del Cabo. With the help of additional team driver Justin Blower, it was the first VW-powered car to finish against a field of nearly 175 competitors, taking home the highly prestigious "Spencer Low Hard Charger Award" for their performance.

The onset of COVID prevented the team from competing in 2020 and 2021, but in January of this year Angelina took her rightful place in a once-in-a-lifetime gathering of the most significant air-cooled Volkswagen-powered street, drag and off-road cars assembled for the 72nd Grand National Roadster Show in Pomona, California. The legendary event is considered the most significant and prominent hot rod show held in America each year.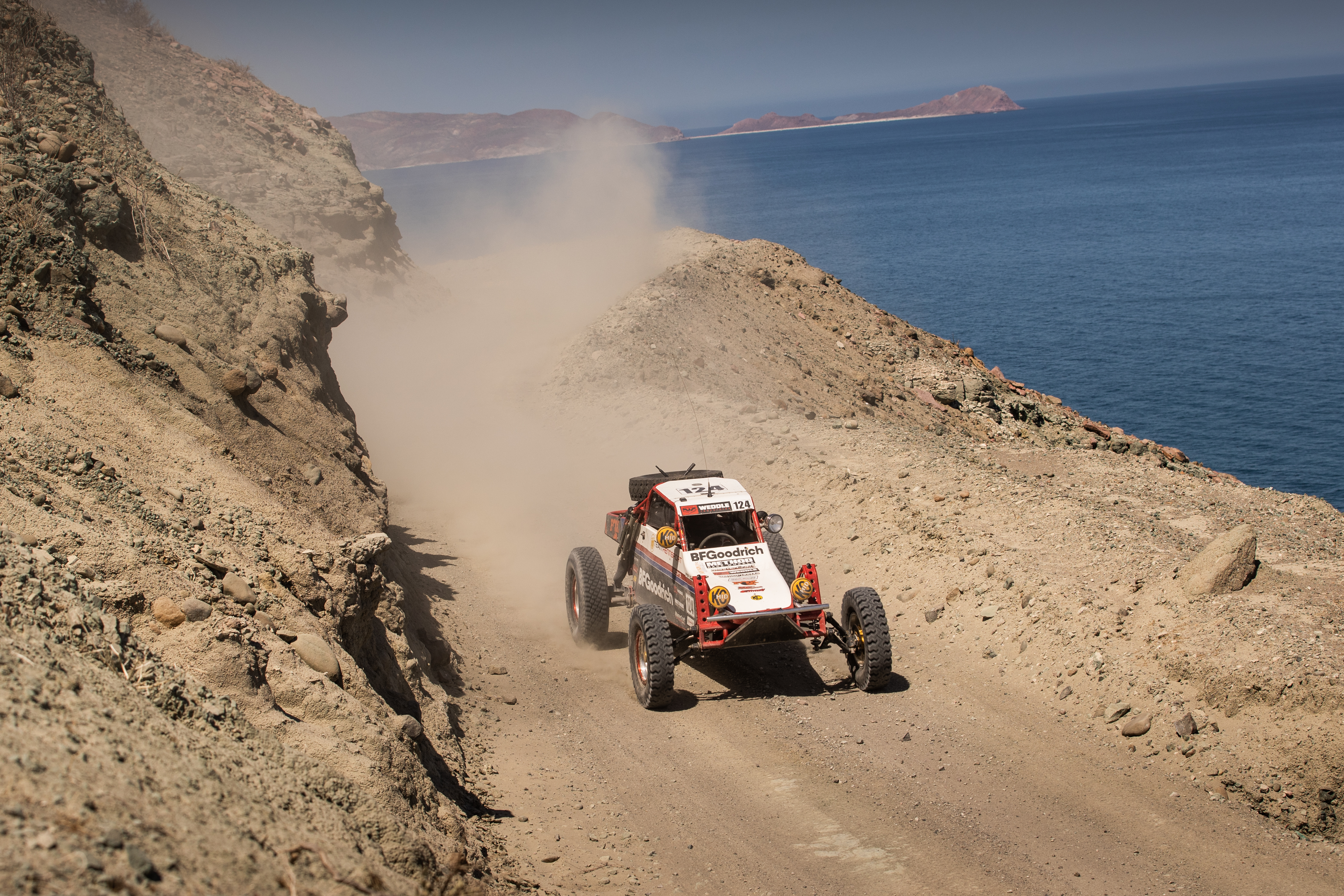 In April, the team returned to the Yokohama NORRA Mexican 1000, with Angelina once again posting the fastest overall performance, taking a second place in the Vintage Buggy categories and 26th overall (out of 177 starters) after a trek of over 1,200 grueling miles.

What's next for BFG Team Rennsport? The ever-enthusiastic group of friends is looking forward to another 10 years of competition, with the pending addition of a vintage Mirage-Porsche two-seater named "Vivian" and a final build of "Mary," a true NOS (New Old Stock) 1989 Chenowth DR-2 also powered by a Porsche 914 engine for their team.

It looks like Vivian will be in good company for at least another decade.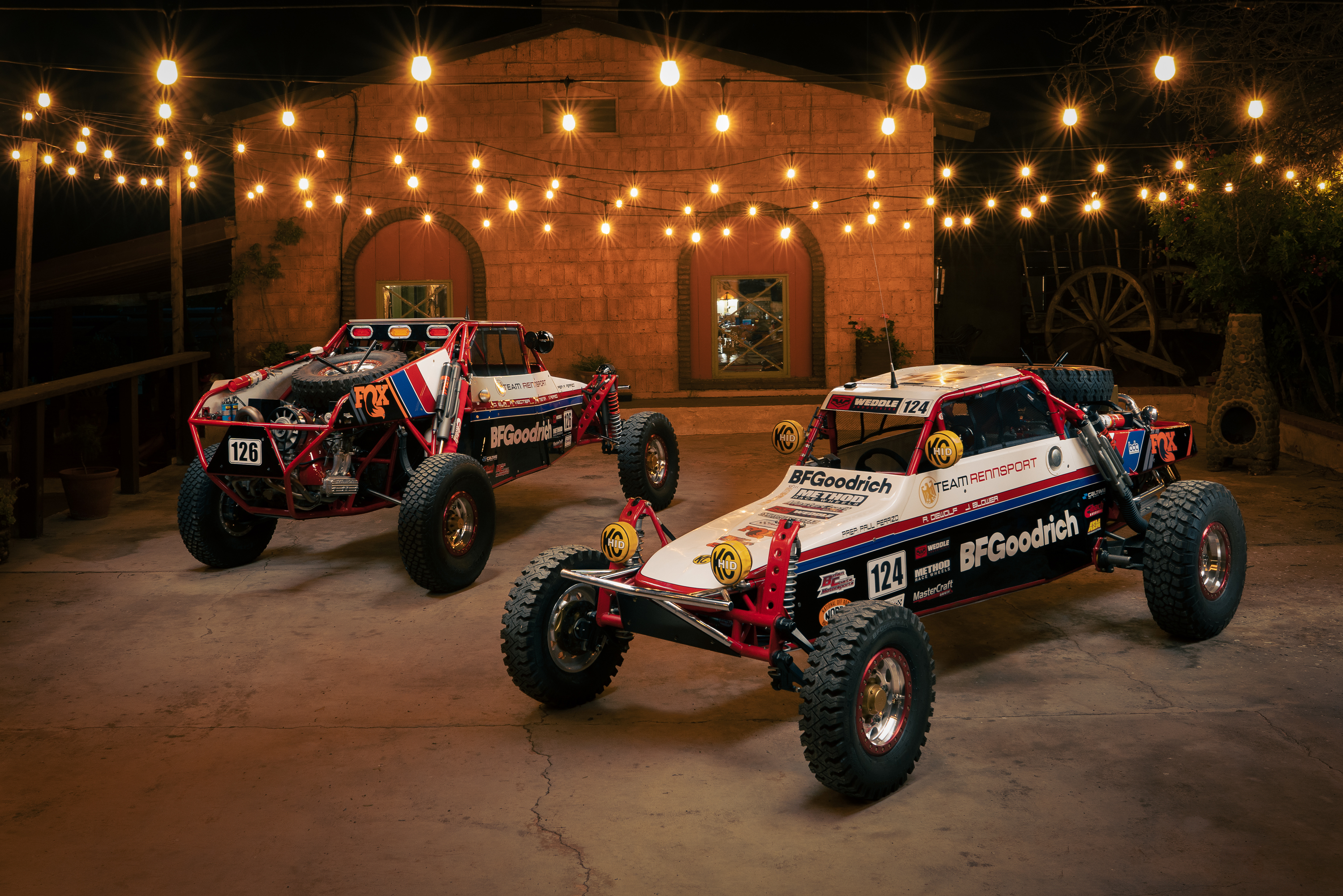 SPECS
Chassis: 1989 Finishline 1/2-1600 single-seat chassis
Wheels: 103 Buggy Beadlock Wheels
Tires: BFGoodrich
Builder: Derek Collins, Lance Barron and Mark Manley
Prep: Paul Perrizo and Team Rennsport
Fabrication: Brian Coats Motorsports
Steel: CalTime Metals
Engine: 2,332-cc air-cooled Volkswagen Type 1 by Adam Wik
Transmission: Weddle HV-1 four-speed
Shifter: Pro-Am
Suspension: Widened beam with Foddrill arms and spindles (Front), Widened trailing arm with torsion bars (Rear)
Steering: Saco rack with Howe power steering
Shocks: Fox Shox (coil over and bypass) tuned by Tommy Morris
Springs: Eibach race springs
Lights: KC Hilites (LED)
Interior: Mastercraft seats, belts and window nets
AEM gauge package
Maglock air and water helmet system
Paint: Streightedje
Plating/Powdercoat: Embee Performance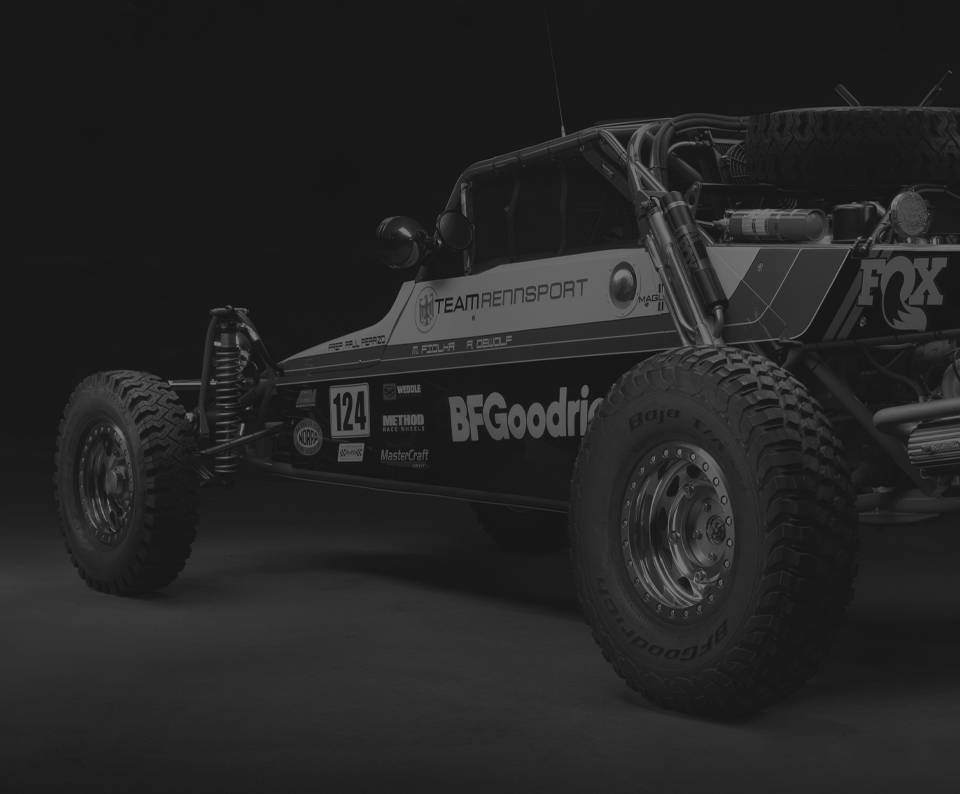 103 BUGGY BEADLOCK
The 103 Buggy features a solid A356 aluminum construction with proprietary heat treatment, a shorter spoke with wide-five bolt pattern, material reduction in hub to reduce overall weight, and a forged 6061 aluminum V.4 beadlock ring.
LEARN MORE