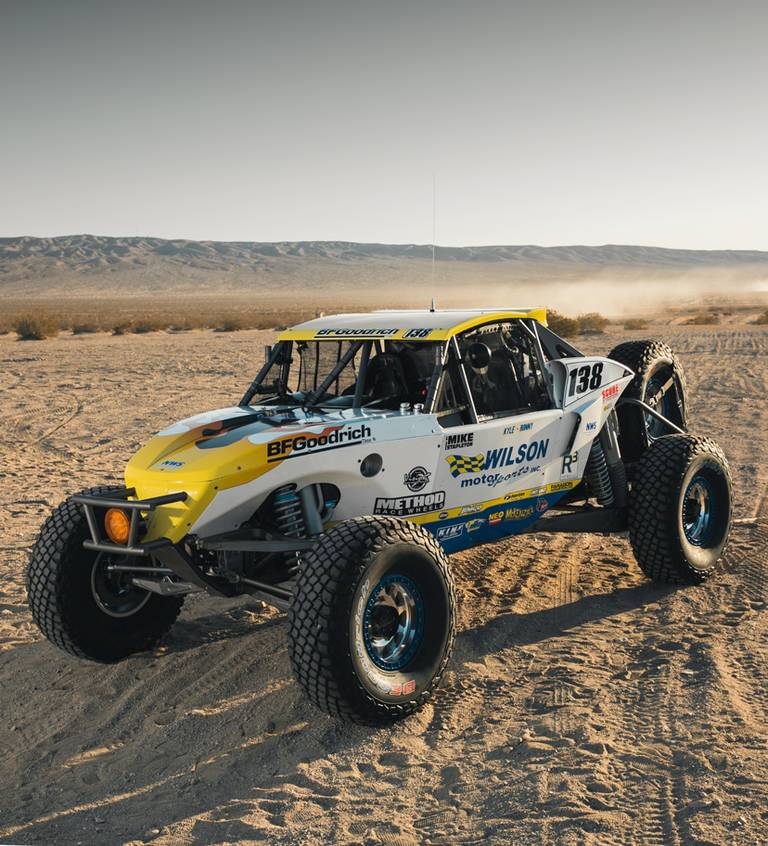 Ok, we're not 100% on this but we'd be willing to bet a Snickers bar and a diet Mountain Dew that Wilson Motorsports has the longest running Livery in off road racing. I mean, whether you've been around off road racing for 20 years or only just a few short years, everyone is going to recognize that white, yellow and blue livery. The Wilsons are a family racing team starting with the family patriarch Norm Wilson. Norm owned a General contracting business and when the family wanted to unwind from a busy week they would head out to the desert with their dirt bikes. Sons Rick, Randy and Ronny have been involved in off road racing, almost from the very beginning. In 1972 the boys were helping out Ed Pearlman with a little race down in Parker Arizona called the NORRA DAM 500 (soon to be the Parker 400 a few years later). The boys were responsible for escorting the teams from the race course on the California side to the Arizona side. From there those boys were hooked.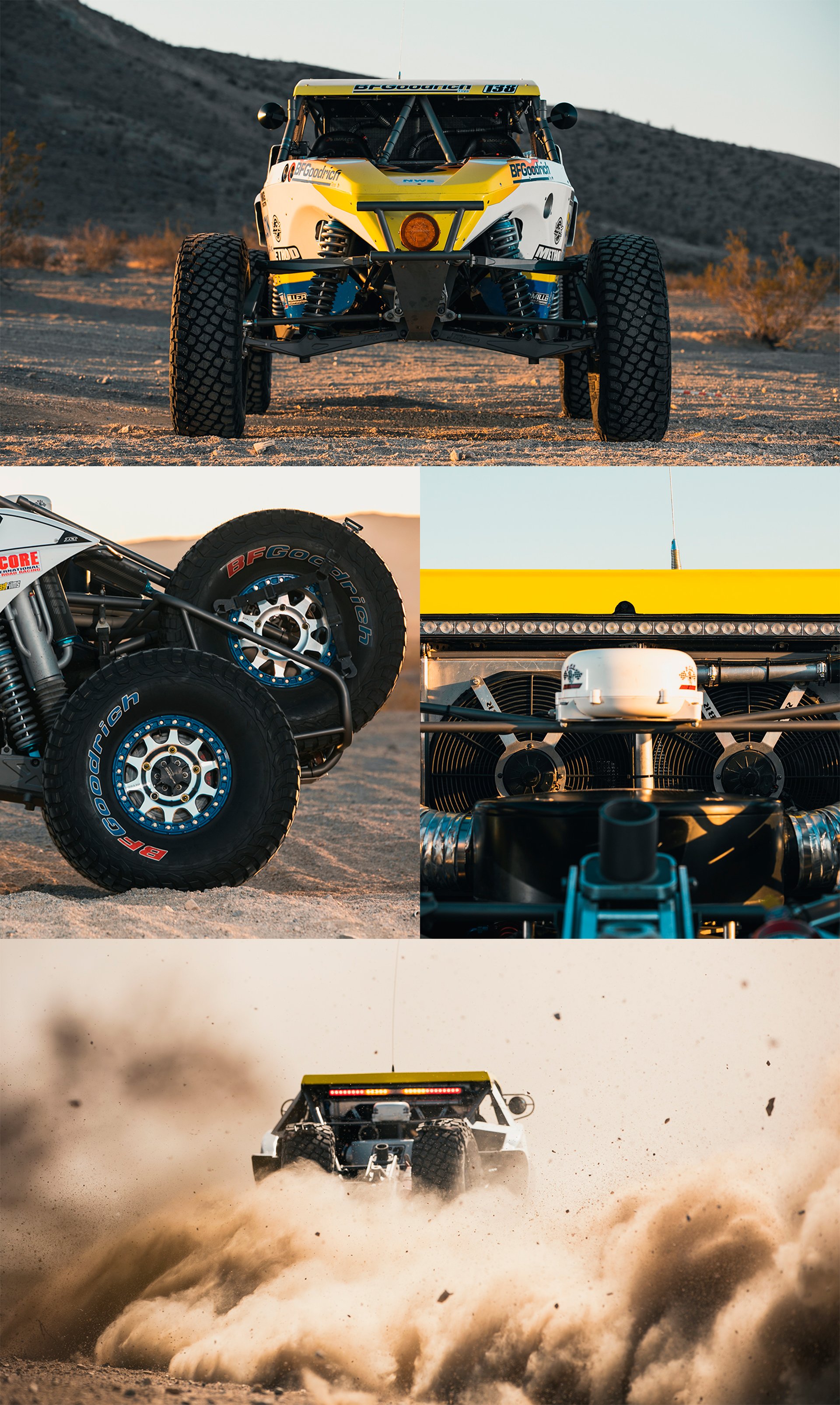 Their first race was the SCORE Parker 400 in 1976 on a motorcycle. They would eventually move to 3 wheelers, 4 wheeled ATV's and then finally into something with a roll cage. It was the early 80's when Norm decided to purchase the family's first race car, a class 5/1600 Baja bug. Randy and Ronny were still racing the 3 & 4 wheelers so Rick would race with his father, but soon Randy would soon follow suit and move to 4 wheels and a cage. While the family was still fielding the Baja bug, it was decided that the boys wanted to go a little faster so in the late 80's they had a new 2 seat Raceco built to compete in class 10. Ronny was still racing his 3 wheeler and in 1987 he teamed with some kid named Brett King and they would win the 1987 SCORE/HDRA Championship in class 43.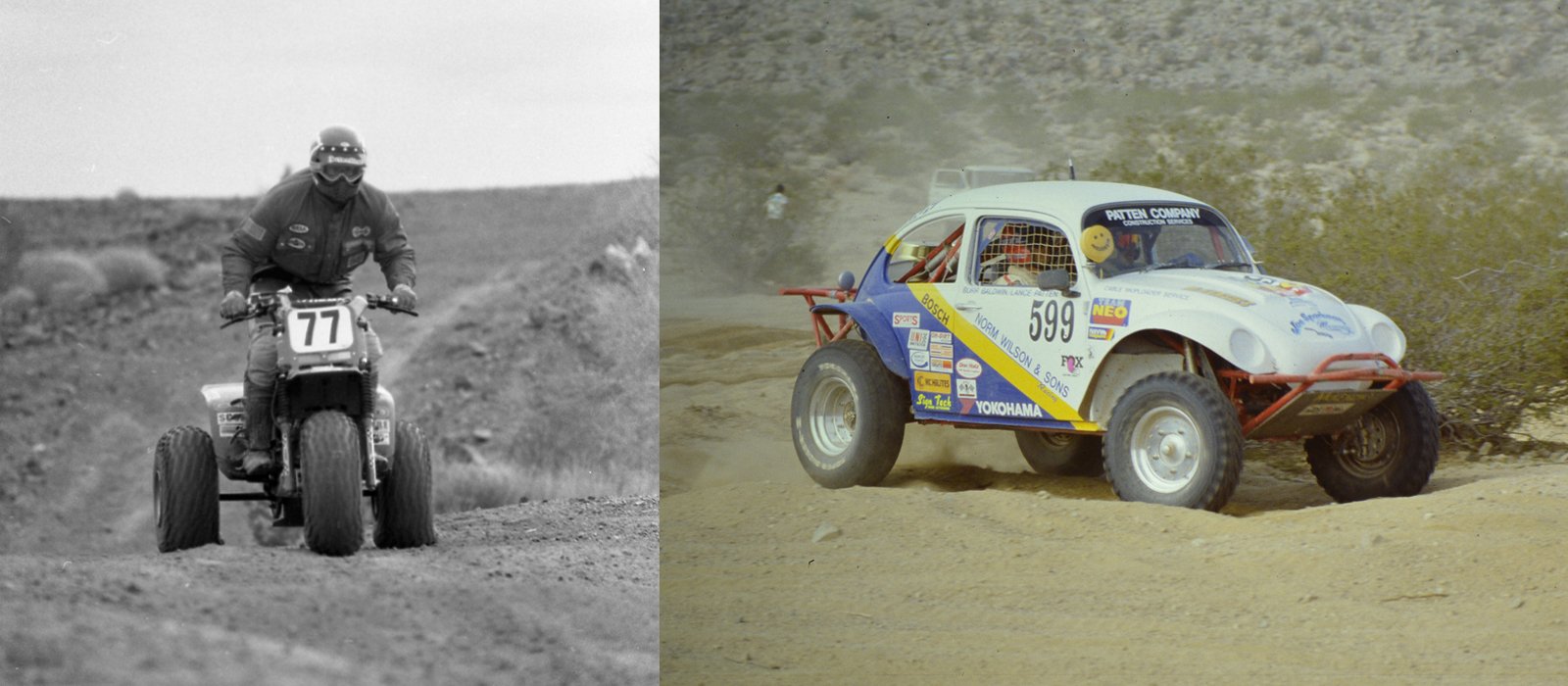 To us, the class 10 car was when I really started noticing the Wilsons. Their 2 seat Raceco was absolutely beautiful and it was also around this time that the family hired Mike Stapleton to Crew Chief the team. He was given the freedom to do what he thought would help them win. After the 1989 season he decided to cut off that VW styled beam front end and build a set of A-arms. Legend has it when Norm walked into the shop and saw the car cut in half, ol' Mike thought he was going to kill him. Turns out it was one of the best decisions ever made as this design would help revolutionize the off road racing industry.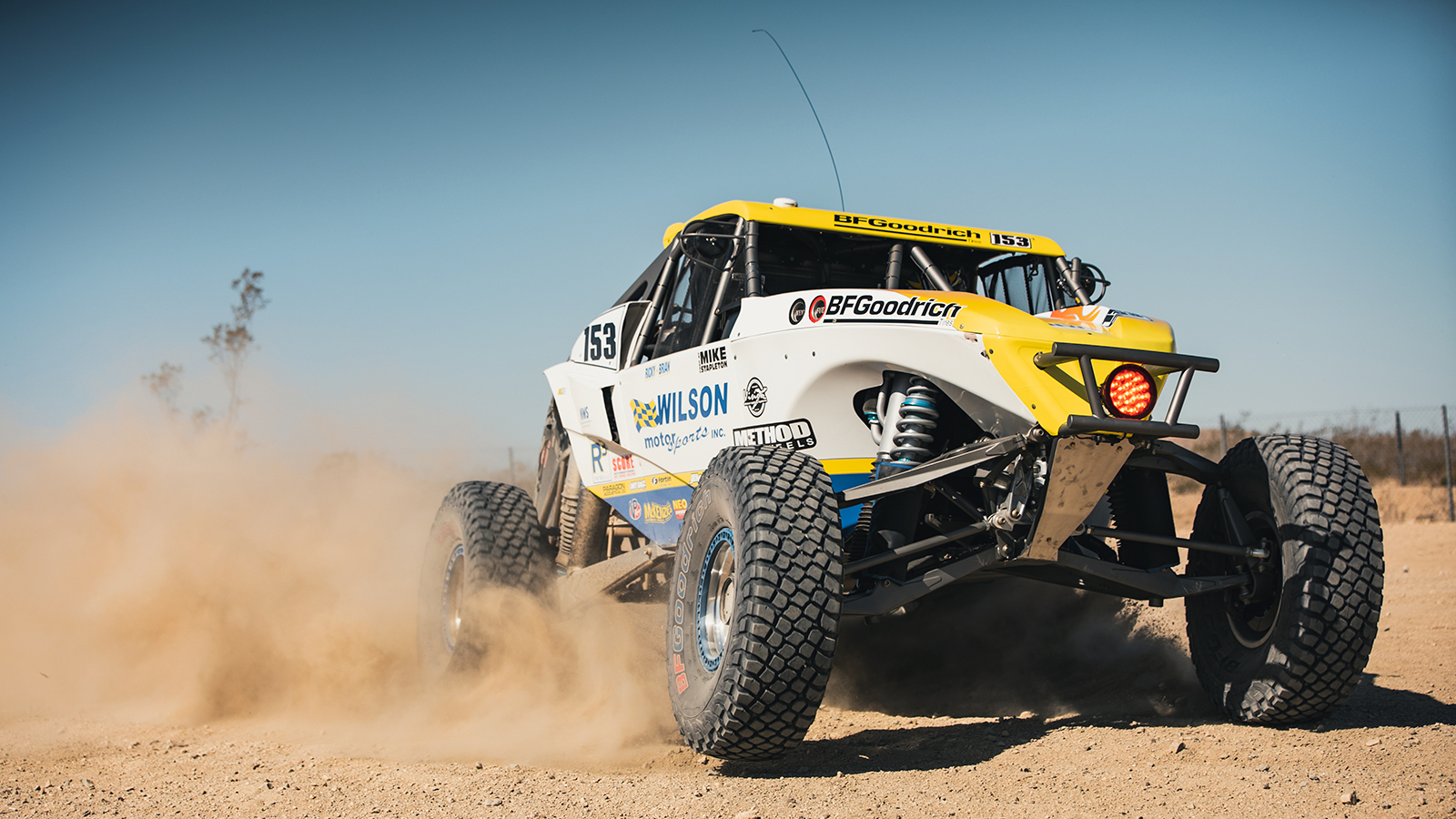 After a couple more Championships in the class 10 (1989 & 1992), the Wilsons took the next logical step and moved into class 1 with a 2 seat Jimco chassis for the 1995 season as the class 10 was sold to Brad Zacka in Australia. As with any venture into a new class, it took a little while to work the bugs out but the Wilsons were once again winning races. Another car was added so the Wilsons were now a 2 car team in the highly competitive unlimited class.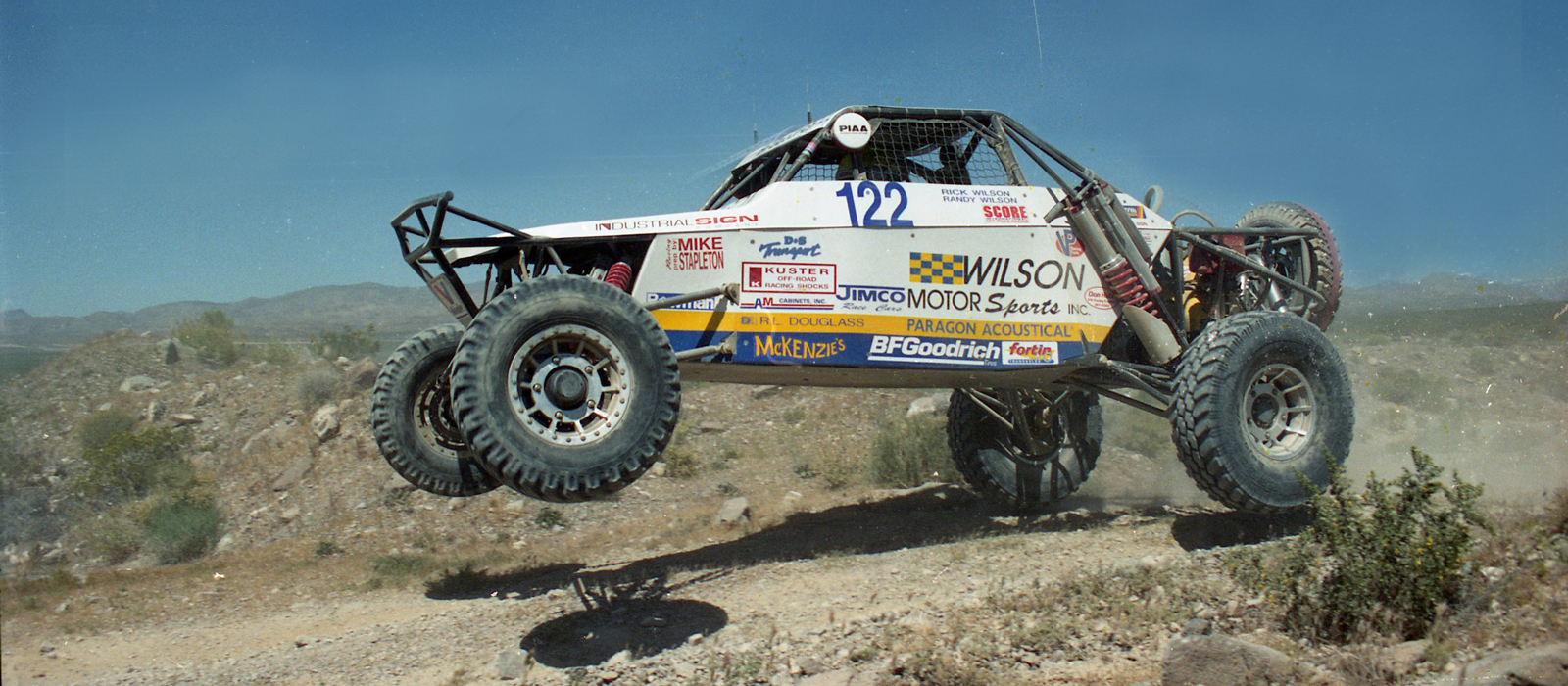 Over the next couple years Rick and Ronny's sons were getting to that age that they wanted to jump behind the wheel of a race car. Brian and Brad would start out in the 1600 class with limited suspension, then after proving themselves they moved into up to the SCORE Lite class which gave them a little more power and a little more suspension.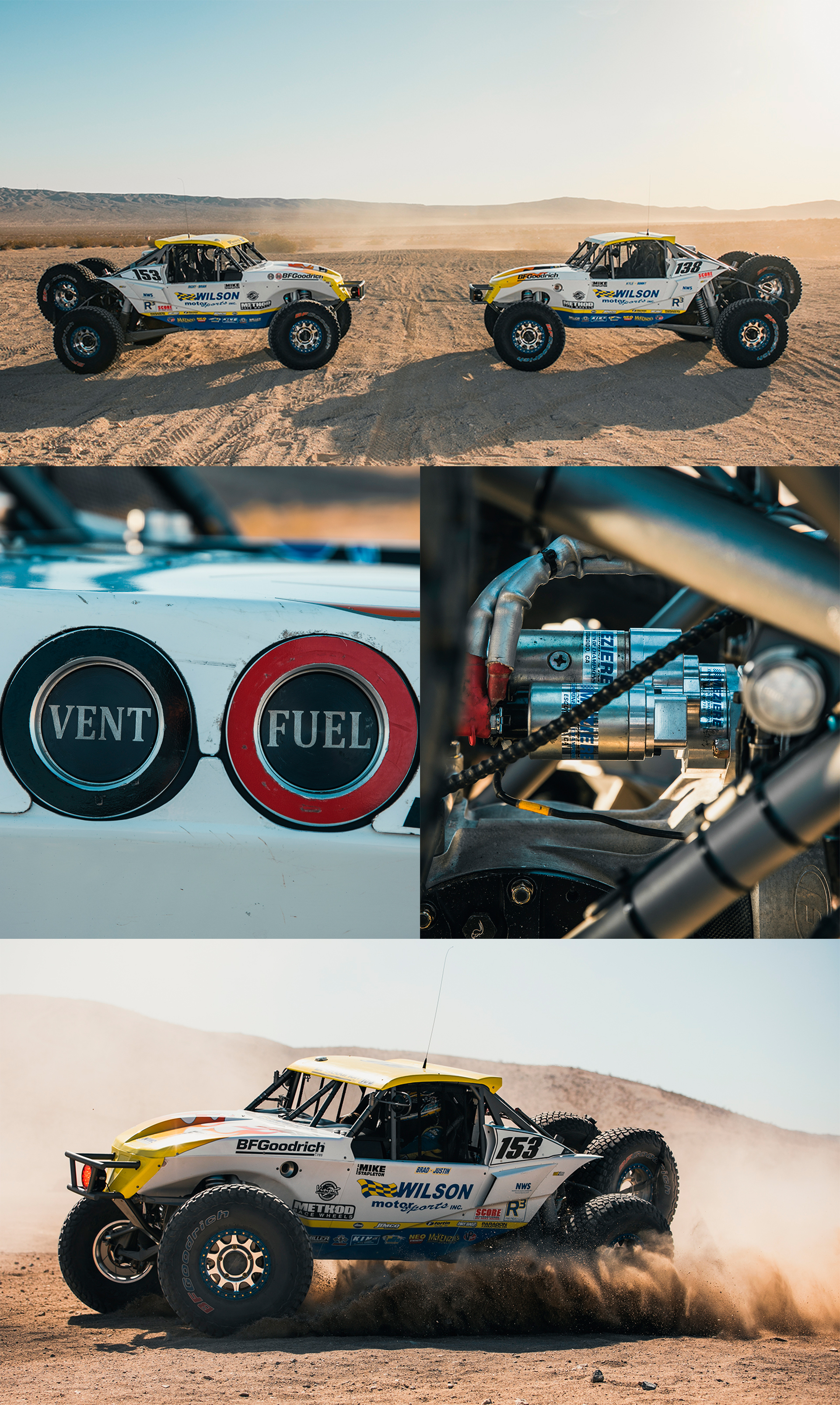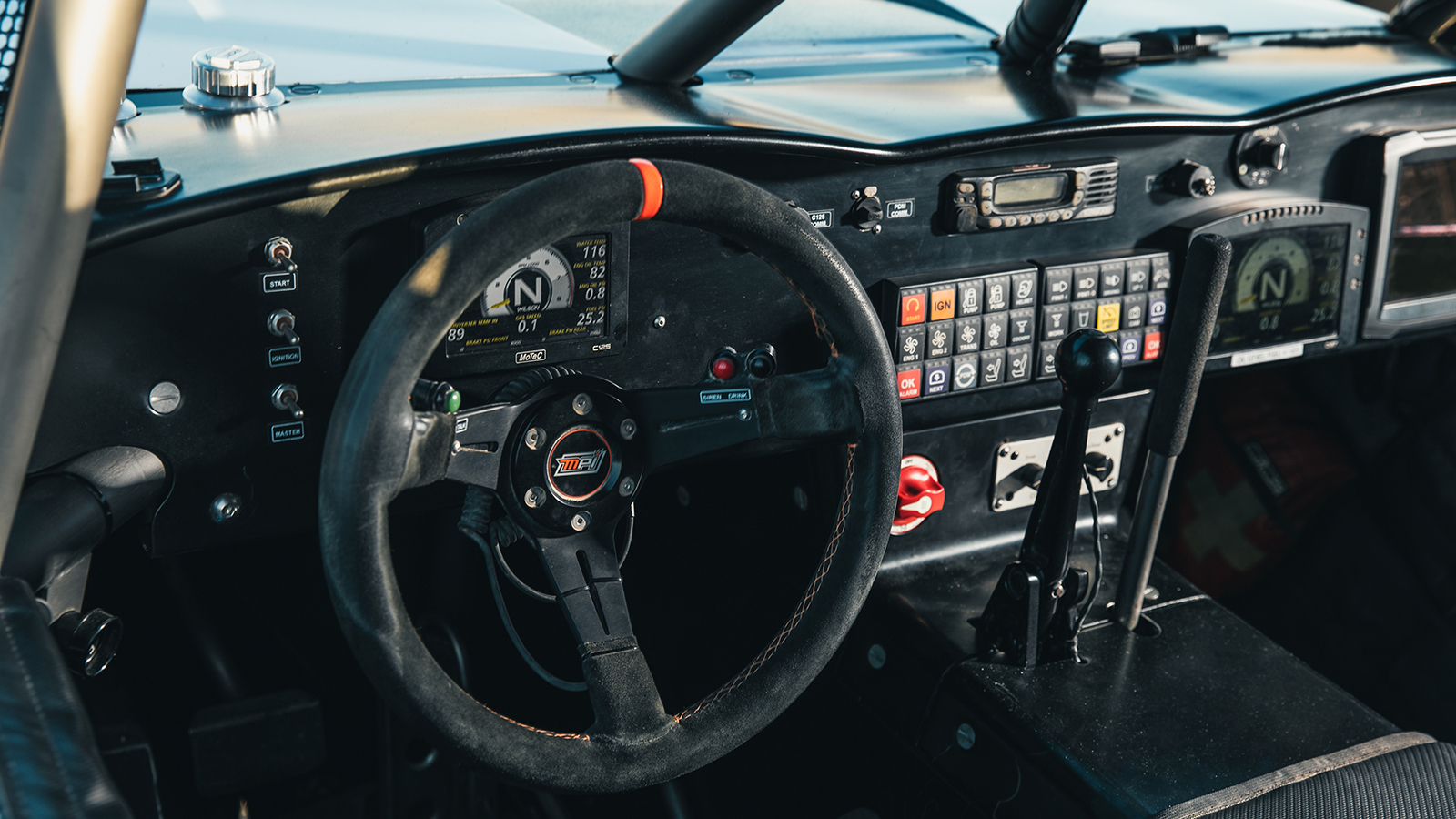 CLASS 1 SPECS
Wheels: Method Race Wheels 101 Buggy Beadlocks 17"
Engine: Wiks Racing Aluminum Small Block V8
Cooling: CBR Radiator and Setrab Oil Coolers with Brushless Fans
Exhaust: Stainless Steel Headers
Plumbing: Brown and Miller Hose and Crimp Fittings
Transmission: Fortin 5 Speed Sequential with Torque Converter
Driveline: 934 35Spline Cv Joints & Axles
Hubs: ID Outboard Hubs
Brakes: Brembo Calipers, Tilton Pedals, 14" Rotors
Fuel Cell: Jimco Custom Aluminum Cell with Pyrotect Bladder. 80 Gallons
Tires: 40" BFG KR3
Body: Jimco 2018 Class 1 Composite
Front Suspension: Jimco Trophy Truck Front Suspension, 24" Wheel Travel, King Shocks
Rear Suspension: Jimco Hybrid Rear Suspension, 24" Wheel Travel, King Shocks
Steering: Jimco / Lee Power Steering Box
Wiring: Motec Electronics and Chassis Harness by TRH Wiring
Lights: Vision X LED's
Navigation: Lowrance GPS
Communication: Kenwood 50w Radio, PCI Intercom
Seats: Impact HS1's
Safety: Impact Safety Harness and Window Nets
Owner: Wilson Motorsports
Builder: Jimco Racing Inc
Date Completed: March 2018
Chassis: Jimco Class 1 Mid-Engine
Weight: 4,900 Pounds
Wheel Base: 125" / 3,225mm
Track Width: 92" / 2,336



It wouldn't be long before the Brian and Brad were ready to step into the class 1 cars with their dads. With the Jimco 2000 series vehicle running its course, the boys ordered up two new Jimco chassis' for the unlimited class and it was on. With Brian and Brad getting faster and faster, Rick, Randy and Ronny would find themselves driving less but being more hands on behind the scenes. Rick would step out of the race car and be a major player for the team with planning and logistics. Randy found a new found love with an old series….NORRA. NORRA was brought back to life by Ed Pearlman's son Mike. This series helped start a movement to bring old race cars back for a new lease on life. Randy tracked down his old class 10 in Australia and had it restored. Ronny is still racing in class 1 with his son Brad but he too will most likely join his two brothers at the NORRA races as they have also restored their first class 1 car from the early 2000's.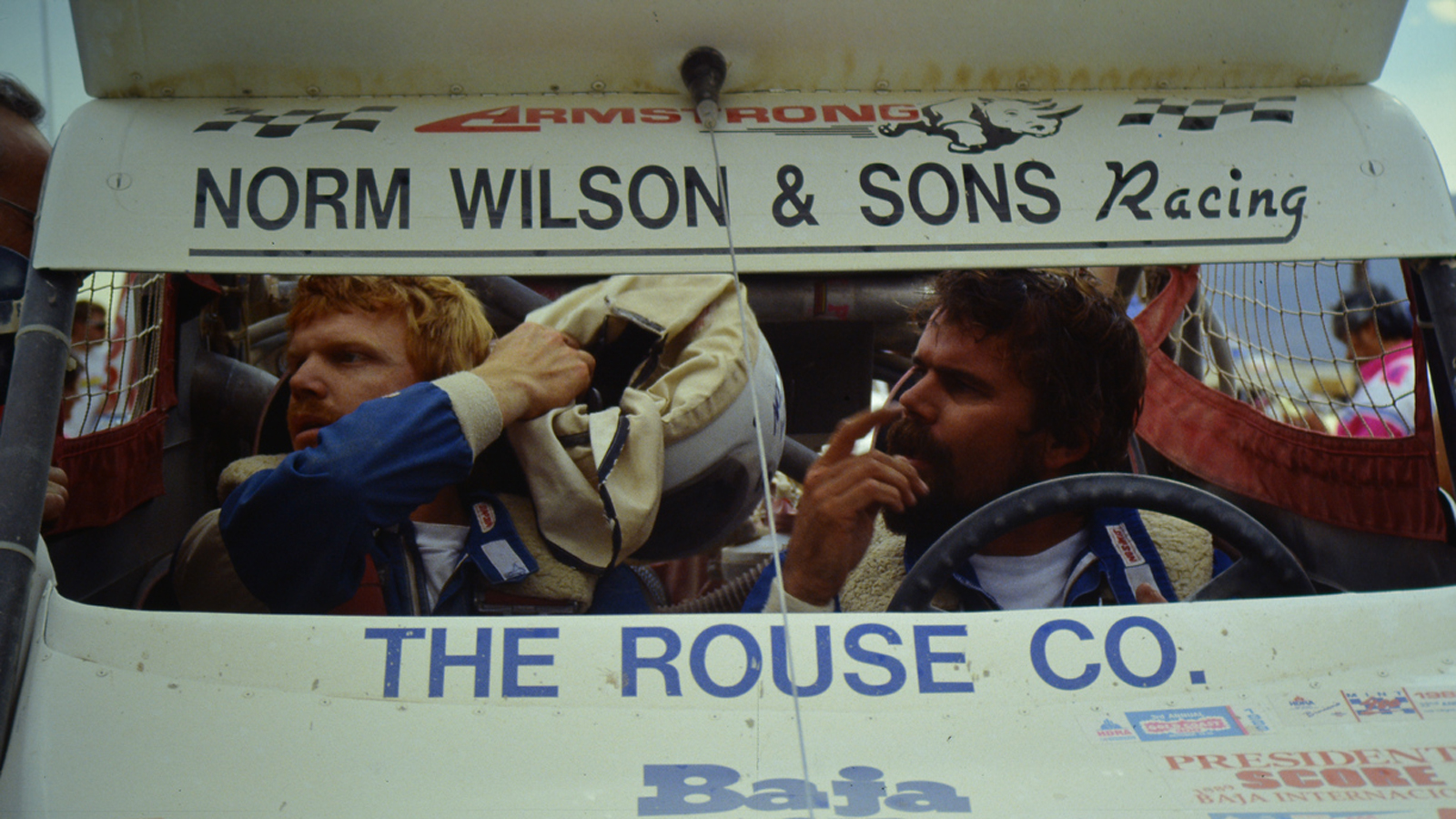 The one thing you can say about the Wilsons is they are all about family. Their entire team is made up of family members and friends, most of whom have been buddies since grade school. Can't imagine a better way than to head out to the Baja 1000 with 70 of your closest friends enjoying some good racing, good friends and maybe a few tacos. You can also find them hanging out with another legendary racing family, the McMillins. Whether it be out fishing, racing in Baja or just hanging out, you can find these families hanging out with families. Hell, Dan McMillin was Brad's best man at his wedding!
You might be asking yourself, if this team has been doing this for so long, why haven't they landed a big sponsor? We've wondered this oursleves so we asked Randy about it. He told us that they do this for fun. Having a corporate sponsor just turns into more work….they don't want more work, they want to relax and have fun. Not that they haven't had offers, because they have, they just turned them down. They still have longtime associate sponsors that help out with the team like BFGoodrich, Method wheels, King shocks and Vision X lighting but they are not looking for a corporate type sponsor.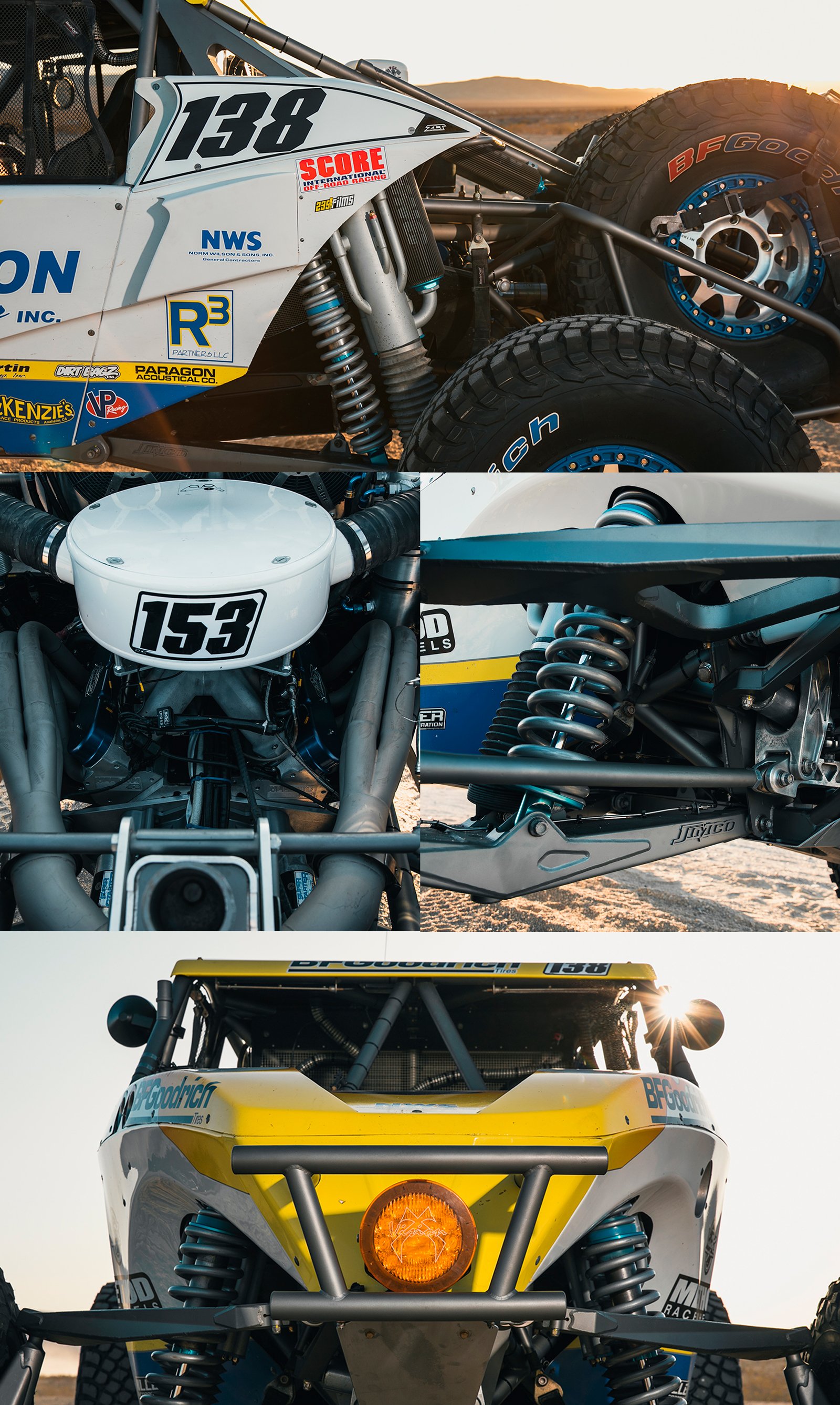 They have had much success over the years with many race wins and 7 Championships. One race that eluded Rick, Randy and Ronny was the Baja 1000. The younger boys have had some success with a win in class 12 but Norms boys always seemed to come up short with a handful of 2nd and 3rd place finishes.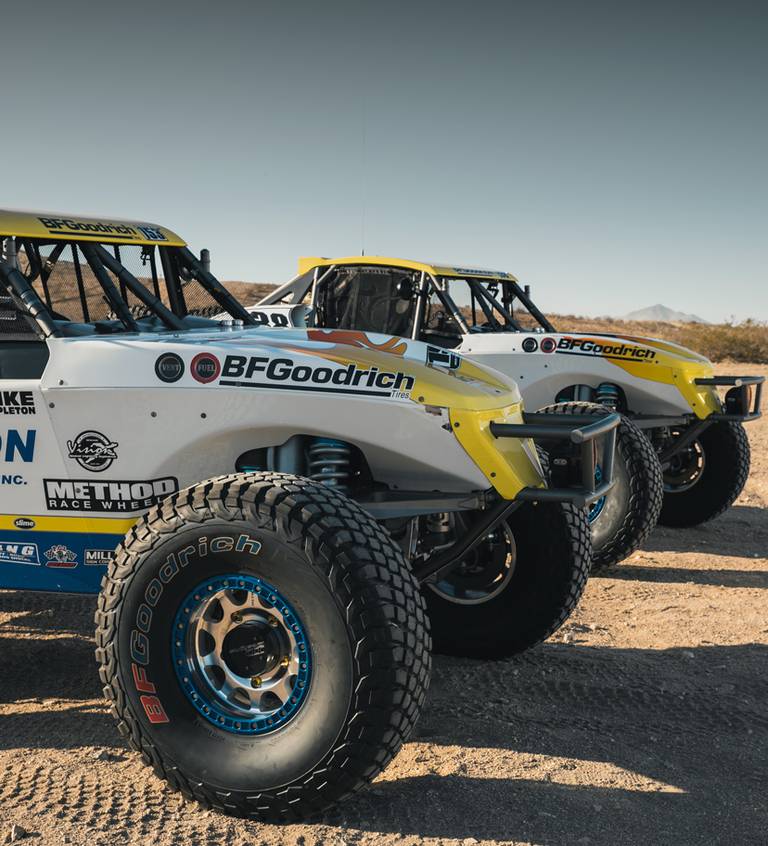 Randy came close in 2013 as he had Damen Jefferies fought all day and night, still only minutes from each other. Randy was coming into Ensenada, leading, only 4 miles from the finish and slid off the road and got stuck. Damen came by a few minutes later, stopped and made sure he was ok, then continued onto the finish for the win. Randy would get back on the road a few minutes later for another bridesmaid trophy. In 2016 that would all change as they finally redeemed themselves with a class 1 win at the 2016 Baja 1000. The emotion was so strong Randy could barely get through the finish line interview.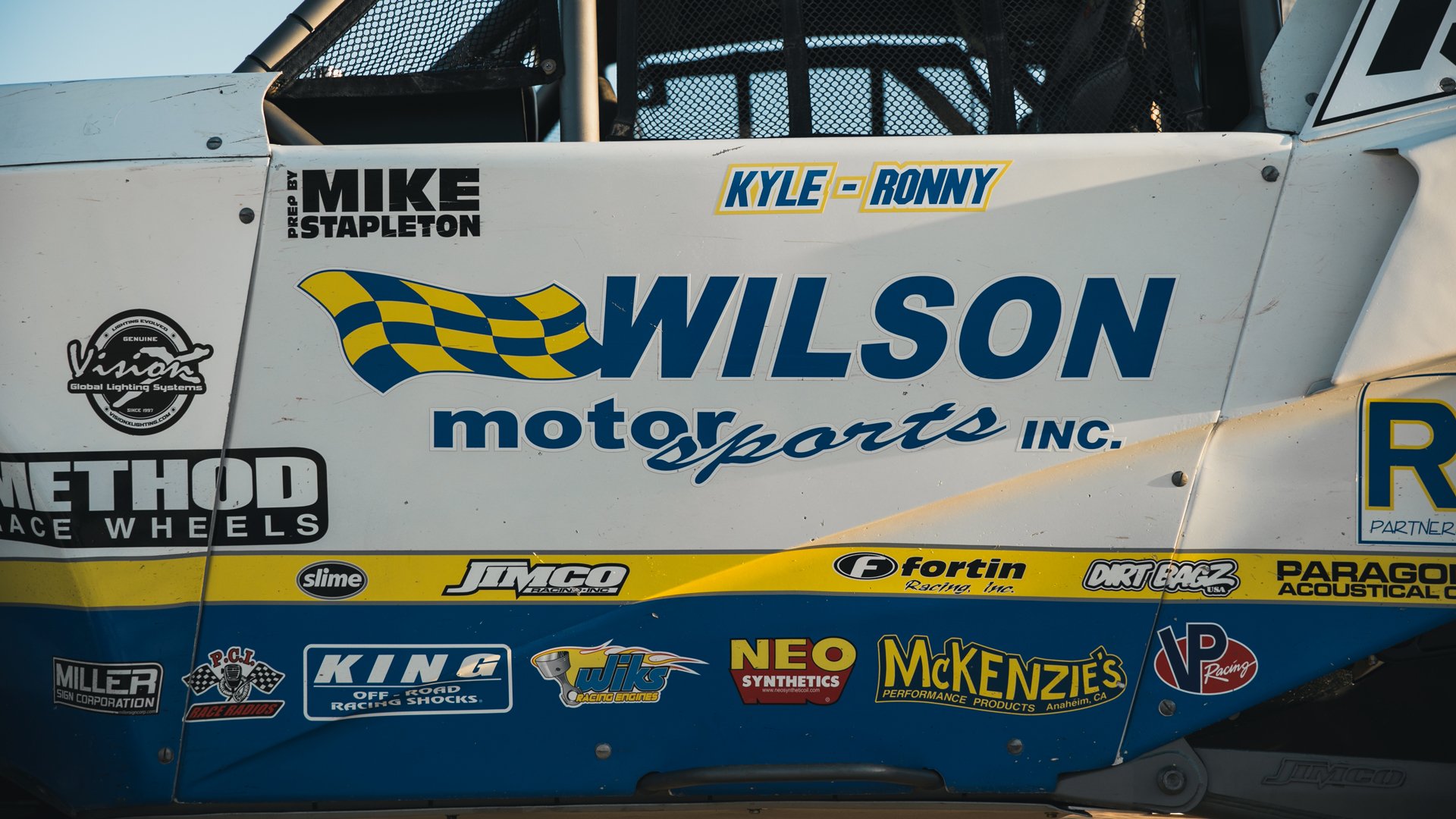 Norm's grandsons are now fielding two brand new Jimco Hammerhead race cars that Wilson Motorsports has helped to develop in a small way. They have come a long way since throwing a leg over that dirt bike at the 1976 Parker 400, seems like one helluva ride if you ask us and we appreciate the Wilson family for taking us on the ride with them.