Often when we think of a "go fast" off-road vehicle, we don't think of a Jeep. But Darren Parsons is a man of unique taste, and that unique taste has resulted in some really cool go fast Jeep builds. The last Jeep that Darren built was an XJ of a different variety that was meant for more things than rock filled trails, so it's only fitting that the XJ's predecessor follow the same path…The fast one.
So why a gladiator? "They're Hideous. These are the dad specials. You put a 2-inch lift and 37's on them and they look pretty good, but from the factory, they are absolutely hideous. I took the XJ, which is an ugly vehicle and made something that should have never been, and I enjoyed the crap out of it. This is the evolution of that. A west-coast style, big suspension, big tire, functional family rig with all the creature comforts."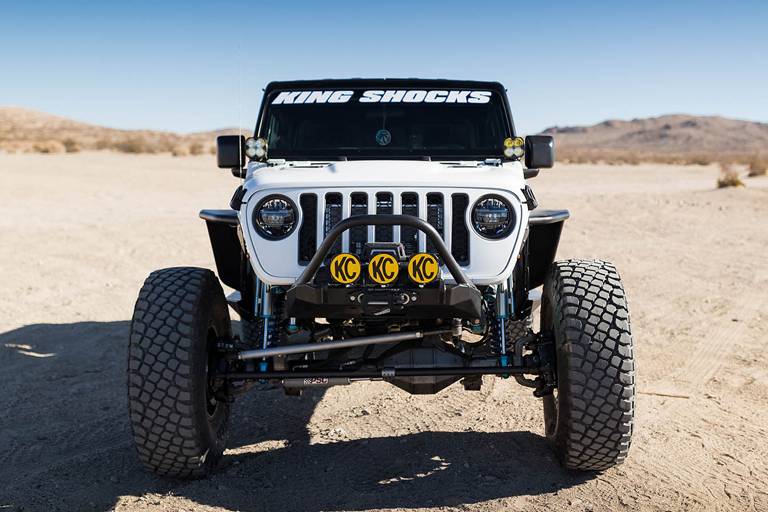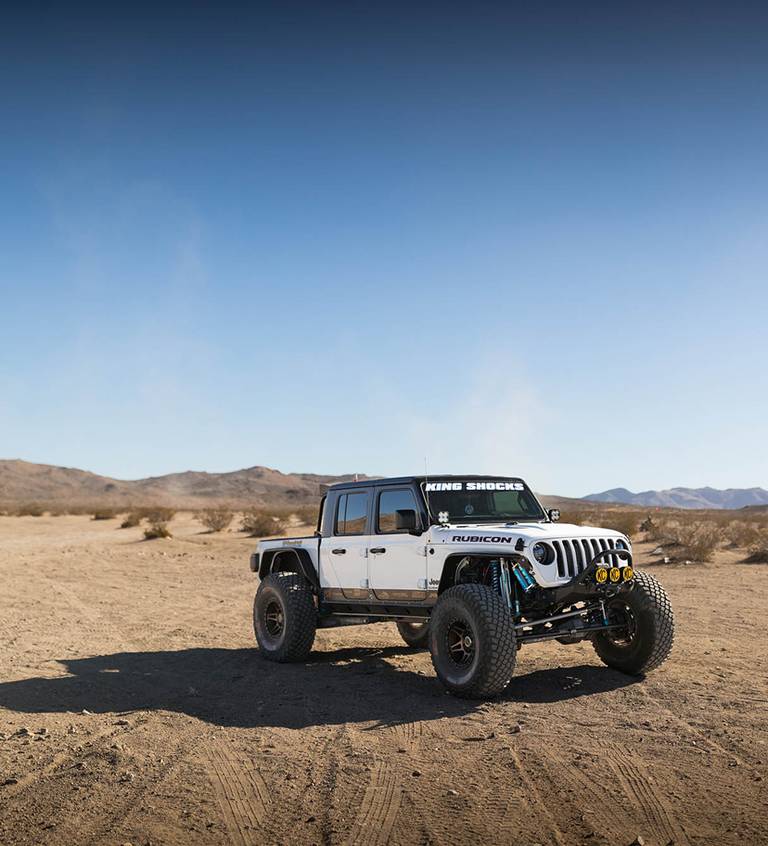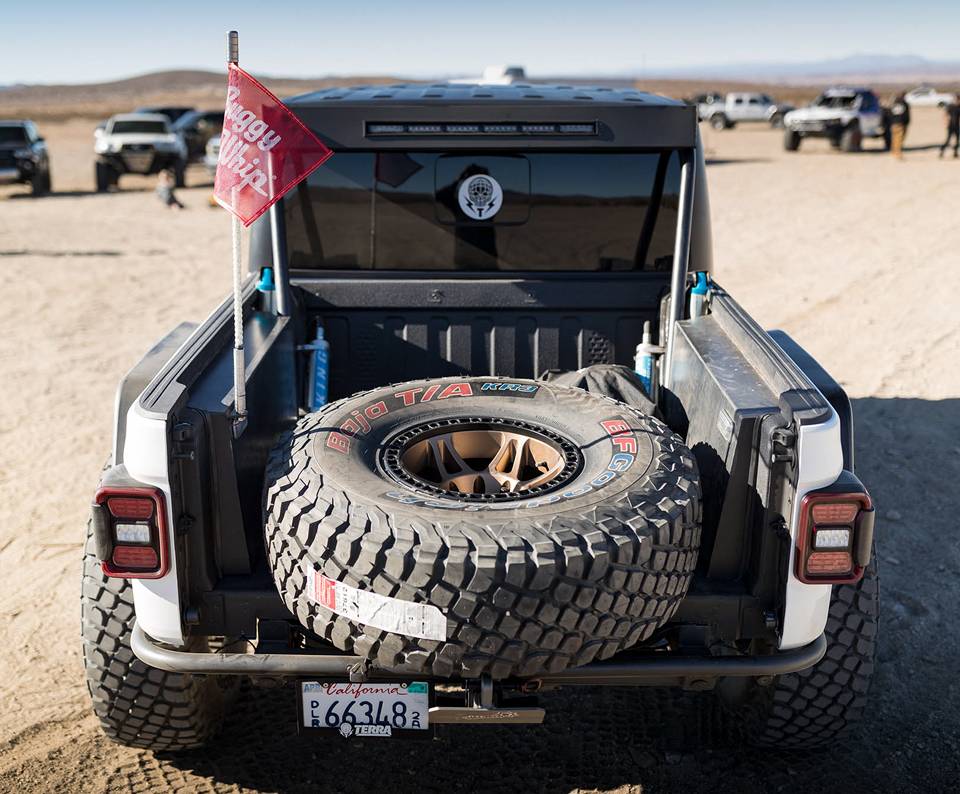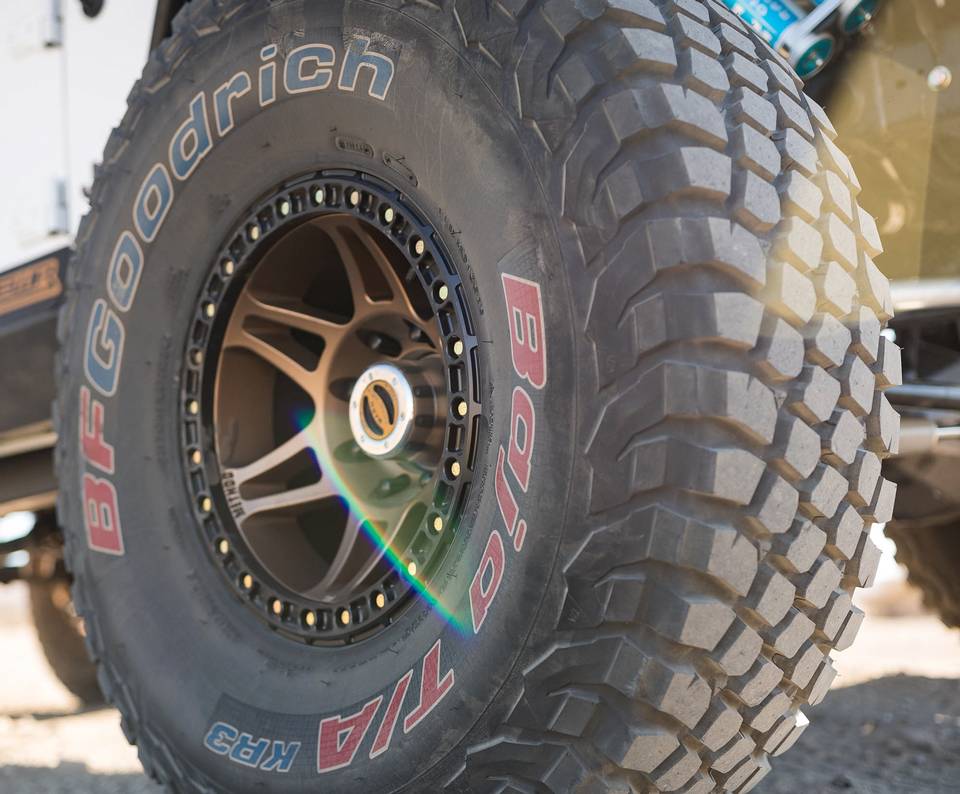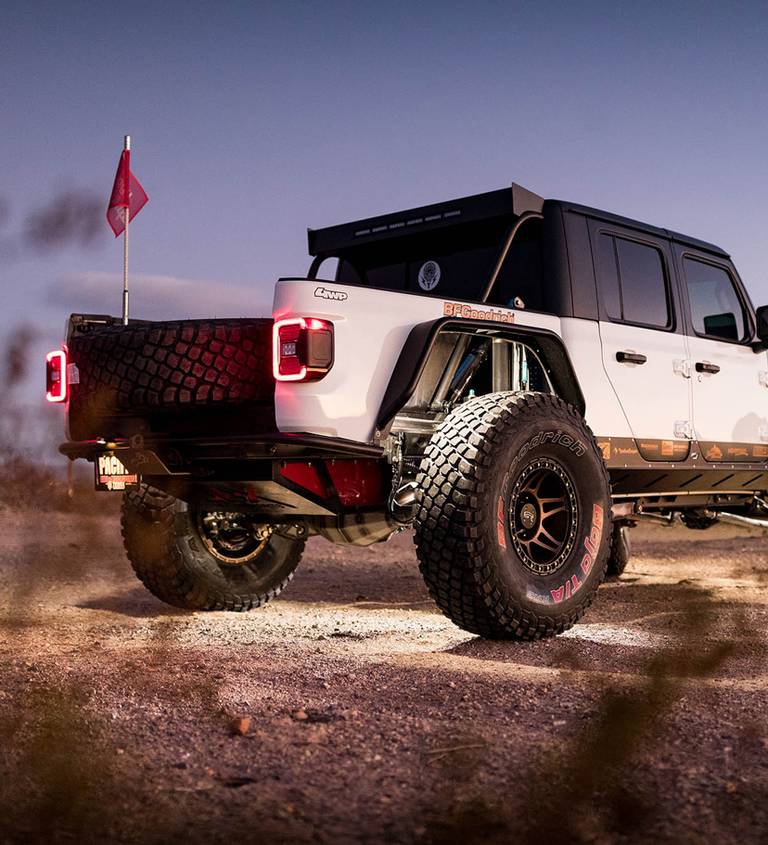 From front to back, this Gladiator has been completely transformed into a functional, go fast (or slow) 4-wheel drive monster. Outfitted with Currie F9 axles, large King shocks and linked suspension front and rear, this Jeep has the capabilities to conquer both the rocky trails and the open desert. The bed of the Gladiator has been bobbed 6 inches for a better departure angle and to house the 32-gallon Jaz Jeepspeed fuel cell. The fuel filler was relocated to the rear of the bed to allow the massive 40-inch BFG KO3 tires mounted on Method 106 beadlock wheels to fully tuck into the wheel well as this Gladiator has a whopping 10" of up-travel from ride height. The bed is also outfitted with a removable spare tire and mount so he can put the tailgate back on when needed. KC Hilites are everywhere, from the front Motobilt bumper to the A-pillars, out back for a chase light, and even underneath the body for some extra light in case any problems arise at night and a good look at the suspension is in order. A Smittybilt 12k lb. winch is tucked away in the front bumper for those hairy situations and a 2-ton Pro Eagle jack is mounted in the bed to assist. Getting a good look at the suspension of this "truck" will get anyone's mouth watering. King coil overs, Bypass shocks and hydraulic bump stops are mounted on every corner providing Darren with the most control and comfort possible. The front suspension consists of a Rubicon Express long arm kit that pulls 15 inches of travel while the rear is a custom one off 4 link system using Ruffstuff fabrication parts and DIY Offroad trailing arms, pulling an impressive 22 inches of wheel travel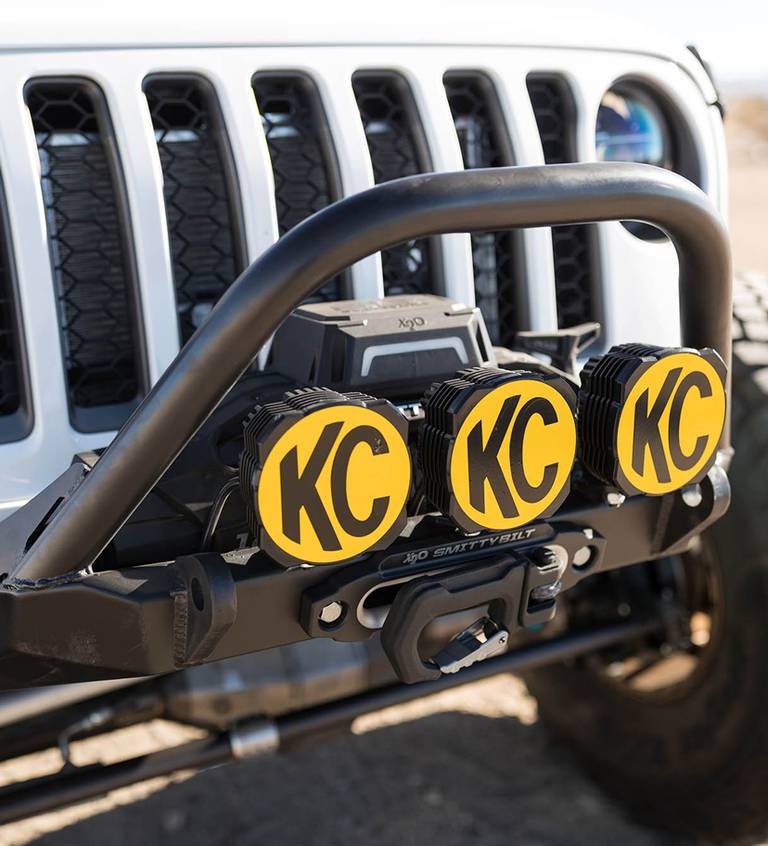 SPEC
- Method Race Wheels - 17x9 Bronze 106 Beadlock wheels
- BFGoodrich Tires - 40" kr3 race tires
- Motobilt Inc. - Tomahawk bumper
- KC Hilites - Flex Era 4's and LED Cyclone rock lights
- Smittybilt - Gen 3 x2o 12k winch
- Magnuson Superchargers - Supercharger
- HP Tuners - Tuning
- RuffStuff Specialties - Shock towers and tabs
- Currie Enterprises - F9 73" wms axles
- Evan Weller Racing - Differential with Gearworks Inc. 10" gears
- Full Hydraulic Steering
- Rubicon Express - Long Arm kit on the front with King Shocks 2.5x14" coil over/ bypass 2.5x2.5 bump cycling 15" of front wheel travel
- Motobilt Inc. - Sliders and seat mounts
- PRP Seats - Enduro Elite seats with black leather and cocoa suede with heat. Rear seat covers in leather and suede, also heated
- Stinger Offroad - Hi10 dash
- Rockford Fosgate - Stereo system
- Custom cage out of 1.75x.120 tubing
- Jaz Products - 32 gallon jeepspeed fuel cell
- Bobbed bed with a relocated fuel door to the rear of the bed
- Custom rear suspension with all Ruffstuff Specialties products featuring 48" trailing arms designed by DIY Offroad that hold a King Shocks 2.5x16" c/o and 3.0x18" bypass with 2.5x2.5 bump stops cycling 22" of rear wheel travel
- Kibbetech - Billet sway bar arms with a TT 1.5" sway bar
- Pro Eagle - 2-ton jack
- Buggy whip Inc. - 3' whip in bed and dual 6' red underneath
- KC Hilites - Rear chase bar
- Rad Custom Graphics - Vinyl graphics
Focus your attention to the interior and you will find all the creatures comforts you can desire such as Heated PRP seats front and rear, and a Rockford Fosgate stereo system with a massive Stinger Offroad touch screen dash. The factory roll cage was removed and replaced with a custom 1.75-inch, .120 wall steel cage for extra strength, rigidity, and safety. The back portion of the cage can be removed via quick release so Darren can still take off the top. Once the top has been removed, the rear portion of the cage can be re-installed to keep him and the family safe while still being able to soak up the warm California sun.
Darren was a bit concerned that the Gladiator only put out 250 hp from the factory so he solved that issue by installing a Magnuson supercharger and had the computer unlocked by HP-Tuners and tuned by a local family friend "Mr. Yelnats." He was also concerned about the factory electric power steering as it isn't comparable for the 40-inch tires, so that issue was solved by replacing the electric unit with a hydraulic style setup.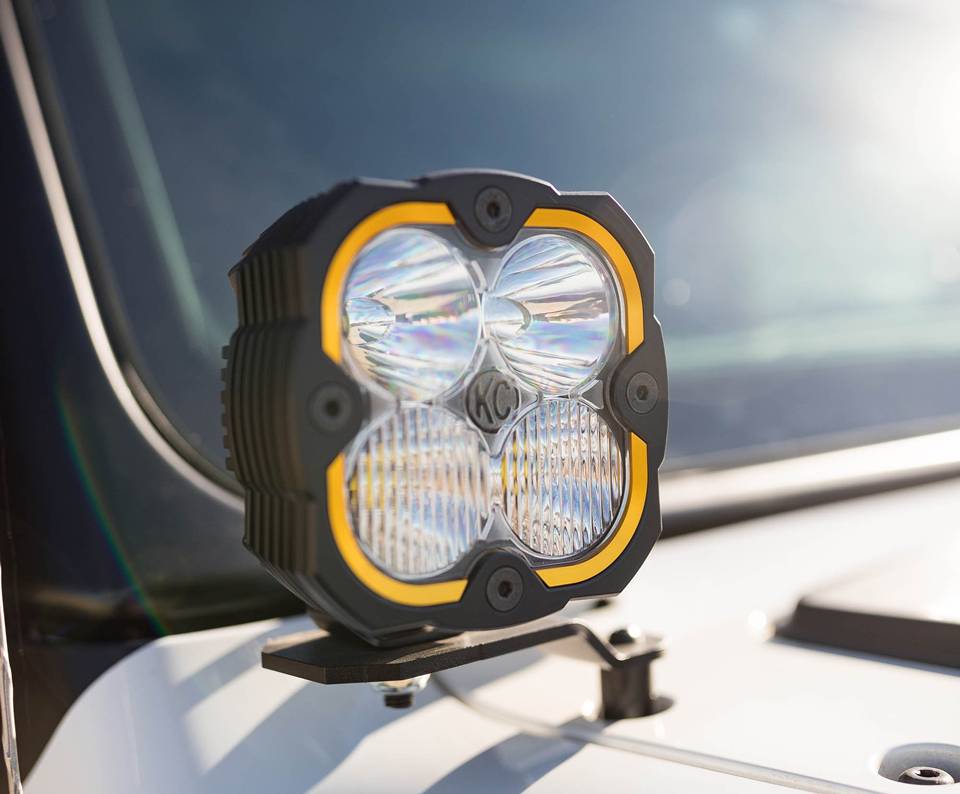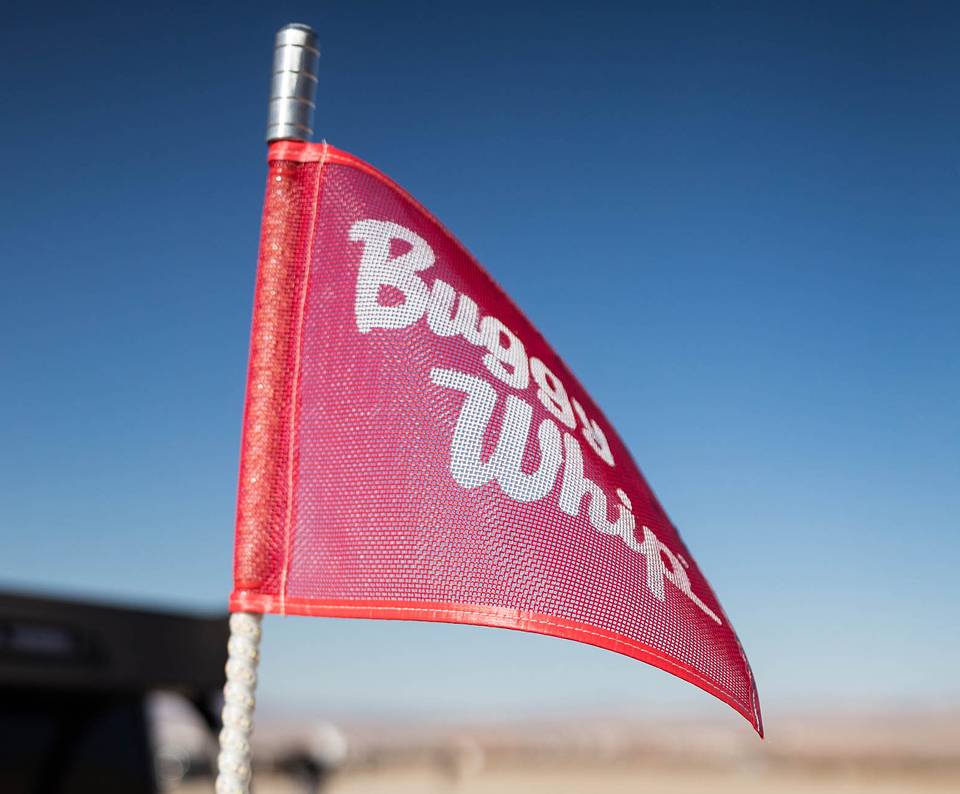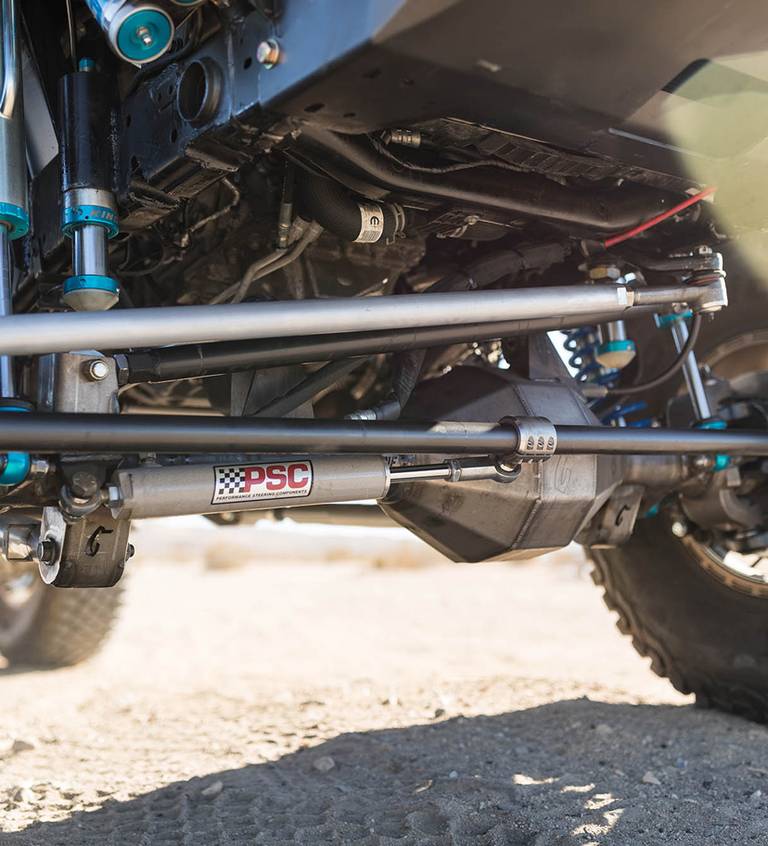 Overall, this Gladiator looks awesome, and drives amazingly. Darren is fully confident that this Jeep will full fill all his, and his family's needs when they want to head out on any trail or take a road trip. This is truly a Jeep that should have never been, but one that we all would want in our garage.
If you are curious to learn more about Darren and his Gladiator build, check out the video below with a full walk around and explanation of all the bits and pieces of this one-of-a-kind Jeep hosted by our friends at Terra Crew.